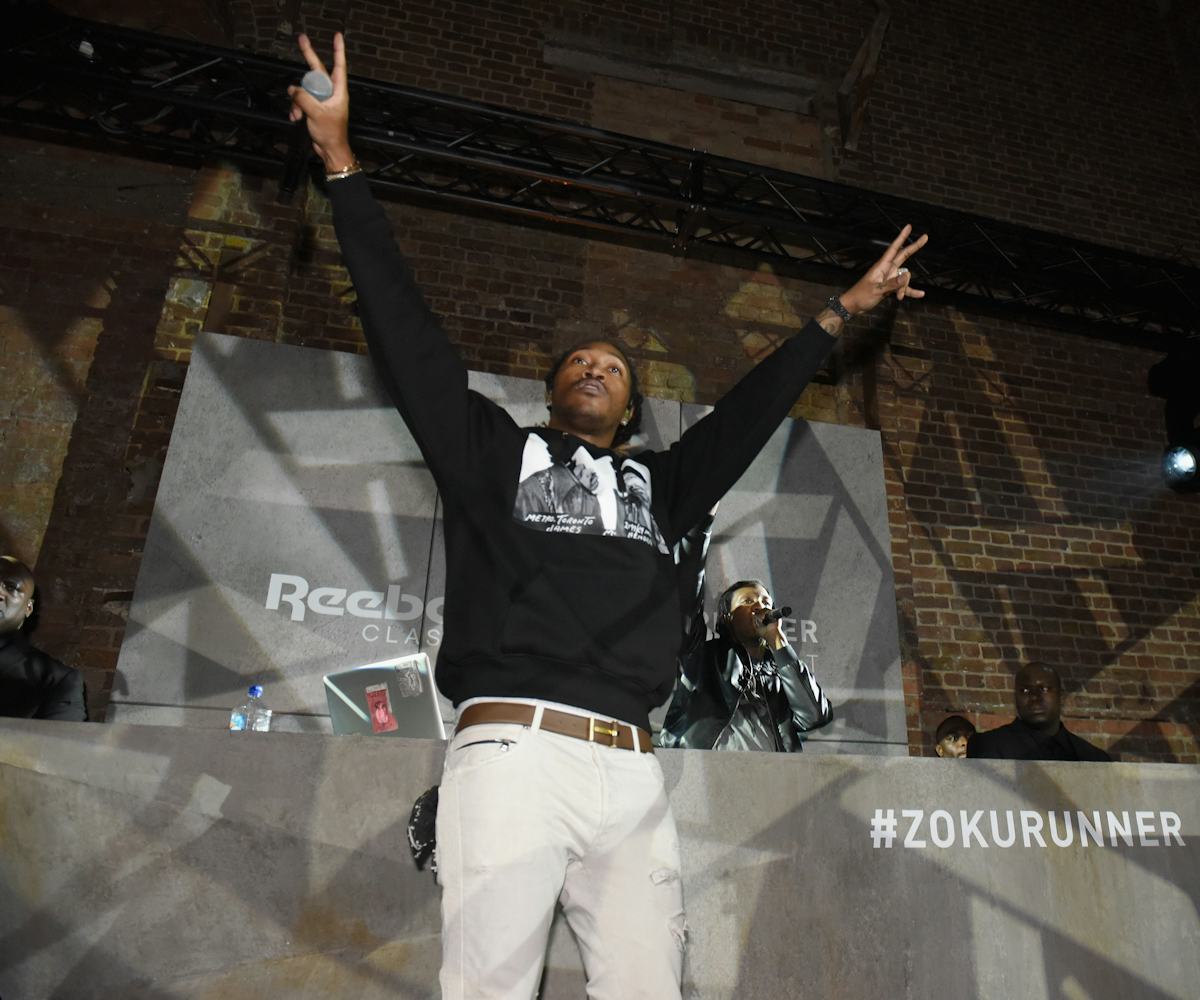 Photo Courtesy Of Reebok.
What I Learned From Riding In A Private Jet With Future
In honor of his new Zoku Runner campaign with Reebok
In 2012, Rihanna invited a group of journalists to travel with her to seven different countries for what's now infamously known as the #777Tour. What seemed like a dope idea in theory, according to reports, ended up being a disaster. Journalists turned into "emotionally distressed wrecks," there was minimal Vitamin D exposure, and one man went streaking on the plane.
Five years later, and Future and Reebok invited a gang of journalists—including me—on a trip to London to celebrate the launch of the new Zoku Runner. Conversations about what level of crazy the trip was going to reach started swirling as early as the check-in line at the airport. Future's a wild guy, we all agreed, who makes no attempt to hide his drug use or his often misogynistic ways. The potential for a parallel hot mess moment was high. But, when an opportunity like this comes knocking, you say yes now, ask questions later, and tell everybody you know about it in the meantime.
Leading up to the trip, Future released HNDRX and Future consecutively, and there were rumors of a third album swirling (of which he's since denied). At the time, he was on his way to making Billboard history. Future just hit No. 1 and HNDRX wasn't too far behind. Fast-forward to today, and he's officially become the first artist to score back-to-back No.1 debuts in successive weeks. He's also the first soloist ever to claim the honor.
Both albums round out to be 17 tracks each. So, these aren't small, EP-sized projects Future's putting out. I read once that he can record a song in 25 minutes and has thousands of unreleased tracks. It's probably why he releases two or three albums a year; the guy's got stamina. "I'm just self-driven, so I just always want to make new music," he says. "I just stay in the studio and create new vibes and try new melodies. Some of them are incomplete records, some of them are complete, I can go back and complete them later on—I just haven't found the time to complete the whole story." The story is what drives the song, he says. "A majority of my records I can create pretty quickly because I can relate to it and it's personal… If it's not a made-up story, I can pretty much get it down; it's just about connecting with the beat."
That beat—that trap music beat—is what draws a lot of people to Future's songs. He's got the formula for a popular club track memorized, perfected, and down to a science. It's what you'll mostly hear on Future, while HNDRX (which is in reference to "Future Hendrix," the rapper's alter ego) reveals a more sensitive side. It's the album he always wanted to make, he wrote on Instagram. It was a chance for him to "just be open about relationships and about certain things that I feel," he clarifies. "I know my fans just want the trap side of Future, and me being able to slow it down a bit and make it more melodic, that's more the artist that I've always been and the artist that I wanted to share with my fans… I had been putting out a lot of club-friendly music, and I wanted to be able to try something new."
"Future is always in season," DJ Semtex told a group of us in London as he interviewed the rapper about the new campaign with Reebok. He was referring to the person, but the future—the concept of looking forward—is also never not relevant. It also happens to be the theme of the brand's new Zoku Runner, which looked to its past shoes to create the innovative ultra-knit style that launched just last week. The Runners are comfortable, that's for damn sure (just an FYI, it's not recommended for wearers to actually run in the shoe, despite its name; they're good for recreational use, not so much for high-intensity workouts), and its connection to the rapper is perhaps tied up in its visionary outlook. "It's a movement… I wanted to be part of a classic brand that's been around for forever," the rapper says. "They're ahead of the curve."
The same could also be said of the rapper. And as the chart numbers and the sold-out crowd that lined up to watch him perform at London's Village Underground Thursday night show prove, his look-ahead outlook is paying off. During the hour-long appearance, Future performed classics like "Move That Dope" and "Codeine Crazy" alongside more recent tracks like "Commas" and "March Madness" for young fans who went line for line with the rapper.
On day three, we boarded a private jet with Future back to New York City, where we had the luxury of living like the 1 percent over the course of the eight-hour trip (and for those whose only glimpse into this lifestyle is through the Kardashians' Snapchats, it includes lots of leg room! Free champagne! And excellent food!). Halfway through the flight, we were escorted to the front of the cabin where we got a couple of minutes to chat with the rapper as he lounged in the dark surrounded by his entourage. Which brings us full circle back to the question on everyone's mind: Did any #777Tour-style antics take place? Fortunately, no (or, unfortunately, depending on how you look at it). The minimal face time with the star is, perhaps, the only aspect of the trip that overlapped. There was free alcohol involved, but thankfully sleep and actual meals also accompanied it.
After we landed at JFK airport, we boarded a bus, which would shuttle us to the Zoku Runner launch party that night in Union Square. A chorus of yawns soundtracked the journey; we were all exhausted and in need of our beds, but unwilling to complain too much. As history shows, our situation could've been much worse. And, at the end of the day, we all went home with a story or two, new kicks, another stamp on our passport, and some really, really dope Instagram moments.