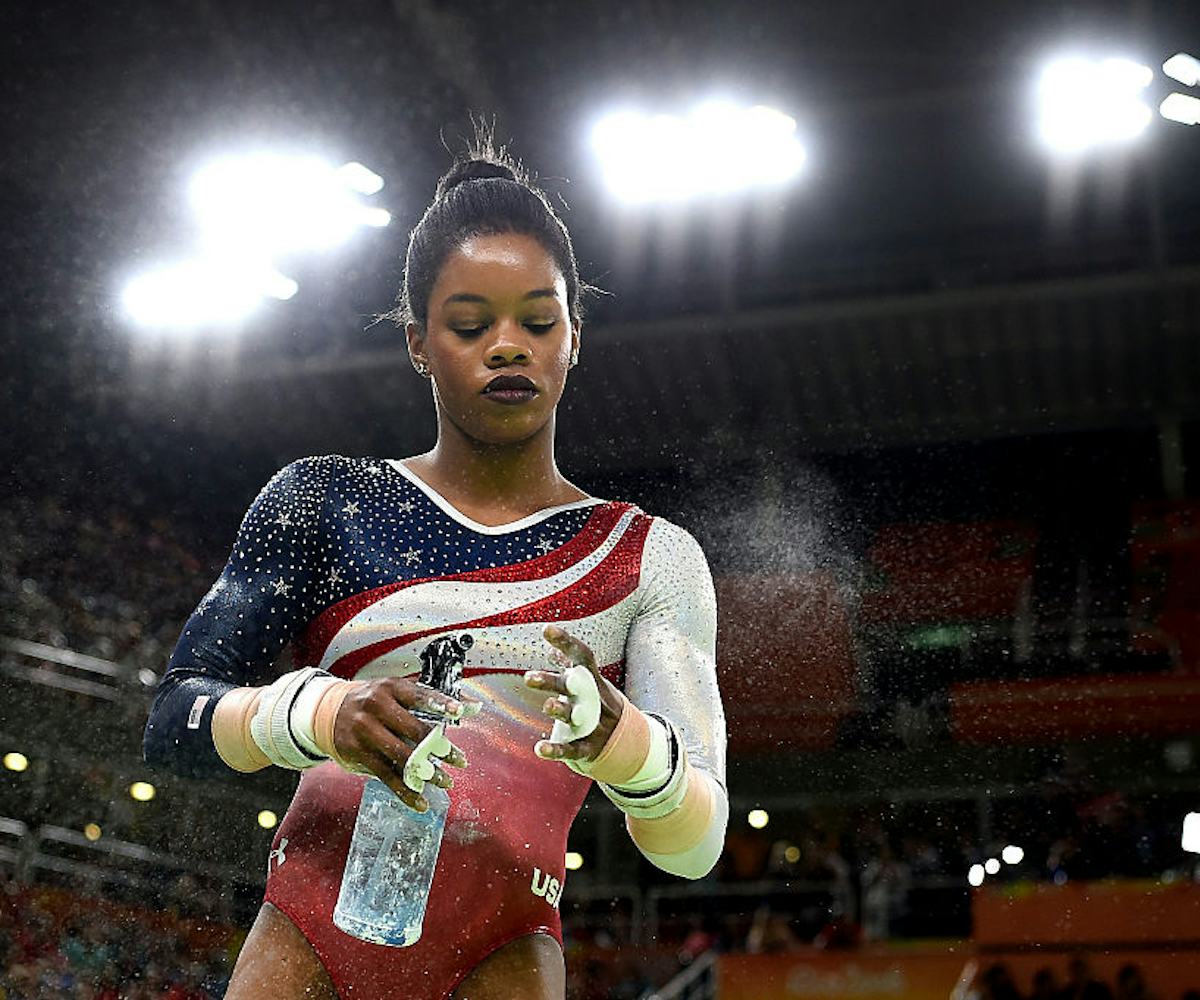 Photo by Laurence Griffiths/Getty Images
Stop Telling Gabby Douglas To Smile
There's a huge double standard here
In 2012, Gabby Douglas achieved a singular feat when she became the first American gymnast to win a gold medal at the Olympics in both the team and individual all-around competitions. Douglas also made history by becoming the first black athlete to win the gymnastics individual all-around gold medal. Her performance was exceptional, and she immediately became the most compelling member of an already wildly impressive team of young women athletes. In the intervening years, between the 2012 and 2016 games in Rio, Douglas continued on the path of gymnastic excellence and became one of two (along with Aly Raisman) members of the 2012 team to make it onto the 2016 squad.
Prior to the Rio games, this year's American gymnastics Olympic team was hyped as being the most formidable group of athletes to ever compete in the sport. Self-dubbed the Final Five (because this is the last time that Olympic gymnastics teams will have five members; moving forward there will be four), the team was widely acknowledged as being virtually unbeatable, due in no small part to the preternaturally dominant phenom Simone Biles, but also in a more holistic way. There were no weak links, and Douglas, as someone who had Olympic experience, was an essential part of the team. 
So it came as no surprise when the American women's team brought home the gold on Tuesday; no surprise, perhaps, but more than a little bit of awe. It wasn't just that the American team won, they so dominated the competition that their margin of victory was exponentially larger than gold medal-winning teams usually have. Every member of the American team twisted and turned her way onto the gold medal podium with a level of strength and grace that was breathtaking and inspiring. 
Along with each of her team members, Douglas played her part exquisitely, and yet, alone among the squad, Douglas has faced an enormous amount of criticism and scrutiny standing atop the gold medal podium, and it's a perfect example of the systemic racism and sexism which run rampant throughout our society. The critical maelstrom began when Douglas, alone among her teammates, did not place her hand over her heart during the playing of the "Star-Spangled Banner." Almost instantly, Douglas was called out on social media for her "disrespectful" behavior, with one Twitter user threatening that "Douglas better put her hand on her heart or [they] will fly to Rio and do it for her." Many defended Douglas, but the voices condemning her were overwhelming.
And while social media is notoriously a cesspool of criticism and condemnation, there were also voices in mainstream media who attacked Douglas. In the LA Times, sports columnist Bill Plaschke was harsh in his assessment of Douglas, calling her "disconnected" and "blank and distant." Plaschke dismissed Douglas' defense, in which she said that she was simply "overwhelmed," by claiming that, if that were the case, he, Bill Plaschke, would have been able to see it because he, Bill Plaschke, clearly knows exactly what Douglas looks like when she's overcome by emotion.
Plaschke went on to compare Douglas' actions to those of Michael Phelps, who was laughing at a friend's joke during the national anthem, and implicitly defended Phelps by pointing out that he, at least, was showing some joyful emotion, in contrast to Douglas, who Plaschke says was "simply pouting." (Let us never forget that Bill Plaschke is a savant when it comes to interpreting the emotions of people whom he's probably never met.)   
This isn't the only unwarranted criticism Douglas has received during the Rio games. Like in 2012, her hair has become a topic of social media conversation, in a manner dissimilar to any of her teammates. As Taylor Bryant writes on Refinery29, Douglas handled critics perfectly in 2012, publicly stating: "What's wrong with my hair? I'm like, I just made history and people are focused on my hair? It can be bald or short; it doesn't matter about [my] hair."
And the same can be said about the hand-over-heart controversy. Douglas just made history as part of the best gymnastics squad in Olympics history, and this is what people are focused on? Other athletes (and even presidential candidates!) have listened to the national anthem with their hands at their sides without facing the severe censure that Douglas has. But then, those athletes (and presidential candidates) are not black women, like Douglas is, and are therefore not held to the same demands to conform to society's ideas of how women—and particularly women of color—should behave.
There is little doubt that Douglas' race and gender play a huge role in the criticism of her. Black women's hair is a complicated issue with historical and emotional roots, and the focus on Douglas' hair, alone among her teammates, is not a coincidence. Then too, the way in which the behavior of women (and particularly women of color) in the public sphere is judged is highly complicated. Women are constantly being told to smile, criticized for having resting bitch face, encouraged to not be aggressive in their speech and mannerisms. That Douglas stood stoic throughout most of the "Star-Spangled Banner" (though not all of it, see the photo of Douglas with a mile-wide smile below), is not inherently disrespectful of anyone or anything; that many people demand that Douglas smile and perform in the way that they deem appropriate, to the exclusion of how Douglas felt or what she wanted to do, is highly disrespectful. It shows an utter lack of understanding about the fact that all women—no matter their age or race or what you think they owe you—have agency over their bodies, their gestures, their whole selves. Through her incredible athleticism, Gabby Douglas has given us some of the most exhilarating moments in sports of all time; we have no right to also demand she give us a smile.