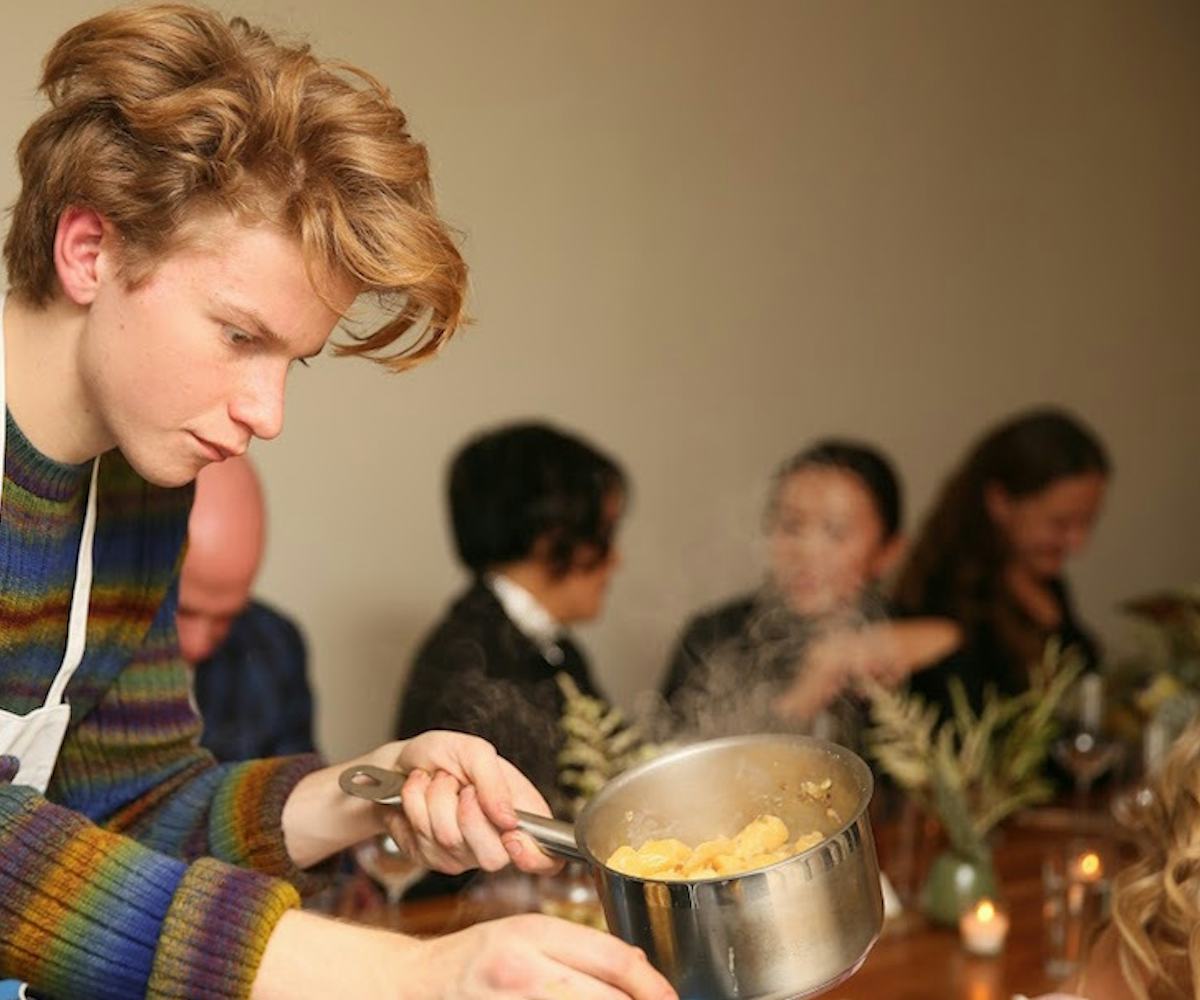 Photograph by Angela Pham/BFA.com.
Meet The 19-Year-Old Chef With The Most Exciting Menu In NYC
And a documentary that premiered at Sundance
It's a mark of a certain level of culinary talent when a chef's name is recognized before that of their restaurant. Such is the case with Enrique Olvera (people likely know Pujol, but would be hard-pressed to name his other restaurants) and Missy Robbins, both chefs whose exceptional skill, honed over many years at various institutions, precedes the spaces where said skill is displayed. So it's remarkable when the name of a chef early on in their career is better known that their also buzzed-about restaurant—even more so when you learn that said chef is just 19 years old.
But that seems to be the case when I post a photo—of bright green grilled snap peas with tofu, smoked trout roe, and trout oil laying in chilled mushroom broth and topped with lavender-colored petals—from my recent dinner at Gem, prompting my friend, a director of communications for a high-profile chef, to ask me what this place is. "Oh, it's Chef Flynn's, right?" she quickly follows up. It is indeed the restaurant of Flynn McGarry, a culinary wunderkind who's been on the radar of food critics since he was 13 and was dubbed "a prodigy" by The New Yorker while hosting multi-course tasting dinners out of his mother's house in L.A.'s San Fernando Valley, in a pop-up called Eureka..
Any teen chef attracting praises from culinary icons like Sugarfish's Kazunori Nozawa and Eleven Madison Park's (where McGarry interned) Daniel Humm would be enough to raise some eyebrows, but, by that point, McGarry had already been cooking for awhile. His interest in food started even earlier when, as he tells me, "I started cooking because I didn't like my parents' cooking." After the mother of the then-10-year-old took him to a cookbook store, "I picked the most expensive cookbook on the top shelf: The French Laundry. It was then that cooking changed for me from no longer being just about what you eat to being an art form." Working his way through Thomas Keller's essential read, named after the award-winning chef's most famous restaurant, McGarry began to experiment cooking for his family.
"I was 12 years old and had just started working in restaurants," McGarry tells me of the first Eureka dinners. "I wanted a place to be creative with all the new techniques I was learning, so I started hosting these events for my parents' friends. People started telling their friends, and their friends, and it eventually grew to the point that our space was too small and I started doing the pop-ups in restaurants around L.A."
In 2015, catapulted into fame by the press and word-of-mouth reviews his dinners received (so much so that a documentary, that premiered at this year's Sundance and will finally be in theaters come November, began to be in the works), a Eureka pop-up came to New York City; this spring, McGarry opened Gem, a permanent cafe by day and tasting menu restaurant by night on the Lower East Side. When I walk into the space on a humid day in June for the 6pm seating (there is also a 9pm one), most of the 18 guests that the restaurant sits at one time are already gathered in the Living Room, a space flanked by plywood lounge chairs, mismatched coffee tables, and a long leather-and-wood banquette bench (this is also where the dessert and digestifs would be served after dinner); after accepting a complimentary flight of champagne, I was escorted into the Dining Room for the 12-to-15-course dinner.
The names of the rooms, and the flow from one to the other, is not coincidental. "I wanted it to feel like it was my home," McGarry says. The Dining Room kitchen island where McGarry and his staff assemble each dish is off to the side but in an entirely open area, creating the feeling that you're being served by a friend at a dinner party as you sit back in the cane armchairs and anticipate your first dish—in, my case, a bowl of shrimp ceviche in rhubarb juice with grilled red bell peppers and a dollop of crème fraîche.
McGarry's attention to detail is apparent with every dish that lands on the table, each one more artful than the previous one, topped with vibrant marigold- and fuchsia-colored flowers, herb sprigs, splashes of cream, and asymmetrical spoonfuls of sauce—all finishes that never feel like last-minute garnish but rather crucial components of the palate-building experience. That punctiliousness extends to the interior of the restaurant as well. Glasses are placed on etched silver coasters, food (aside from the ceviche and dessert) is served in neutral, chef-favorite Jane Herold pottery bowls and plates that don't take away any attention from the actual ingredients on the dinnerware, and the wine is offered from a tightly curated list (with some available seasonally). "I spend more time in the restaurant than my actual home, and it was important to me to see the space as a singular vision—I wanted the design to match the food, wine, music, and so on," McGarry says.
Almost everything you'll eat at Gem will feel unexpected, with new flavor profiles arising from, on first glance, everyday produce. The shrimp ceviche is followed up by the aforementioned snap peas that are topped with perfectly round balls (so perfect, they look picked by hand out of the bunch) of roe the color of a traffic cone. Next, a saffron-infused stew of summer squash, mussels, garlic scapes, and tomato squash blossom stuffed with mussels and caramelized tomatoes precedes the green asparagus cooked with ramp tomato broth of asparagus juice and toasted walnut breadcrumbs. If it sounds like a lot, it is, and yet no one ingredient ever overpowers the others—a culinary game of Jenga that McGarry has clearly mastered. "When I come up with a dish, I think what I want the full thing to taste like, and then I work backward," he says of the layering of flavors. "A well-balanced dish uses all five flavors, and to get to that point often many ingredients, textures, and temperatures are required."
For instance, to make one of his most raved about dishes—the aged beet with beet greens and a bordelaise sauce—McGarry has to smoke, juice, char, dehydrate, roast, braise, grill, glaze the star ingredient. The result? What I thought was two perfect slices of steak encircling a mold of creamed spinach and surrounded by a blood-like puddle. The taste? Better than any steak and creamed spinach I have ever had, with the buttery Bordelaise so good, it takes serious restraint not to lick the plate after the last of the sweet beet is gone. "I find cooking vegetables to be more challenging and rewarding," says McGarry of his veggie-centric menu. "It can be much harder to present someone an incredible dish made with beets than something made with a luxury ingredient."
It's therefore ironic that all of McGarry's dishes taste so gastronomically complex. The grilled cucumber in smoked maple is made more gluttonous by a poached egg yolk, grilled garlicky greens, and pickles, and the tender corn agnolotti with brown butter more exciting by the addition of crispy quinoa and shaved truffle. "It's hard for me to pin down a specific inspiration but cooking is how I process information. It can be something as abstract as seeing a certain shape or something as literal as a dish inspired by the actual ingredients," says McGarry of the inspiration for his dishes. "Right now, I go to the farmers market at Union Square a few times a week to shop for ingredients and get inspiration. I often plan the menu for each night as I ride my Citibike back to the restaurant."
Some call his cuisine modern, while others describe it as seasonally driven. While neither would be wrong, he simply calls it "New American," before adding, "I wouldn't want to classify it as a certain cuisine because I draw inspiration from all types of cuisines." While his focus on seasonal produce is decidedly American, his precision when it comes to assembling the very, very many layers that make up each dish is classic European, while the sheer number of techniques he employs borders on molecular. And while McGarry's cooking may appear esoteric at first glance, with almost a dozen techniques attached to making a single beet, I would argue that it's unapologetically playful. Nowhere is it more apparent than in eggplant carnitas, cooked in chiles and corn husk and served with green strawberry salsa; pistachio and oregano paste; marigold crema; and handmade tortillas—a dish that has forever made me rethink carnitas, not unlike Olvera's duck version had done a few years prior.
While some point to McGarry's age as a way of justifying his daring to experiment and break kitchen rules more so than some of the more established names, there's plenty of other things that make McGarry stand out from others, age aside—namely, a unique palate that hasn't been tainted by decades in different kitchens and an unjaded impulse to experiment (who would think up a PB&J, made up of foie gras and jelly on a homemade peanut butter Ritz cracker?). And yet, it's hard not to bring up his age when you taste his food, so amazed are you by his knowledge of ingredients and pairings whose references date to before he was born (a cabbage, eggplant, and caviar sandwich, for one, took me back to my childhood in Russia). And he seems to understand that. "It's something that I've come to terms with, that it is always gonna be a thing," he says when I question whether he's sick of people bringing up his age. "I'm grateful for the opportunities my age has brought me, but it hasn't made me work any differently than someone twice my age." That much is clear; his food isn't just astounding for someone his age, it's astounding for a chef at any age.
So what does a teenager with a restaurant in NYC and almost a whole decade of cooking under his belt (and many more ahead) have planned next? "For so long I've been motivated by the goal of opening a restaurant, and now that I have that, the restaurant will dictate what comes next," he says. "And hopefully, some vacation." It will be a well-deserved one.