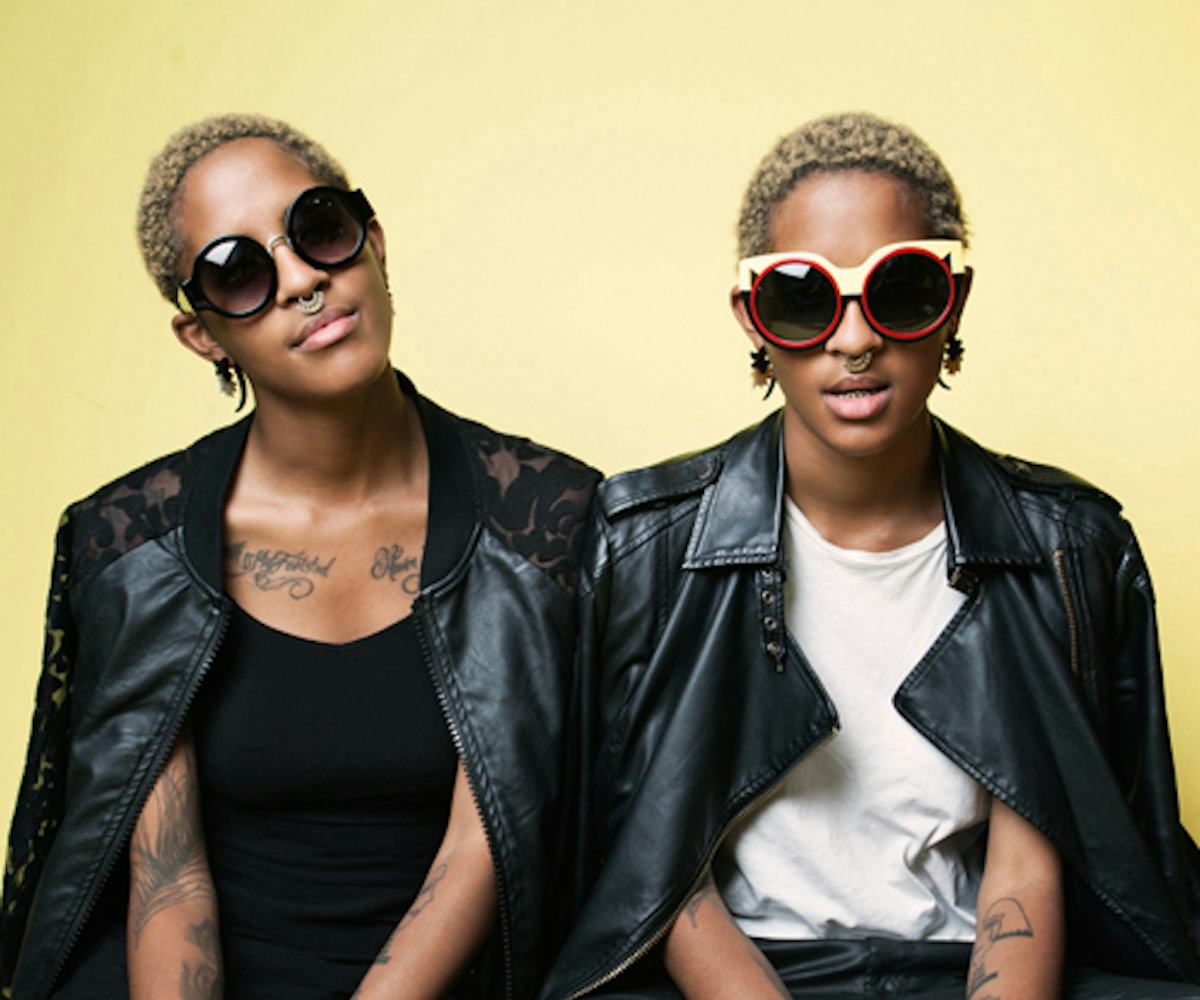 photos by suzanne darcy
get to know designers coco & breezy
the twins talk inspiration and why you should never take your shades off.
For Minnesota natives Corianna and Brianna Dotson, also known as Coco and Breezy, feeling like outsiders provided them with a spur of inspiration. The now widely popular eyewear designers have managed to transform the shameful label into a point of motivation for continuing their avante garde fashion sense. The twin's adoration for rocking sunglasses started as a mechanism for shielding them from a community of onlookers who misunderstood both their innovative style, and their eclectic vision. Eventually, the two took a chance on the unknown and ventured to New York City. Here, they pursued their artistic nature and soon built a boutique accessories brand that was a representation of their unique sense of self and newfound confidence. Coco and Breezy's unwavering dedication and inherent diversity fueled an industry revolution, and solidified their place as conoisseurs of wearable art. 
Name/Brand Name: Coco and Breezy Dotson/ Coco & Breezy
Occupation:Designers/ Artists
Hometown: Minnesota
Current City: Brooklyn, NY
1) How long have you been designing? Why is eyewear so important when putting together a look?
We have always been creative and loved art. We started designing when we were kids—stealing our parent's sheets and making them into dresses. We found our love for sunglasses in highschool when we felt like outsiders. Sunglasses gave us the level of confidence that we never had. We used our love for sunglasses and designing and educated ourselves on how to design eyewear. 
2) Each collection has its own story, where does the inspiration come from?
All of our inspiration comes from life stories and personal experiences. We also love creating art and a lot of our designs are inspired by our paintings and illustrations. 
3) You've done a lot of collaborations. Which one has been your favorite so far?
Our favorite collaboration was with MILLY. It was so amazing as we had the pleasure to design and produce custom glasses for the MILLY runway show last September fashion week. 
4) When is it acceptable to not be wearing sunglasses?
When you're sleeping ... Lol! Other than that, why take your sunglasses off?
5) What's next?
We are excited to grow our eyewear line by not only doing sunglasses but by creating fashion forward optical frames. 
6) Anything else we should know about you? 
We love to dance!!!!!!!!!!! 
Shop Coco and Breezy's looks at
!
zesiro sunglasses in brown, coco & breezy, $240. atsu sunglasses, coco & breezy, $150. (available here.)
rainy days sunglasses, coco & breezy, $125. krill sunglasses, coco & breezy, $210. (available here.)
pram sunglasses, coco & breezy, $260. thema sunglasses, coco & breezy, $275. (available here.)
thema sunglasses, coco & breezy, $275. atsu sunglasses, coco & breezy, $150. (available here.)
thema sunglasses, coco & breezy, $275. atsu sunglasses, coco & breezy, $150. (available here.)
pram sunglasses, coco & breezy, $260. thema sunglasses, coco & breezy, $275. (available here.)