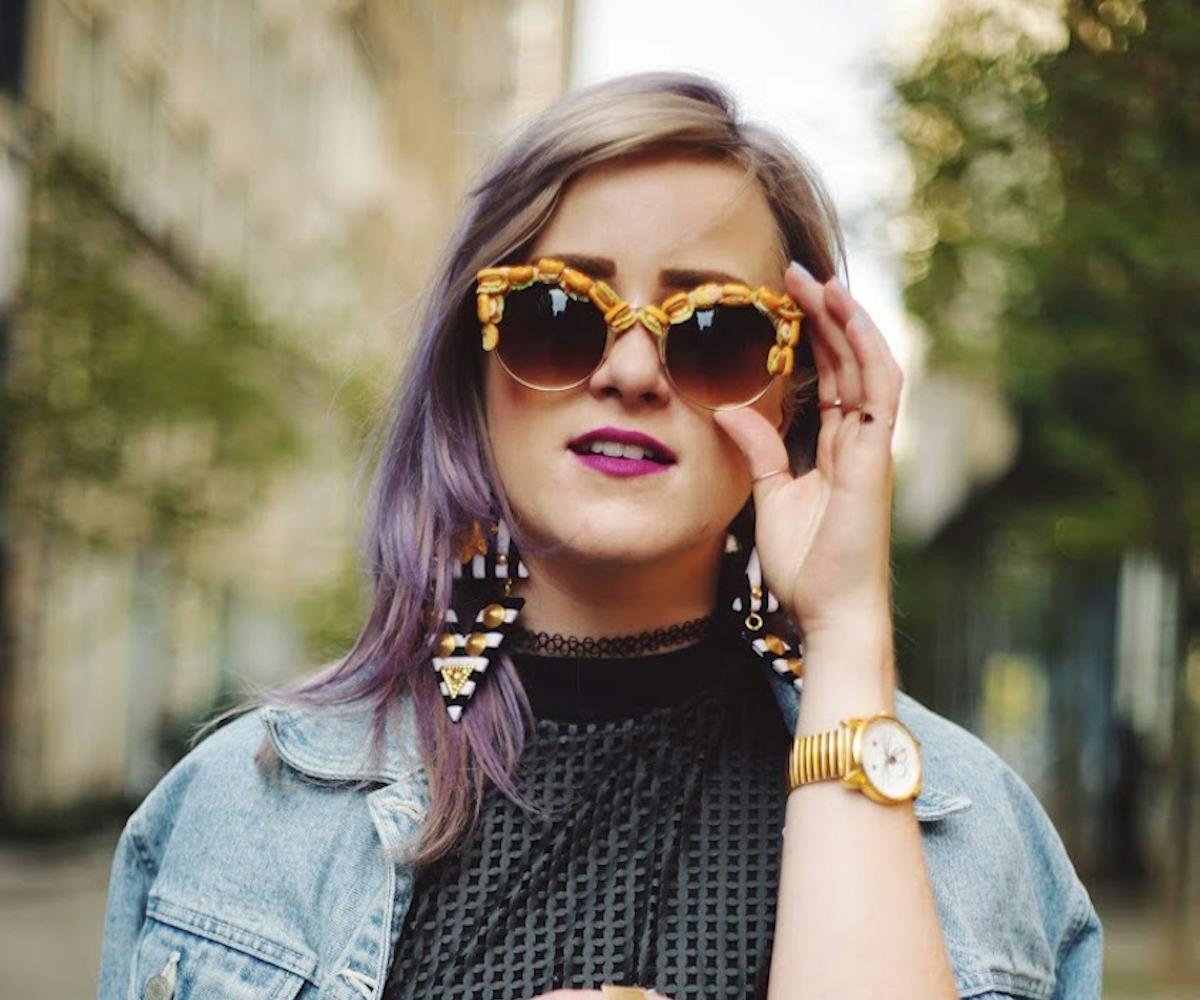 hannah miles shot by haylee barsky
Name/Blog:
Hannah Miles from
Hometown:
Originally from London, currently living in Williamsburg, Brooklyn
Occupation:
Print Designer by day, fashion blogger/ stylist & Photographer by night
Current City:
New York
1) Tell us a little about M/LES---- what inspires you?
M/LES is a blog for the girl who is inspired by H/M but styled by HER. Pretty much all of my style inspiration comes form what I see on the streets, which is why the "ON THE STREETS" section on M/LES is so important to me. If I see someone wearing something cool or in a way I had never thought of before, I make a mental note and then replicate it myself. I also find a lot of my outfit inspiration comes from the mans wardrobe, which is why my tag line is inspired by him. Layering, shirts, oversized tees are all things I am drawn to when street-style shooting and styling for M/LES. I wear a lot of men's clothing on my blog and have collaborated with some big name menswear brands. I like to think I am slowly breaking the boundaries between 'menswear' and 'womenswear' by styling the menswear in a way that she likes to wear... I have never been on to play by the rules, so why start now.
I have a fun, quirky, individual and 90's focused way of styling with scrunchies, socks and sandals becoming a recognized staple of how M/LES dresses. Also, coming from a print design background, I am a big lover of prints, the crazier the better in my eyes.
2) How do you maintain your pastel hair?
In the last year or so I have been through a number of pastel shades of hair. I started with Peach which then led to pink and then to grey and now to lavender. I am a bit of a chameleon of fashion and am constantly changing with the times, so who knows what color is coming next. To keep my pastel shade I get my hair bleached and then top the color up every time I wash it with the chosen dye. My trick is to buy a tube of hair color a few shades darker than you intend for. After washing my hair I mix a small amount of the chosen color to a large amount of conditioner, rub it over my hair for about 5-10 seconds and then wash it off and VOILA you've got yourself some pastel hair. If you want an even distribution of color it's probably wise to mix it in a bowl before application and apply the color with a brush, but I go for the more hand-done effect. Also be warned hair dye does dye your bath tub-- my roommate always knows when my hair has changed color because the bath tub does too... oops.
3) You interview a bunch of girls that are doing big things on your blog---- who has been your favorite and why?
I love to hear what people behind the brands have to say about what they do. I am a big believer that anyone can do anything they want in life with the right amount of drive, passion and above all dedication. When I interview the girls, and guys, behind the brands it just confirms to me that they are normal people like us too, they just have big dreams which they are putting in motion. By interviewing girls I hope to inspire my female readers that they too can achieve their dreams. Whether their passions lie in design, styling, photography, or even if they are not fashion related at all, I hope that within each interview I do there is at least one question or one answer which resonates with the reader and makes them think a bit deeper about their passions.
I think my favorite interview was probably with the girls from ELEVEN:ELEVEN UK. I found it very easy to relate to them as I am the same age and in the same stage of life, so when I see them making a success of their brand and selling worldwide I know that it is possible to make something happen.
Look1: As soon as I saw this jacket I knew it was destined to be featured on M/LES. How nostalgic can you get- Furbys, Troll Dolls, Care Bears AND paired with the tattoo choker necklace. I was definitely re-living my 90's childhood dreams.
Look2: Gothic Jock meets M/LES- Think Rydell High School (from the movie GREASE) being taken over by Dr. Marten wearing, lipstick loving goths for the day.
Look3: When else am I going to wear sunglasses with mini burgers around the frame?! Exactly. More is always less for M/LES. Why wear one ring when you can wear ten?! That's why I love NYLON.
Shop Hannah's looks at NYLONshop.
toyshop panel jacket, hot mess $170. boys club romper, castles couture, $54. (available here.)
toyshop panel jacket, hot mess $170. boys club romper, castles couture, $54. (available here.)
varsity jacket, rebel 8, $78. nsibidi couture crop top, caven, $38. lydia sunglasses - black, find the light, $40. (available here.)
varsity jacket, rebel 8, $78. varsity jacket, rebel 8, $78. nsibidi couture crop top, caven, $38.lydia sunglasses - black, find the light, $40. (available here.)
red serape jacket, gull + marie, $90. freak of nature mini skirt - white, pretty snake, $48. hoagie coco glasses, gasoline glamour, $40. bandit earrings, badacious, $62. (available here.)
red serape jacket, gull + marie, $90. freak of nature mini skirt - white, pretty snake, $48. hoagie coco glasses, gasoline glamour, $40. bandit earrings, badacious, $62. (available here.)
red serape jacket, gull + marie, $90. freak of nature mini skirt - white, pretty snake, $48. hoagie coco glasses, gasoline glamour, $40. bandit earrings, badacious, $62. (available here.)