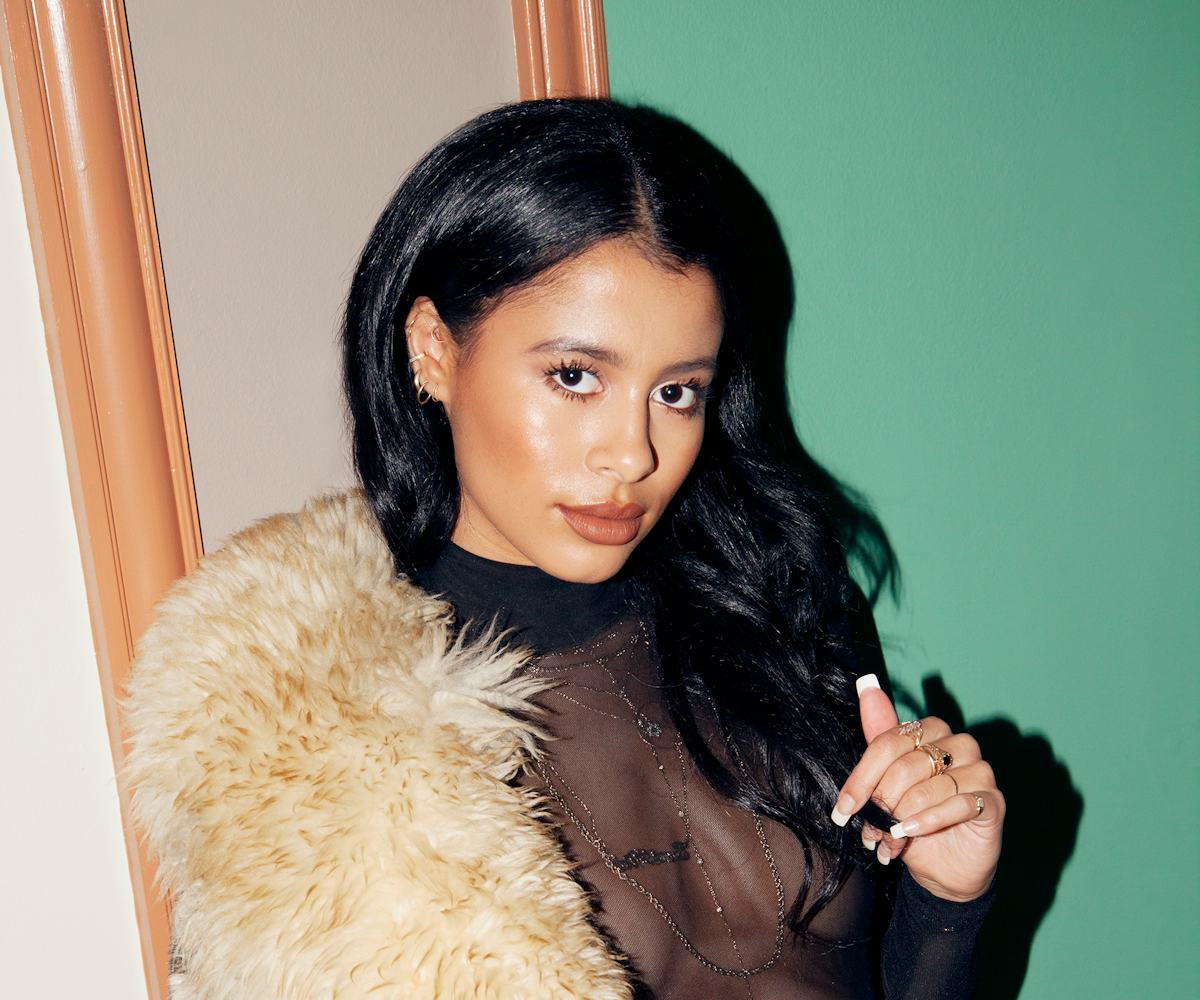 Photographed by Scott León. Hair: Tori McConkey. Makeup: Daisy Ontiveros.
Catching Up With Sami Miró
meet our march issue 'girl we heart'
The following feature appears in the March 2016 issue of NYLON.
Sami Miró is a vintage-clothes whisperer. An '80s suit with gigantic shoulder pads becomes a totally sexy ensemble when she's done with it. A men's leather jacket that most would overlook becomes completely covetable after she plucks it from the rack. When we meet at a French café in Los Angeles' Los Feliz hood, she's wearing an old oversize black Malcolm X T-shirt paired with a velvet-adorned sheer turtleneck, black jeans, booties, and at least one ring on every finger (including her mom's wedding band). The 28-year-old's got a serious sixth sense when it comes to making the old new again, which is what helped her make the leap from a career in marketing to what she does now: vintage curation, styling, and an upcoming secret venture that she won't say much about except that it will combine her three main passions—business, vintage fashion, and creativity. 
There's another major element of Miró's life that she doesn't much want to dish on: her relationship with her super-famous boyfriend, Zac Efron. But that doesn't stop other people from talking. Tabloids keep constant track of the couple, even on their recent monthlong vacation in Asia. "Some media outlets are like, 'And so-and-so's model girlfriend.' I'm like, 'You guys, stop saying I'm a model. I'm 5'5"—let's be real,'" she says with a laugh as our almond milk lattes arrive. But Miró has done some modeling for brands like Levi's and Missguided—not an easy feat for a person who's happiest when she's not the center of attention. "You have to kind of grow a pair and do it," she says. "And that's taught me a lot on life in general." She will bring up Efron when it comes to work, however. "I'm styling Zac, which is a natural transition," she says. "It was something we did—now it's just having an official role for it." 
Even though styling is new to Miró (with a B.A. in marketing and a master's degree in global entrepreneurship and management, she worked at a tech/consumer electronics start-up until well after her move to L.A. in 2013), vintage clothing is not. She was a teen in her hometown of San Francisco when she first discovered it as a way to keep up on the cheap with her rich, designer-clad classmates at private school. "Then it turned into me realizing, 'Oh wait, this Lacoste polo that went from the traditional purple to the faded purple and now has some random holes in it is actually so much more awesome than your new Lacoste polo,'" she says. "I realized the value that age gives to clothing and how special it becomes. Everything is one-off, everything is unique, and everything tells a story."
And while her epic clothing collection, enviable style, and, yes, hot Hollywood bae make Miró an obvious Girl We Heart, it's her attitude that takes our love to the next level. "I don't ever dress for anyone else, ever, ever, ever," she says. "It's like, 'Does this outfit complete me? Okay. I'm ready to go.'" 
Click through the gallery for "Miró's Musts".
Miró's Musts: