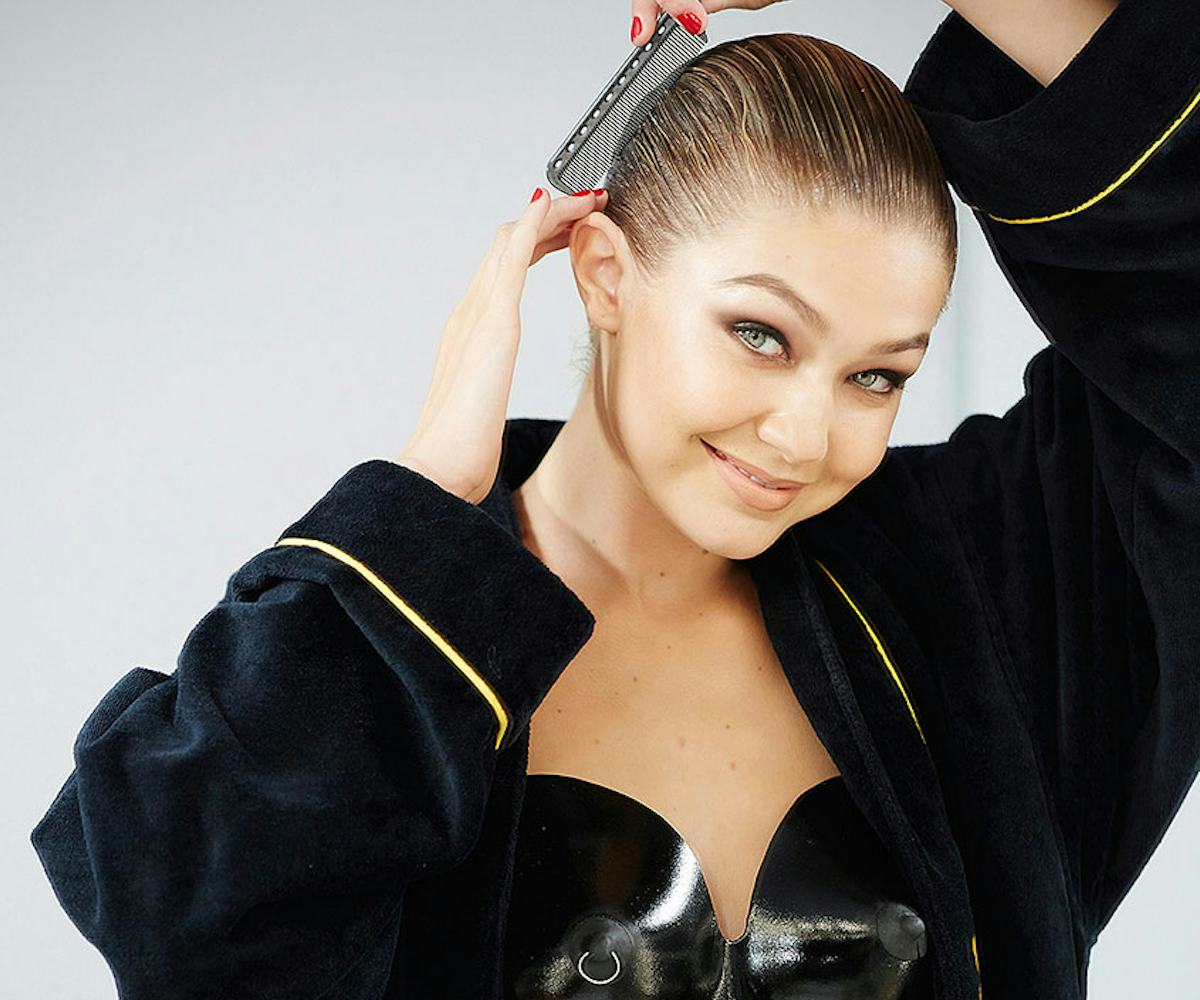 all photos courtesy of pirelli
gigi hadid is about to be bigger than kendall
We have a sneaking suspicion that even if Gigi Hadid didn't come from modeling royalty (her mother is Yolanda Foster), she would still be one of the industry's top models. After all, you can't book campaigns with Sports Illustrated, Guess, and Tom Ford on legacy alone. With a massive social media following—clocking in at over 1 million Instagram followers and 175K Twitter devotees—a kickass personality, and Carine Roitfeld standing behind her, the 19-year-old is on her way to becoming a household name. Especially since she's joining the ranks of Kate Moss, Alessandra Ambrioso, and Karlie Kloss as a Pirelli Calendar girl.
How was it being a part of something that is so sensual and sexy? How did you channel that inside of you?
I think a really wonderful thing about this calendar—this year in particular—was that everyone got a different character. I think that's really helpful when you have to be more sensual than you're used to being. I'm one of the most covered in the calendar, which was helpful, but I think that due to Carine [Roitfeld] knowing who I am—and I think she knows me really well—and knowing if she put me in something sexy but still covered, I would be able to bring more sensuality to it whereas maybe if I was less covered, I would have been more subdued and shy about it. So, I think that everyone in their different pictures was really comfortable because Carine knows each girl really well. When first saw my outfit, my first thought was Catwoman and so I think that my mental state was very superhero and that's what I was trying to bring. So, I guess the sensuality of being a super woman and whether you have a male counterpart or not, being able to be sexy and powerful on your own, with someone else, as a team, or an individual. So, that's what I was channeling. 
Catwoman is super fetish. She's lots of leather and latex. You're a part of a big trend right now of second generation stars (like you and your friends) and I was wondering if you guys support each other and how you support each other and also, why do you think you guys are so good?
I think—starting off with why we're good and successful—I have friends (I'm obviously not going to name any names) that are considered second generation that don't have a good work ethic and are relying on being second generation for their success. I think that probably my best friend that would come in the category you're talking about is Kendall [Jenner] and she's someone that really doesn't really rely on her family to get her career to where she wants it. I hope that's what I show too and I think that's why we get along so well and why we're able to support each other because we really understand that between each other. We both have a good work ethic and we both really want to be successful on our own and make a name for ourselves. I'd say that's the difference because a lot of people still do say Kendall is who she is because of her last name and I'm who I am because of my family's success but what I want to show people and what I hope what people see when they compare me to other people is that my hard work is getting me where I am. It's not only hard work but it's also about being nice to people and being someone that people like to work with and I think that's what I owe 90-percent of my career to is hopefully being someone that's fun to be on-set with.  
Not just anybody is on the Pirelli calendar so it's a big accomplishment. I want to talk about your favorite form of communication, which is Instagram. Why is it so important to you? And do you have any tips on how to take a good Instagram shot, or your favorite filter?
I feel really lucky to live in a generation where models are becoming personalities and it's not just about the face anymore, where maybe it used to be more like that. We get to have a voice and really be representatives of the brands we work for and representatives of what we stand for and what we want to show our fans, supporters, and followers. That's why I love Instagram because it's just one of the outlets we get to use to have a voice and be a personality, be silly, and show not only our work stuff we're proud of—because it's an easy way to let people know what you're doing—but it's also somewhere where you can show your personality, show someone a little insight to your life, and show people behind the scenes. I think that's why people follow other people to have a mix of all of those things. I also really like Twitter because Twitter is more of my place where I get to connect with people and I do things like 'Ask Gigi' sometimes and let people ask whatever. Obviously I have to filter some questions, but I try and answer as much as I can and follow people back and follow fan accounts and that's great. For Instagram filters, I only use fade on your iPhoto on your phone because I really like when people's pages have a flow and it looks nice so I use one filter so my entire profile page is the same. It makes it easy because you know which one you're going to use. 
Related Articles
Pirelli Casts Its First Ever Plus-Size Model (NSFW)