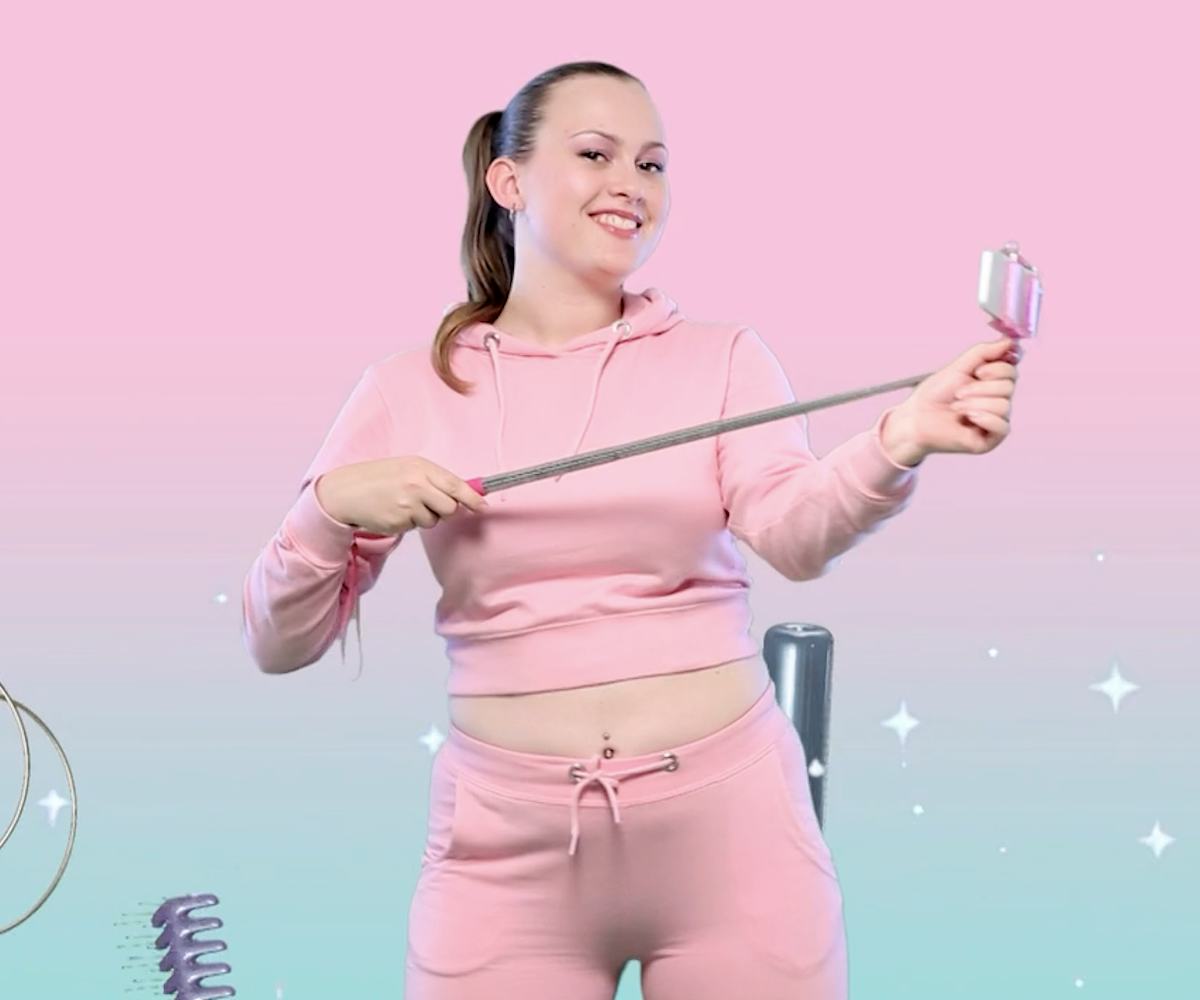 Photo by Arvida Byström and Maja Malou Lyse via Art Baby Gallery
'girls at night on the internet' is the web-inspired art exhibit you need to see
With the invention of Tumblr's reblog button and Instagram's likes, sharing artwork online has become easier than ever, allowing young artists to accumulate followers with the click of a button—yet also holding them back with the ephemerality of social media. But now, a new exhibit at Alt Space Brooklyn titled Girls At Night On The Internet is bringing emerging artists of the web off the screen and into a gallery space, all thanks to online gallery owner Grace Miceli.
In 2011, Miceli decided to start Art Baby Gallery as a way to showcase the works of her friends, contemporaries, and emerging young artists. Having recently graduated from art school, she wanted a way to share her voice in the art world with her DIY approach. "All of these artists were not established," she says. "That was the goal of it—for people to be discovered." And so she created her online gallery, making a welcome digital space for new, interesting art—a space that has now extended to the physical world with her first curated IRL exhibit.
From August 21 to September 12, Alt Space will show the work of 18 artists including Petra Collins, Arvida Byström, and Miceli herself. The exhibit features virtually every different medium, from illustration and photography to embroidery and collage. "It's a multimedia, multidisciplinary show," says Miceli. Yet through every piece, the impact of the internet is evident.
"All of these artists grew up on the internet and I think that having that social life online completely informs their work," says Miceli. From pop-cultural references to digitally altered nostalgic imagery, the works in the gallery have clearly been created by artists of the Internet Age. But by taking that work outside the ever-distracting frame of the internet, Girls At Night On The Internet forces viewers to give these piece a little more thought.
"I think that when you're actually in a physical gallery space you take a little more time with work. It can seem demanding of your attention," says Miceli. "Online, there's so much to look at. I always have 10 windows open, so i think that if you come into a gallery you can have a little more alone time with work and focus on it a little more." These aren't just photographs or illustrations that deserve a simple like or reblog—they're important art objects that deserve the consideration that a gallery wall commands.
For Miceli, curating is a way to showcase the art she loves while also creating a warm community for emerging artists who may not yet have gotten a ton of exposure or opportunities. Art Baby Gallery and Girls At Night On The Internet both are ways to increase the accessibility of the art world and to inspire artists who otherwise may be too scared to put themselves out there.
"I love the idea of aspiring teen artists coming to the show and saying, 'Hey, there's this 20-year-old artist showing work in a gallery. I can do that too.' That's what I want it to be. That's the point of Art Baby—to feel inclusive and not intimidating, which I feel like so much of the art world is," she says. "It's not that I'm trying to show the mainstream art world, but I'm trying to do things on my own terms."
Girls At Night On The Internet runs until September 12 at Brooklyn's Alt Space. For more information, visit their website.