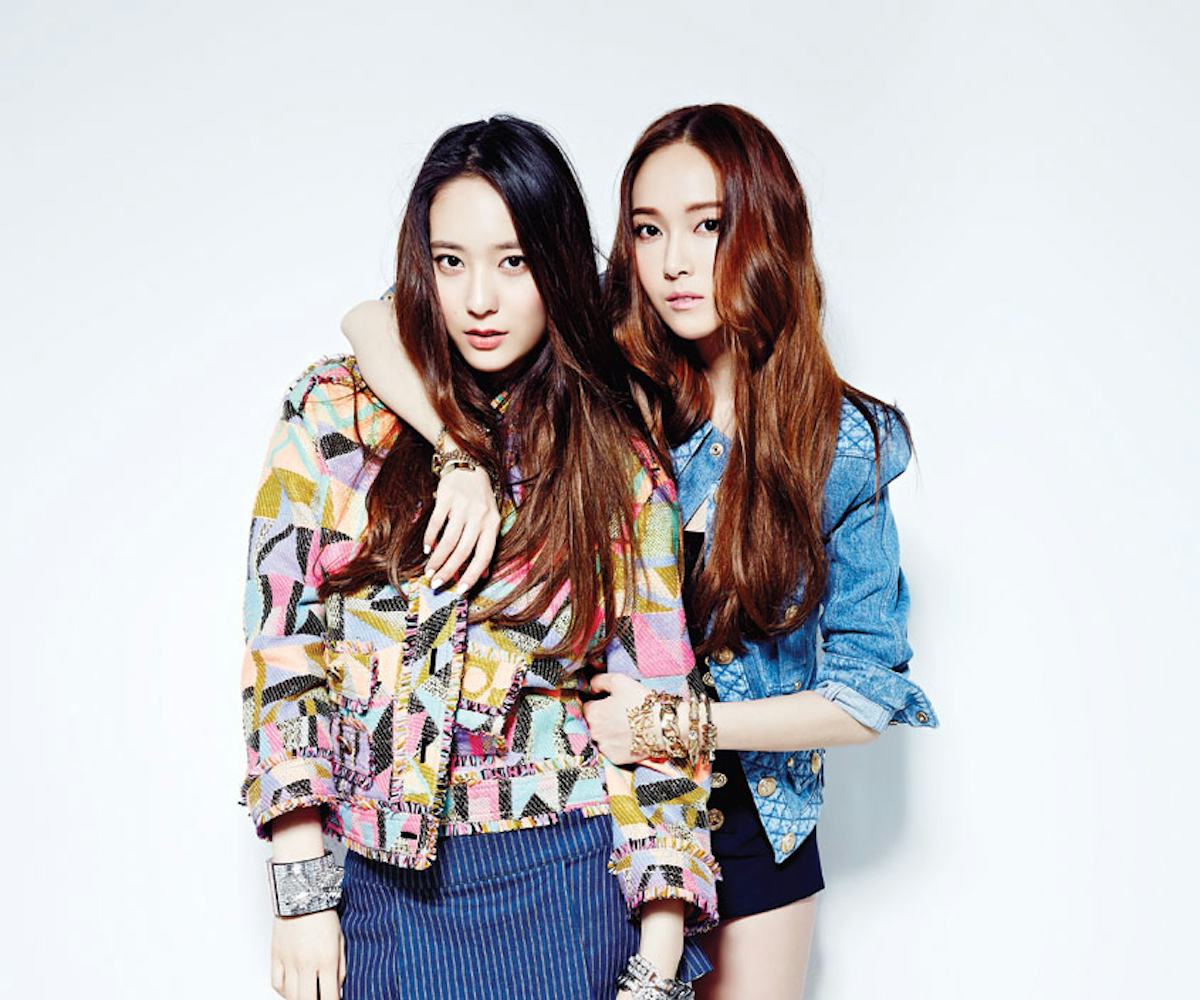 all photos by marvin scott jarrett
sister act
read our interview with girls generation here!
Sure, it's common to start any story of siblings in the music industry with tales of intense piano recitals or impressive parental record collections. But Jessica and Krystal Jung say that their early upbringing only provides traces of evidence that they would go on to join two of South Korea's biggest pop bands, Girls' Generation and f(x), respectively. "When I was picked up by the casting director, I was 10 or 11," says Jessica over the phone from Seoul. "I thought of singing as an after-school activity."
She's speaking of the fateful meeting at a South Korean mall during a family trip that sealed the former San Franciscans' fate. There, they were scouted by a rep for S.M. Entertainment, one of the "big three" K-pop record labels. Jessica opted to move to South Korea and begin intensive singing lessons. Krystal, five years younger, joined her sister a while later.
After several years of training, the girls forged twin paths in singing, acting, and spokesmodel work (Krystal has been the face for Calvin Klein, Puma, and K-Swiss, while Jessica endorsed Cartier, Chanel, and Hyundai). "Me and my sister are both pretty shy," says Jessica. "It was really hard getting up on a stage, and having all the attention—this is an attention- grabbing job! But now we're getting used to it. I don't want to disappoint myself, and I don't want people to not enjoy my show, so I give it my best."
Krystal praises her older sister's professionalism, while Jessica admires her younger sibling's honesty. "I try to be the cool older sister, but I naturally become very protective of her," admits Jessica. "Especially around boys!"
Although busy with their respective bands and side projects, the sisters have taken their relationship into the studio, joining forces to record a bubbly bilingual duet called "Butterfly" for the 2012 South Korean television series To the Beautiful You. "I liked that our voices were very well-combined," says Krystal. For Jessica, the recording session was a cherished sanctuary in a harried schedule of professional commitments where, more often than not, she has to be on. "If I'm working with other people, then I'm always constantly looking out for another person," she explains. "But me and my sister know each other so well, so we don't actually need to do that."
Of course, the collaboration also prompts the 64,000-won question: With an airtight relationship and similar musical leanings, will the sisters record an LP together? Krystal playfully dodges the question, leaving Jessica to carefully choose her words. "We're constantly working on songs when we get a chance to," she says. "Maybe an album will come out." 
on krystal (left): jacket by 3.1 phillip lim, briefs and skirt by burberry prorsum, necklace by dolce & gabbana, bracelet by bottega veneta, shoes by puma. on jessica: top by zara, skirt and briefs by burberry prorsum, shoes by puma, gloves by chanel, necklace by vintage hollywood, ribbon necklace by bijoux de famille by darling you.
jacket and skirt by saint laurent by hedi slimane, shirt by dolce & gabbana, rings by jealousy. on krystal: top by philipp plein, skirt by arche, earrings by dolce & gabbana, necklace by venessa arizaga, rings by alexander mcqueen.
all clothing and accessories by prada.