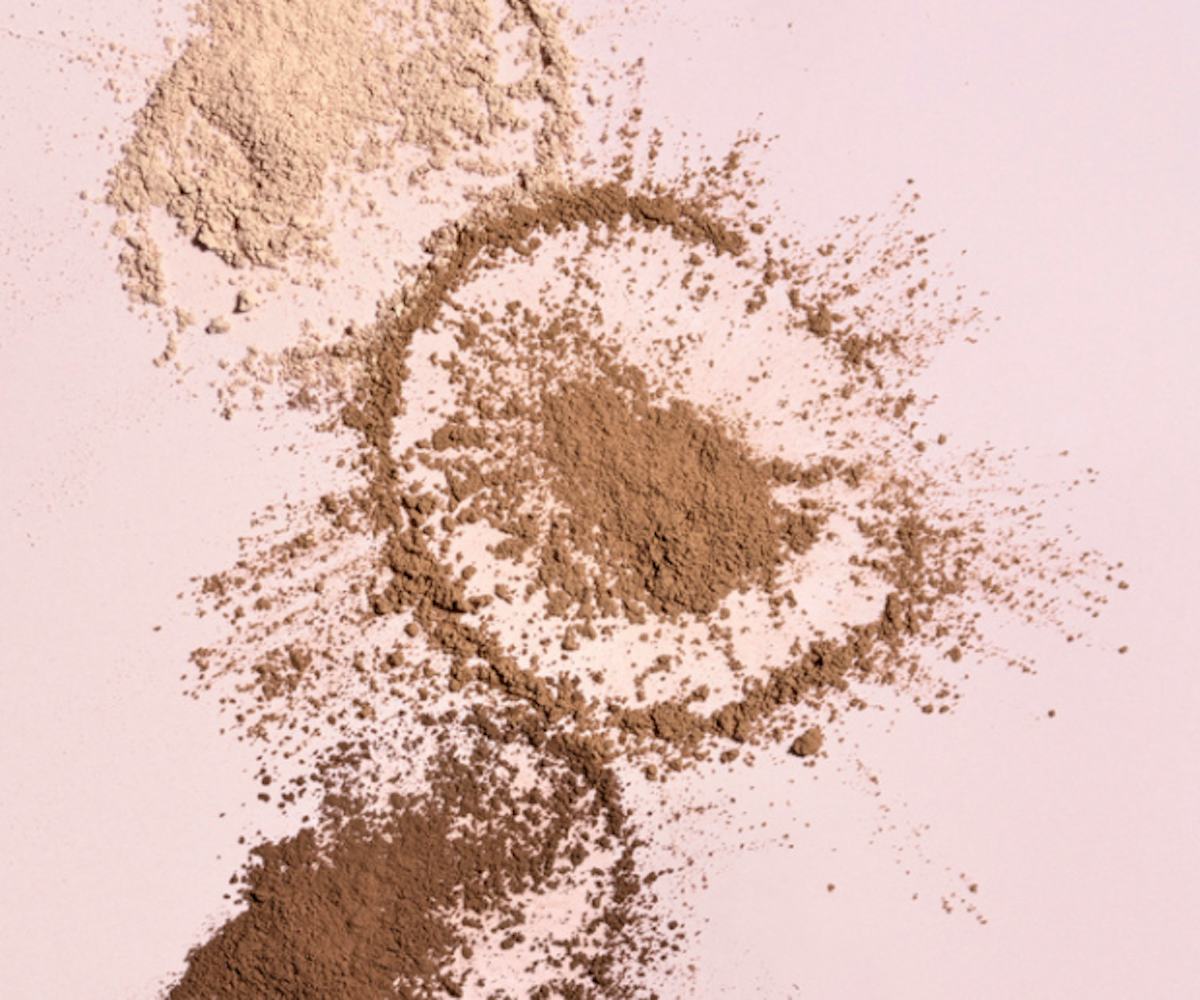 Millennials, Glossier, And The "Death" Of Drugstore Beauty
A(pricot) scrub is a product that don't get no love from me
Glossier founder Emily Weiss, it was revealed recently, has a not-so-dirty secret: She uses "controversial" drugstore beauty product St. Ives Apricot Scrub on those "once in a blue moon" occasions when she really wants to soften the skin on her "arms, legs, and the rest of her body." As the creator of highly coveted skin-care and beauty products, Weiss was well aware that her use of such a basic product would be called out, and preemptively defended herself, saying: "I can't help that it's really effective!"
Of course, this didn't prevent Weiss from being, well, called out, with writer Darcie Wilder questioning, "How are we all buying SKINCARE from someone who uses ST IVES APRICOT SCRUB." While Wilder's sentiments were shared by many (sample replies to her initial tweet: "I screamed" and "I CLUTCHED my pearls while reading this"), others were more forgiving of Weiss, noting that she "only" uses it on her body, not on her face, with some even admitting their own use of the much-maligned drugstore product. (For those totally in the dark about why St. Ives Apricot Scrub is so controversial, may I direct you to a Reddit thread on the topic, as well as an article from The Atlantic about the multi-million dollar lawsuit brought against the company, alleging that the scrub accelerated aging and inflammation.)
Internet outrage like this is not uncommon—there is always something to be mad at—but what made this instance notable is that it wasn't just anyone who was using St. Ives, but rather Weiss, someone whose particular contribution to the recent disruption of the wildly profitable beauty industry includes an implicit dismissal of those basic workhorse products long classified as "drugstore beauty," a category of the industry which has needed to make a dramatic pivot in recent years in order to stay relevant to millennial and Gen Z shoppers, lest it suffer the same fate as former fashion industry stalwarts like The Gap.
While roaming, either alone or with a gaggle of friends, through the beauty aisles of your local drugstore once felt like a pre-teen rite of passage, the seemingly infinite array of products on display all there for your experimentation, that has changed in recent years. In part, this change was precipitated by the arrival of Sephora, which straddled the line of the former drugstore- and department store-beauty binary, by offering expensive beauty and skin-care products but allowing customers to experiment on their own, without feeling the department store's attendant intense pressure to buy something—meaning everything. Sephora allowed shoppers the drugstore beauty pleasures of brand-hopping, while also encouraging experimentations and sampling—and even, you know, putting on a full face of makeup prior to going on a job interview and then walking away without buying a thing. But, save for their (excellent) house brand, Sephora mostly carries luxury—read: expensive—lines, meaning, even after the megastore's arrival, drugstore beauty was a still vital aspect of the beauty market. 
But while Sephora was able to erase the line between drugstore and department store, it serves as more of a threat to department store beauty counters than drugstore aisles. The real drugstore beauty threat came from the internet, which has dealt drugstore beauty its biggest blow by making affordable brands from all over the world accessible; Amazon started to function as one big drugstore, only this time it could be seen—depending on what you ordered—as more of a pharmacie, because of the way in which American consumers could (and did) start rapidly buying up products from all over the world. Understandably, the allure of a Maybelline mascara paled in comparison to that of the newest formulation from Japan. This piqued interest in hard-to-source and indie beauty brands mirrored millennial consumer trends that could be seen in the clothing industry, where indie and luxury brands thrived but middle-of-the-road workhorses, like J. Crew, faltered. Beauty lovers didn't want that which was easily accessible, those same drugstore purchases that they had made as tweens, when they were first allowed to wear mascara, didn't hold the same appeal. Instead, millennials wanted something cool, something that felt unique, but which was clearly used by all the people in the know.
Enter: Into the Gloss and the Top Shelf and, ultimately, Glossier. But let's start with Into the Gloss. The beauty website, founded by Weiss in 2010, became a huge success thanks in part to its Top Shelf feature, in which beauty insiders, models, actresses, wellness experts, journalists, et al, invited readers into their bathrooms, where beauty and skin-care products were artfully arrayed. It became more clear than ever that beauty aesthetics were not just about the end result but rather about the product packaging. And while traditional luxury brands still held a certain amount of cachet, the truly alluring beauty products were those hard-to-find face masks and lip balms that promised the kind of results that would look great on their grid. And if beauty lovers wanted those things to be affordable? That was fine too. Because there were now brands like The Ordinary that were even cheaper than what could be found in the aisles of Duane Reade. 
But the ultimate Top Shelf product was one featuring instantly recognizable millennial pink packaging, with the distinctive Glossier logo. The beauty and skin-care brand that Weiss launched in 2013 with a handful of basic products (a moisturizer, balm, skin tint, concealer, and face mist), has expanded to include not only a wide array of products, from mascara to blush to body wash, but also a way of being. Even Glossier advertisements are an alternative to the meticulously made-up (and highly airbrushed) models and actresses in big drugstore brand campaigns, since they showcase unknown models whose dewy skin and healthy flushes are emblematic of the no-makeup, just-perfect-skin look that's so in right now; instead of the abundance and implied disposability of drugstore beauty, Glossier represents selectivity and casual luxury.
With Glossier, Weiss has built an incredibly successful brand that seems to stand in direct contrast to the drugstore beauty ethos; where drugstore beauty's appeal lies in the fact that it is explicitly for the masses, Glossier traffics in exclusivity, apparent in everything from the fact that the products are almost only available online (and in a few select Glossier stores and pop-ups) to the marketing, which speaks to consumers on a personal level, promising an individual experience with Glossier products—despite the fact that basically everyone you know (though, notably, not their mothers) uses them. Weiss' use, then, of a drugstore beauty product can be seen as a subversion of what it is that she has been promoting with Glossier. Or, put another way: If these basic drugstore products really work, then why, exactly, are millennial consumers in need of something different? 
In the same way that beauty's only skin-deep, the differences between Glossier and drugstore beauty are actually pretty superficial—and this is something that anyone who knows pretty much anything about beauty is well aware of. As writer Rachel Syme, another respondent to Wilder's tweet wrote: "i mean, milky jelly is basically cetaphil w/rosewater and the balm is vaseline? if glossier comes out with a scrub i am gonna know my theory that they are taking things from duanedorf reademans and dressing em up is RIGHT." Syme isn't the first person to notice this, with reviews of Glossier products on sites like Makeup Alley noting that Balm Dot Com is "essentially overpriced Aquaphor." But it's easy to forget that this is the case when new Glossier drops are treated with the same level as excitement as a new Beyoncé album drop (well, maybe not that much excitement, but it's no coincidence that Weiss tapped Beyoncé to help launch new Glossier product Lidstar at the Grammys this year). In fact, there is little in terms of efficacy to set Glossier apart from drugstore brands—and such is the case with many indie beauty lines at similar price points as drugstore beauty.
The difference, then, is in the presentation, and it's a gap that is growing smaller as drugstore brands like CoverGirl and Maybelline and, yes, St. Ives update their look to better acclimate to a Top Shelf world. Beyond branding, American drugstores have expanded from their traditional roster of products to include K-beauty, J-beauty, and French brands, further blurring the lines of what a drugstore product even is and making it possible for drugstores to better navigate the turbulent waters of a consumer base who cares less and less about brand loyalty and more and more about building their own personal brands. And in the same way that fashion insiders have embraced things like "ugly grandpa" sneakers, perhaps with Weiss' stamp of approval on St. Ives Apricot Scrub (definitely the grandpa sneaker of the beauty industry), drugstore beauty can stage a resurgence, trading in on its inherent uncoolness, but undeniable affordability, to earn a spot on even the most in the know millennial's Top Shelf. Because, hey, in the words of Weiss: "It's really effective!"