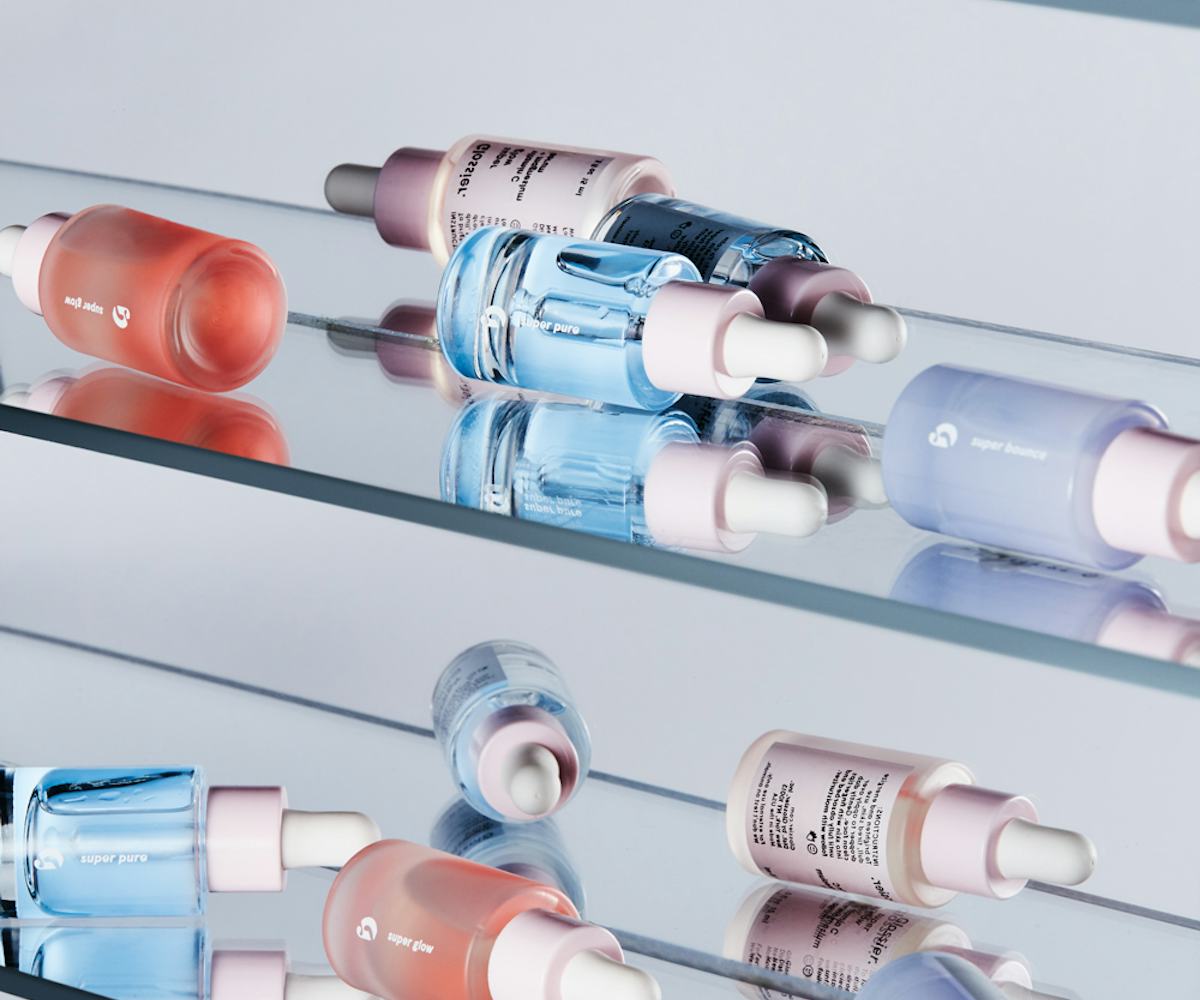 Photo Courtesy Of Glossier.
Monday Blues Be Gone: Glossier's Launching A Trio Of Serums
Everyone's favorite Instagram-friendly beauty brand is back at it again with a trio of new products. You might've seen the minimalistic designed bottles floating across your feed, artfully placed alongside a succulent plant or on someone's top shelf. Well, the picture taunting and vague status teasing are behind us. We present to you: The Supers.
Glossier describes the products as "supplements for your face," which loosely translates to serums infused with good-for-your-skin ingredients. Each one serves a different purpose and is meant to address a specific need. "Because you're not just a 'skin type'—your needs change daily, and your product lineup should help you adapt," a statement from the company reads.  
The Super Glow is made up of vitamin C and magnesium and is formulated to help jolt dull, tired skin back to life. Formula-wise, it's by far the lightest of the bunch and feels more like an essence than what we typically expect from our serums. Super Bounce is on the thicker spectrum of things—but not overwhelmingly so—which makes sense once you realize it's meant to be used when your skin is feeling extra parched. Its ingredients include moisturizing maven hyaluronic acid and vitamin B5, and the brand hints that it's good for long flights or—wink—when you've had a little too much to drink the night before. Rounding out the bunch is Super Pure, which we're declaring the Baby Bear of the three: not too thick, not too light but just right. It's formulated to settle down your breakouts, redness, and overall stressed-out skin with the help of niacinamide and zinc. 
The instructions recommend applying all three serums directly to your face with the dropper and gently patting it into your skin (see the below video for an example). This sounds and looks easy in concept, but is actually not that fun to do IRL (hello, all the dripping). In our humble opinion, you can also simply squeeze droplets into the palm of your hand and dab the formula in that way—the choice is ultimately yours. Once the serum's absorbed, follow it up with your moisturizer of choice.
The group is joining Glossier's very loved lineup of skin-care products, bringing the brand that much closer to beauty domination. All the company needs to add is a sunscreen—and maybe an exfoliant or toner—and your routine can be all Glossier all the time. 
The Supers are available now on Glossier's website. You can pick them up individually for $28 or you can get the pack, which will set you back $65. You should know by now that the brand has a very loyal and dedicated cult following, so we shouldn't have to tell you to act fast. But, yeah, do it.