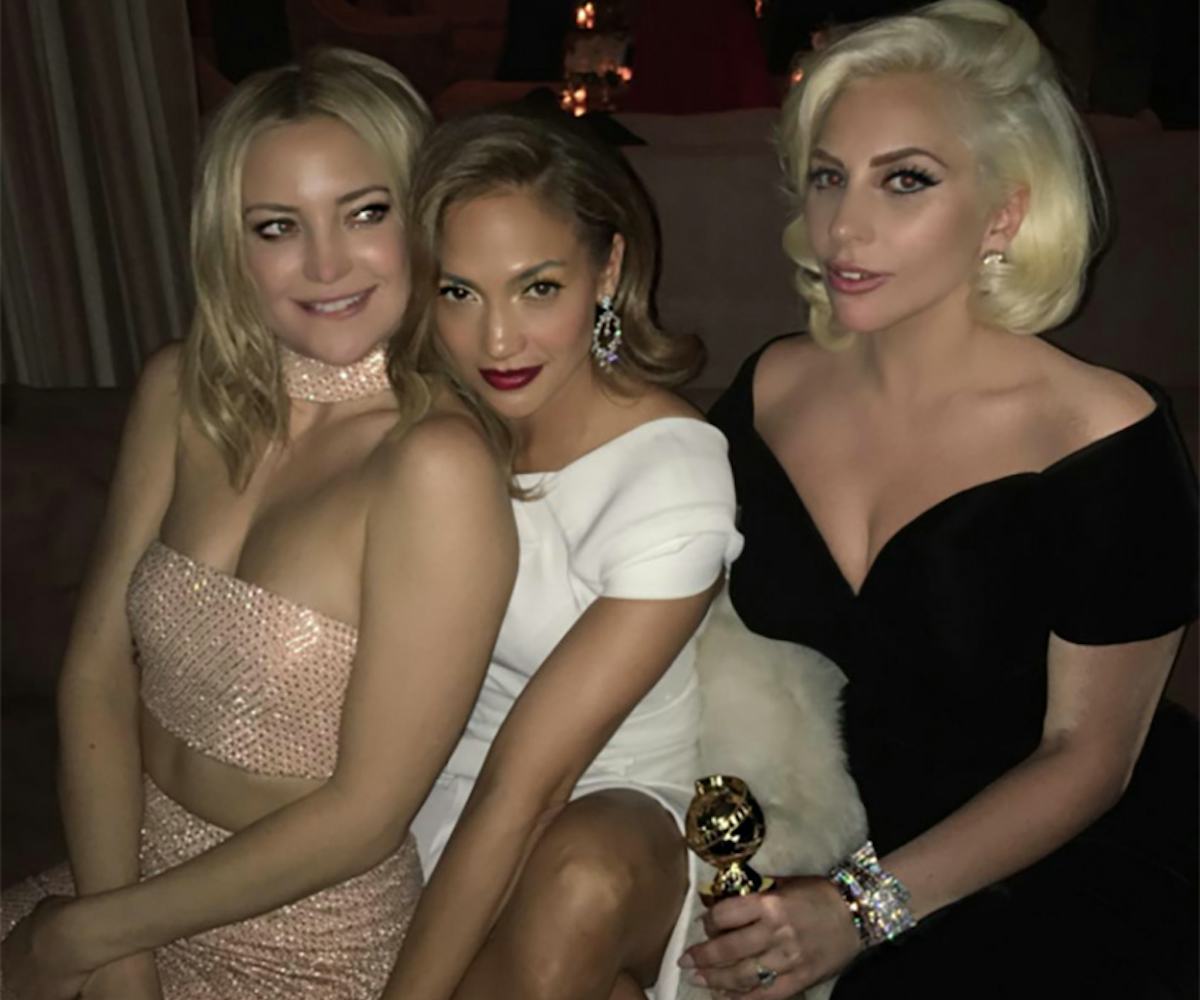 Photo courtesy of @jlo/Instagram.
20 Best Celeb Instagrams from the Golden Globes
the best behind the scenes shots from last night's awards show
Last night's Golden Globes took social media by storm. Our feeds were filled with behind-the-scenes posts from our favorite celebrities, as well as their stylists and photographers. From prepping for the red carpet, to the actual awards ceremony, to late night snacks after all the parties (milkshakes anyone?), Instagram allowed us to watch the events unfold through the eyes of those who attended last night's ceremony.
Head on over to the gallery to view our favorite posts.
"Backstage with my girl@katyperry! #GoldenGlobes"
"So happy for our friend."
"What's better than winning a Golden Globe? Winning a Golden Globe and eating a cheeseburger. (BRIE! BRIE! BRIE!)"
"Really good light back here in the presenters green room. @goldenglobes @amyschumer @evalongoria #JLaw"
"Help. I have to 'act professional' all night. #goldenglobes"
"The girls and the globe!! Congrats Gaga! #goldenglobes #CAA #afterparty #katehudson #ladygaga #jlo"
"I am so grateful to the Hollywood Foreign Press. Thank you Taylor for being right there for me the whole way through. Monsters, never lose hope in yourself. This is for my brilliant manager @wanaynay Staying in the fight is the true test. Never give up on your dreams."    
"The infamous bathroom shot. #BTS #LilyJames carpet shot coming soon. #Goldenglobes2016 #ggpresenterteam: @streichersisters for hair and MU@rebeccacorbinmurray on styling"
"#amberheard dress by @gucci #goldenglobes #artofbehindthescenes  #gregwilliams #gregwilliamsphotography #LeicaQ"
"Most parties that start at 3pm involve bouncy castles. Don't let us down, Hollywood. #globes"
"This is us. #goldenglobes #veep"
"Let's do this! #GoldenGlobes"
"Today feels like a dream @goldenglobes"
"Fiance √ Golden Globe √ Milkshake √"
"Guess where this lady's a headin..... No not Walmart. #afewhoursdaysweeksandsomwserioustalentlaterandshesreadyforacarpetofred  #orjust4supremelyfabulouspeople @kystyle@sabrinabmakeup a go go #goldenglobes2016"
"Oh hi! Me and@rachaelmaytaylor parking lot party#JessicaJones"
"@ladygaga and@tarajiphenson look fierce with their#GoldenGlobes backstage."
"My baby and I before the #GoldenGlobes!"
"My new pet"
"In process... @patidubroff @goldenglobes (photo by @michael.polish)"