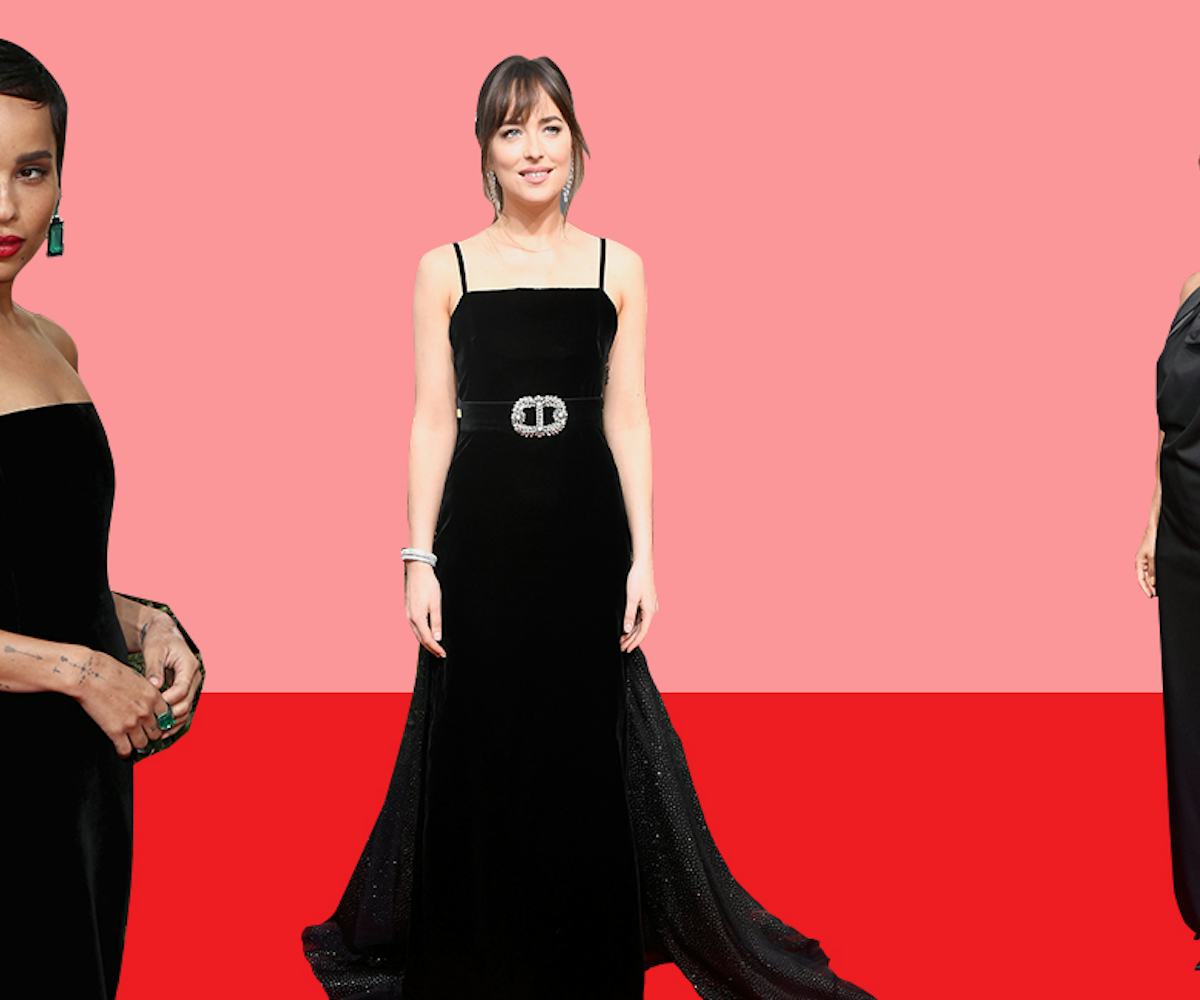 The Powerful Looks Hollywood Women Wore To Tonight's Golden Globes
The Time's Up movement was in full force
Usually awash with greens and blues and other jewel colors, the Golden Globes red carpet this year was a sea of black in honor of the Time's Up movement. Nearly every actress present chose to stand in sartorial solidarity, to protest sexual assault, harassment, and gender inequality across all industries. 
Now, some have questioned how much of an impact wearing one color can have. And, it's hard to say. But, it's a start and, though quiet, it's refreshing to witness stars not only using their fashion to make a statement but also their platforms, by way of red carpet interviews and acceptance speeches. As Meryl Streep said during one such interview, the women of Hollywood are "standing together in a thick black line dividing now from then." And we can't wait to see what the new era looks like. 
Ahead, we highlight some of the women who took part in tonight's protest and what some of them had to say about the Time's Up movement. 
While wearing Prabal Gurung, Kerry Washington talked about why the women behind the Time's Up movement attended the award show tonight instead of boycotting: "We shouldn't have to sit out the night. We shouldn't have to give up our seats at the table, our voice in this industry, because of bad behavior that wasn't ours."
Connie Britton showed up in a Lingua Franca self-embroidered sweater that pretty much lays out her feelings. "My sweater says 'Poverty is sexist' and we dressed in black to acknowledge that it is time for all of us, men and women, to empower ourselves with equality, " Britton wrote on her Instagram:My hope is that this movement will now reach the grass roots, the small towns, the villages near and far, where women have been silenced, without resources, in the face of gender disparity. We are all stronger when we work together with respect and understanding. Strong women equal strong families, economies, and communities. Everywhere. So let's get this show on the road. #timesup #povertyissexist
Saoirse Ronan gave us serious Joan of Arc vibes while wearing Atelier Versace. "Saoirse and I had a conversation at the beginning of the season that should Lady Bird go the distance, we wanted to work with all females—female makeup, female hairstylists, female designers—and that we would never talk about it to anyone. It would be our fun secret, our empowering moment," Ronan's stylist Elizabeth Saltman told British Vogue. "It's not about sex, it's about strength. It's not about frivolity, it's about confidence, excellence, purity, and support."
Tracee Ellis Ross made a statement while wearing a Marc Jacobs dress and turban. While on the red carpet, with fist in the air, she noted, "Time's up on a lot of things."
You might've missed NYLON cover star Alison Brie's Vassilis Zoulias pant/dress situation, but it's a good one. So is this red carpet quote from the actress: "Tonight is about women wearing the pants so I chose to literally wear the pants."
Wearing a Stella McCartney, Claire Foy proves that she'll always be royalty. "It's not a fashion statement," she said on the red carpet of her choice to wear a pantsuit. "It's a solidarity statement."
Issa Rae came to slay while wearing a low-cut Prabal Gurung dress and high slit. During the BAFTA Tea Party, she noted that she doesn't know if wearing black will make a difference, but that she knows "it's absolutely necessary for us not to forget about this conversation and to not forget about other people who are affected by toxic patriarchy."
There's something classic about a perfect-fitting column dress, and Zoë Kravitz is a vision in this Saint Laurent one that she accessorized with emerald earrings and ring, a stone often considered a symbol of hope and renewal. "Black is beautiful ...and so is respect and equality," she wrote on her Instagram.
Sarah Paulson took to Instagram to share a #TimesUp message before showing up on the red carpet in her fun Calvin Klein gown. It reads: "Today we are using our collective voices to shine some much needed light on issues that have affected all of us in some form or another, and I just wanted to take a moment and also say that today is a celebration of what drives us creatively."
Don't underestimate the power of long sleeves on the red carpet. Alicia Vikander, who contributed to Time's Up legal defense fund, reminds us just how chic they can be while wearing Louis Vuitton.
Dakota Johnson's Gucci dress was all business in the front, (star-studded) party in the back. "There wasn't another option for me," Johnson said in a red carpet interview on her choice to wear black. "I feel honored to be a part of [the Time's Up movement]... The fact that women are joining together to, I hope, relay the message to future generations and future generations of women to stand for themselves and know their worth and really feel that they are supported by all of us—that's the most important."
Kate Hudson, who donated to Time's Up legal defense fund, takes the ultimate plunge in this edgy Valentino number. 
"Time's Up on sexual harassment. Time's up on homophobia. Time's up on transphobia. Time's up on racism. Time's up on all of it!" Lena Waithe, who wore Alba, said about the movement during the red carpet. "Time's up on anybody having an unsafe work environment while pursuing their dreams. Time's up on that."
Margot Robbie's sequin custom Gucci gown was topped off with an oversized silver bow. "To my sisters (from all industries) Time's up on silence. Time's up on waiting. Time's up on tolerating discrimination, harassment and abuse," she wrote on her Instagram last week.