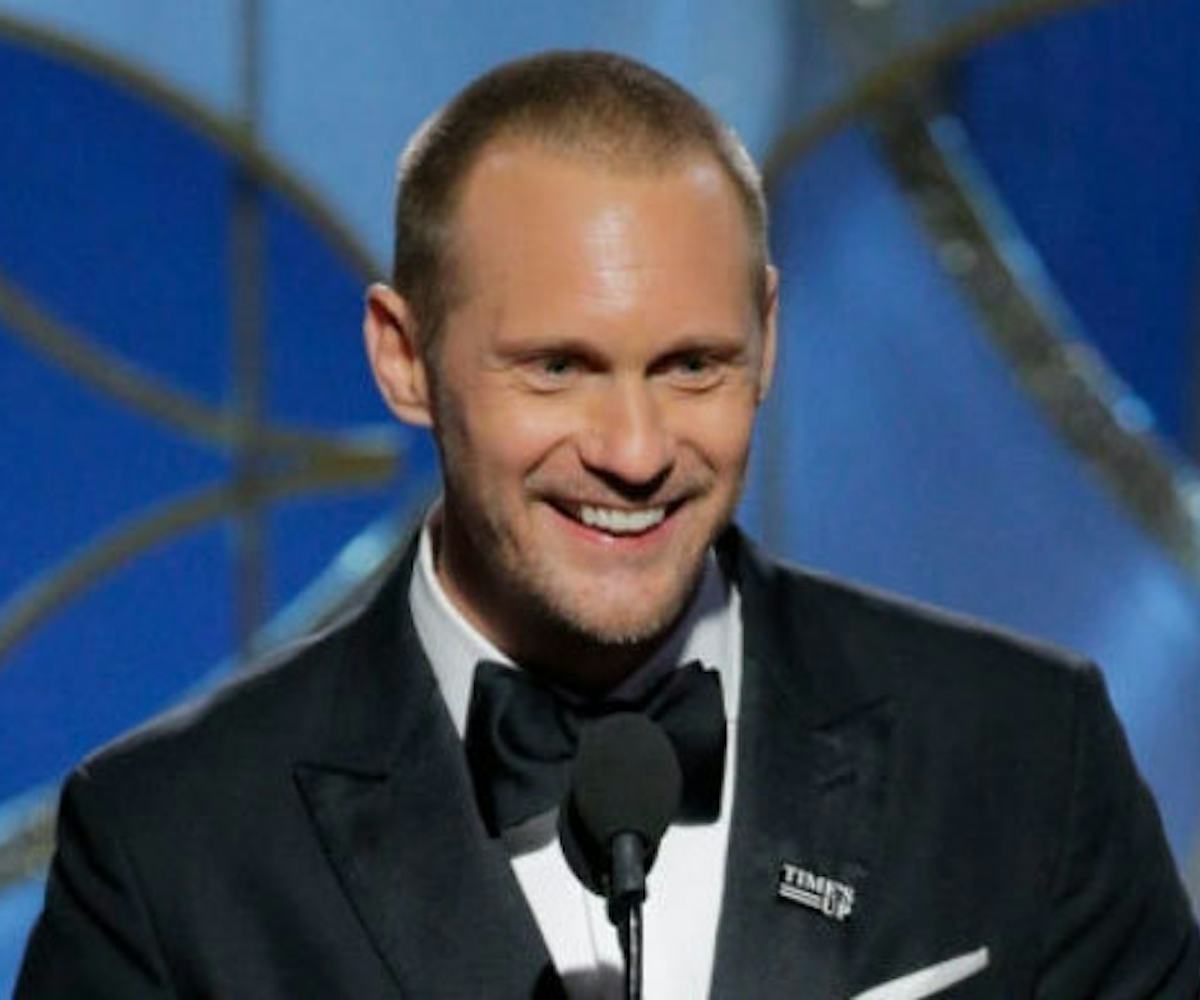 Photo by Paul Drinkwater/NBCUniversal via Getty Images
The Silence Of Men At Last Night's Golden Globes Was Deafening
The 75th Golden Globes Awards ceremony was a revolution. The gender inequality of the movie industry was put on blast and taboo topics, like sexual misconduct and assault, were openly discussed—except by the male winners that is.
In a move of solidarity, women wore black to the ceremony. The men, for their part, also wore black, but since black and tuxedos usually go hand in hand with these type of functions, that sartorial choice wasn't particularly groundbreaking. Some, like eventual Best Supporting Actor winner Alexander Skarsgård and, more controversially, Best Actor winner James Franco, wore pins to further emphasize their alignment with and support of the Time's Up movement, but that's where their contribution stopped. None of the male winners actually spoke to the Time's Up movement, Me Too movement, or made any sort of mention about sexual misconduct or gender inequality. Yikes.
As the host for the evening, Seth Myers set a perfect example for how men could go about bringing these issues up. Yet, when the Golden Globe met the hands of the male winners, said example fell on deaf ears. When given a stage that large to make a statement, none of them did so. 
Angus Johnston, a CUNY professor and historian, waxed a bit of poetic on the topic, saying it is, indeed, scary to speak out, but it's a risk people have to take. "Being an activist, being a member of society, being alive demands that we risk screwing up and saying or doing the wrong thing," he says. Which is true! We've seen that when men do take such a risk, particularly when it comes to the Time's Up and Me Too movements, they're often critiqued for saying the wrong thing or not saying enough, like, uh, Justin Timberlake. 
But the thing is, in order for these movements to properly succeed, both women and men have to speak up. It's one thing to hand the mic over to women and let their voices be heard, but it's another for men to remain completely silent. There is worth in speaking out because it offers up a chance to learn how to go about discussing these type of situations. To not speak out is to not learn. And learning, right now, is essential. As writer and editor Elizabeth Booth says, "A simple 'Look at all the women who are speaking out tonight—I stand by you' would have sufficed."