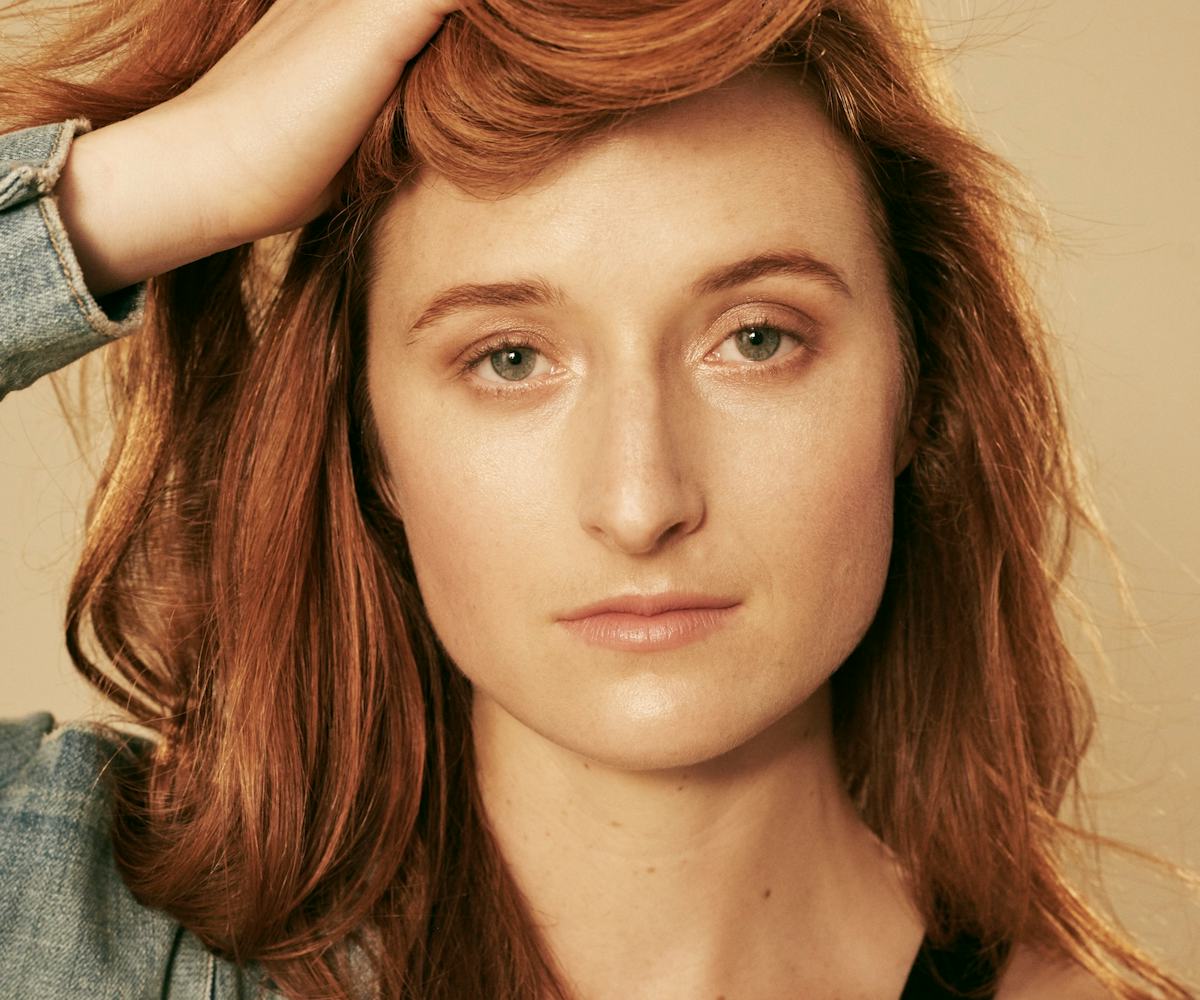 Photographed by Sacha Maric. Styled by Wendy Mcnett.
Grace Gummer Is Taking The Small Screen By Storm
She may descend from Hollywood royalty, but she's paving her own path
The following feature appears in the August 2016 issue of NYLON.
Grace Gummer has a dentist appointment she absolutely cannot miss. She has a chipped tooth that is cutting the inside of her lower lip, and it hurts. If you ask her, she'll show it to you, turning out her lip to display the tiny abrasion that's causing so much discomfort. But it's a particular kind of torture for someone who speaks for a living, and especially someone as busy as Gummer.
Two years ago, she was simultaneously filming roles as a scientist in CBS's sci-fi head trip Extant and as a blogger on HBO's drama The Newsroom. Currently, she's wrapping up Mr. Robot, in which she plays a new character on the breakout hit's second season, and is gearing up to play a young Nora Ephron in Good Girls Revolt, an Amazon series about women working at a newspaper in the late '60s. Gummer's schedule is so hectic that she had to throw her recent 30th birthday party on a Sunday night. "I went a little bit crazy, but I wanted my friends to go crazy," she says, sitting in a café near her home in Brooklyn's DUMBO neighborhood. "A lot of my friends have real jobs, so they were all tired at like 10:30."
Tackling two roles simultaneously can be a lot more demanding than she originally anticipated. "I didn't realize switching back and forth would be hard," she says, noting that this is especially difficult on a show like Mr. Robot. "It's really important to me to fully immerse myself. I think it's such an interesting character where I'm surprising myself every day. Completely transforming into another person is weird." 
Click through the gallery to read the rest of the feature.
Jacket by Current/Elliot, dress by Sass & Bide. 
That other person is Dominique DiPierro, an FBI agent from New Jersey who is hunting for a group of hackers led by series star Rami Malek. "That's my mission as the show starts," she says. "I'm determined to find all the answers and bring them to justice." The weirdest part of getting into character for Gummer—who prefers vintage outfits she picks up at Assembly or Maryam Nassir Zadeh rather than showier designers—was plying on the makeup and business casual to play DiPierro. For her audition, she caked on eye makeup, blow-dried her hair and stacked it up high, like Melanie Griffith getting off the Staten Island Ferry in Working Girl.
As for mastering her character's regional accent, Gummer prepared by watching one of her favorite shows: The Real Housewives of New Jersey. She's a big fan of the franchise in general, and felt a little bit guilty bingeing as preparation until her dialect coach told her to watch that very show to work on her speech. "I was like, 'Homework? I've already done it!'" What Gummer did not do was seek help from her mother—who happens to be a master of accents herself—Meryl Streep.
Gummer was raised in Connecticut in what she describes as "the country" with her mother, her father (artist Don Gummer), and her three siblings. She went to Vassar College, her mother's alma mater, and majored in art history and Italian, though she spent a lot of time in the theater department directing, setting the lights, and doing all the odd jobs that drama nerds in underfunded departments cherish. "We did a production of The Seagull and I played Nina, and that was one of the first times I was like, 'Oh, this is really fun. Maybe I'm good at this?'" she says. "But I graduated thinking I wasn't going to do anything at all because I spent all my time in college in the theater and not enough time doing my homework."
Jacket by Current/Elliot, top and pants by Breelayne, sneakers by Gola. 
After graduating, she worked at a costume house in Rome before returning to New York for a job at Zac Posen, where she was working on the costumes for Michael Jackson's comeback tour before his sudden death. Around the same time, a friend of her brother's was putting on an off-Broadway play called The Sexual Neuroses of Our Parents, and asked her if she wanted to design the costumes. "I read the script and didn't have a single design idea. I wanted to be in it, so I auditioned for it and I got it," she says.
Gummer then decided that acting was the way to go, with both trepidation and encouragement from watching her mother's career. "I've seen it all," she says, indicating both the perks and the pitfalls of Hollywood. "But also in seeing it all, I've seen that it's possible to do what you love and be a professional and be also a normal person and a good mother and well-rounded. I've seen that it's a doable thing while still being sane."
Gummer's older sister Mamie is also an actress, who appeared in The Good Wife and alongside their mother in Ricki and the Flash. But don't hold your breath for the Streep Family Players to mount a group production anytime soon. "I'm just not interested," Gummer says about working with her mother and sister. "I do my own thing. I paved my own path." But before she can continue down that path, Grace Gummer has a date with the dentist.
Jumpsuit by Karen Walker, top by Cacharel, shoes by Margaux, earrings by Psyche Jewelry, bracelet by Marshelly's Jewelry.
Hair: Eloise Cheung at Kate Ryan Inc. using Aveda. Makeup: Colleen Runne at Kate Ryan Inc. using Dioraddict. Manicurist: Angel Williams at Opus Beauty using Dior Vernis.