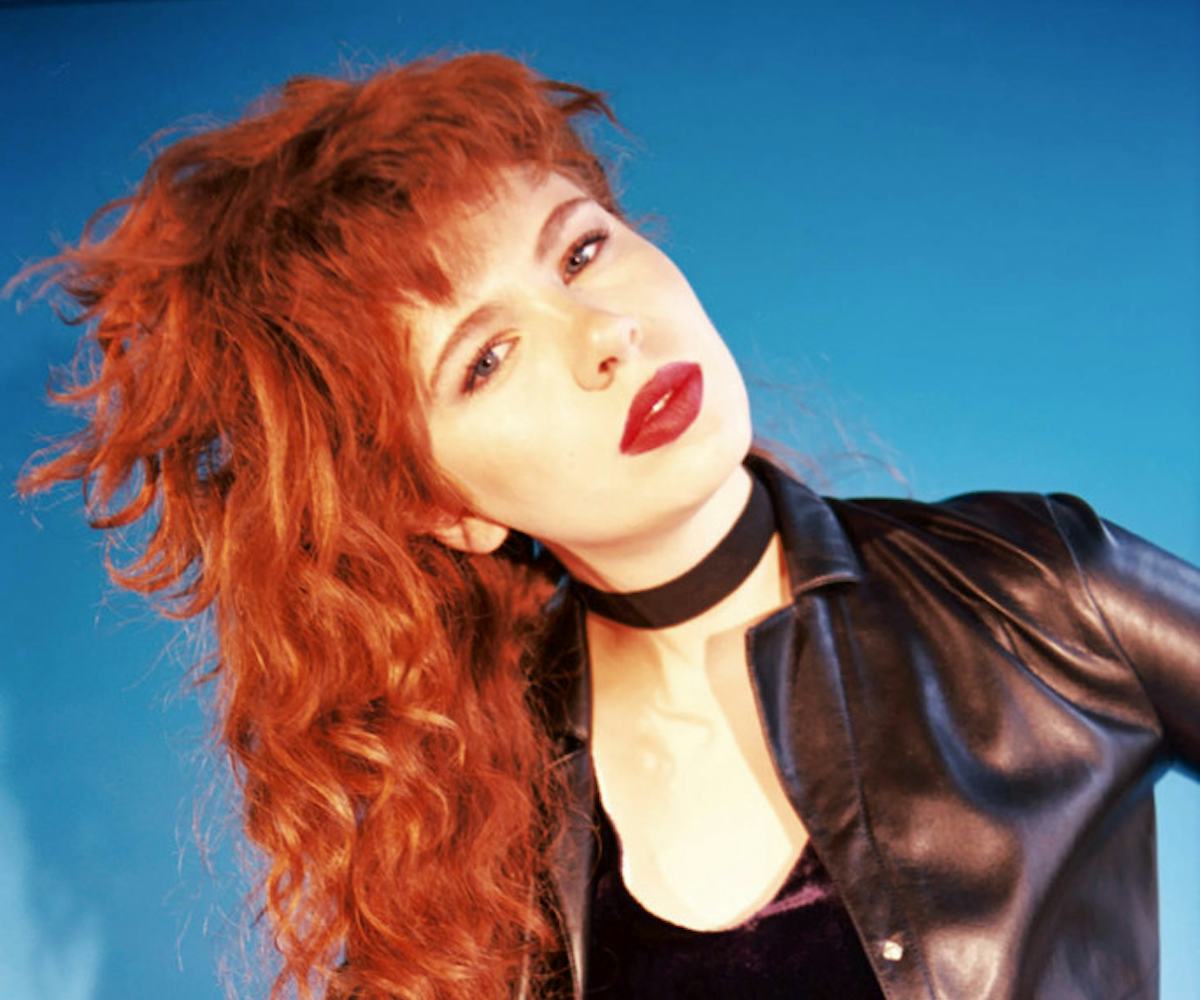 Photographed by Franey Miller.
Grace Mitchell On What Makes Life Beautiful Right Now
And what's to come from her new album
It's fitting that singer Grace Mitchell is a Leo—her fiery red, curly hair surrounds her head like a lion's mane. "You can pull it up as high as you want," Mitchell tells the hairstylist while on set, preparing for these photos. And so Mitchell's hair is fluffed, shaken, and teased away with pride, adding a couple of inches to her already tall six-foot frame. Beauty aside, like a true Leo, at 20-years-old, Mitchell is taking charge of her life, while also figuring out her place in the world.
You can take that last bit figuratively, but also literally. Mitchell tells us she's in limbo right now when it comes to where she's going to settle down. She currently lives in L.A. but is considering a move to the East Coast if she doesn't end up going on tour first. She's at a transitional point in her life which, she says, has helped influence her upcoming album. "There are a lot of songs about learning new life lessons and also flying by the seat of your pants and being really spontaneous and just letting life kind of take you wherever you are going," she tells us. "You don't necessarily need to expect that life is going to carry you one way, and you could end up being in a totally different position than you thought you would be."
Mitchell's music is noisy, in a way that makes you pay attention rather than turn down the volume. Loud is how many have described her sound, including herself, but recently, she's been taking a softer approach. Take her recent song "Come Back To You," for instance. She wrote it with her friend Martin Johnson when they were "on this groove of 1980s soft ballad influences." It's a somber comedown track, compared to her frenzied others, and centers around the idea of returning back to the town you grew up in and confronting your younger self. It's nostalgic, though not indulgent.
But then we also have the recently released "Capital Letters," which is a bombastic rock record full of rebellion. The two songs are on the opposite sides of the spectrum sonically, which is another theme (or non-theme) we can expect from her forthcoming project. She explains:
The album is very vast and completely different from one song to the next in terms of pacing. Every single is meant to be different from the last. I don't think that there's any particular rhythmic or energetic flow… it's an accumulation of so many different sounds and ideas that I've had for a really long time. Some of the songs on the album are like four years old, so it's all coming to a place where it can have continuity with what I've been feeling over the years and then what I've been feeling recently. It's all coming together to kind of be a full package.
Don't ask Mitchell what the new music sounds like specifically, though. She's been vocal about not fitting into an ascribed genre or category. Similar to her sexuality, she makes a point not to label herself, which allows for more freedom. "I think that creating labels for kids my age and kids that are younger is more detrimental than actually helpful," she says. "I think that they need to discover who they are on their own, and I think it's easier to do that when your role models or the people who are in music kind of stand up for you to explore whatever you want to be."
The ability to explore is part of what makes life so beautiful right now for Mitchell. Entering her early 20s just weeks ago, she has a whole lot of life ahead of her, and she's not above admitting that she has a lot of learning to do, too. "Being open to learning lessons and growth makes life beautiful… if you don't halt yourself with your ego, then you have so many things to learn at your disposal." Spoken like a true lioness.
Photographer: Franey MillerHair + Makeup: Mirna JoseStyling: Sam Bates