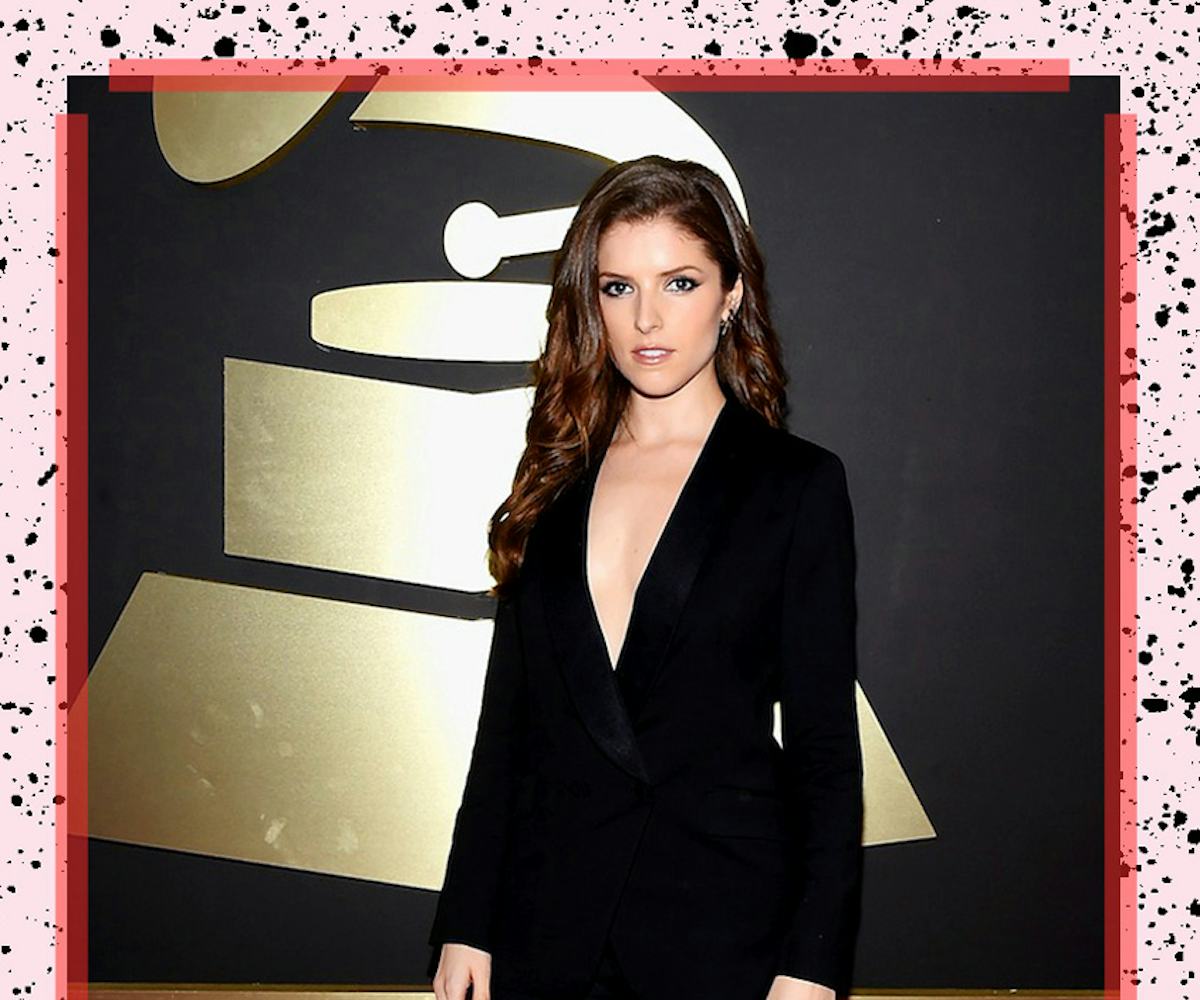 photos via getty images
13 grammys looks that stole the show
not your average red carpet…
by leila brillson + gabrielle korn
If tonight's Grammys is any proof (and we think it definitely is), we're about to have a major hot-women-in-suits moment. But menswear-inspired couture wasn't the only thing that caught our eye on the red carpet this Grammys' evening. As is Grammys wont, there were sheer cut-outs galore, as well as more pared down, structural gowns that were still anything but expected in their simplicity. Also, did you see Rihanna?! More on that, later.
It's probably not an accident that our favorite artists were the ones that wore the most interesting outfits, but hey: Good taste is why we love 'em. Check out the gallery for some majorly cool takes on red-carpet fashion. Old Hollywood glamour it is not—but that's not what Grammys night is for, anyway. 
Kat Graham
Kat's Yanina Couture sheer gown looks like a beautiful flower bursting all over her, or maybe like a giant alien butterfly landing upon her person—either way, we can't stop staring at it. Can the whole sheer-gown thing become a space for fashion innovation, please?
Sia
It's hard to even think or talk or conceive of the concept of "Sia." It's like chasing the horizon; something you understand conceptually but still will be beyond a grasp. Sia is not of this world, and she has communed her otherworldliness to young, wonderful Maddy Ziegler, who is joining her in wearing a large, voluminous wig. (Remember, Sia does not like being photographed, and hers is a creative solution). She and Ziegler look sophisticated and weird (our two favorite things!) in Armani and Armani Jr. respectively. (Maddie is wearing George Esquivel shoes, too.) What a great Grammys moment.
Jenny Lewis
It's pretty tight to show up at the Grammys wearing your own album cover like, "What?"
Beyoncé
Beyoncé's gown is almost the exact visual opposite of what she wore last year. The black sheer cut-outs that ran the length of the dress were a more somber take on red carpet fashion, and it worked: We always love fashion that feels a little goth, and we always love Beyoncé. Always.
Nicki Minaj
Neither Nicki Minaj nor Tom Ford can do wrong (in the fashion department, at least) so the fact that she wore a TF dress meant she was destined for greatness. And, with a neckline that plunged down to her waist, it was a serious showstopper.
Iggy Azalea
Iggy Azalea has spent the last few months scandal-plagued and on the receiving end of some not-so-unfair criticism. But girl knows how to rock a cobalt dress like a second skin. She looks truly looks statuesque in this Armani Privé floor length number, and it's great hue for the Aussie beauty.
Jennifer Hudson
Sometimes, amidst all the noise and chaos, just wear a simple Tom Ford dress and let your gorgeous Marli choker speak for itself.
Miley Cyrus
Look, the Grammys are all about tight cut-outs and wild fashion, so Miley did it in the most Miley way possible. Even though her Alexandre Vauthier dress plays with risqué negative space, she's subdued and sleek. Way to go, Mileybird.
Taylor Swift
Taylor's Elie Saab gown—structural, super-pretty, and vaguely ombre—was the kind of prom-inspired dress that only she could wear. The thing that makes this piece edgy instead of overly twee? That cut-out in front. It's like she's wearing a mini dress underneath and could reveal it at any second. Really gives a whole new meaning to "shake it off."
Kim Kardashian
Love her, hate her, or want to hop into our commenting area and wonder if our magazine is on her family's payroll (answer: we wish), Kim Kardashian nailed all of the Grammys vibes in her Gaultier suit of glittery armor. Her newly shorn hair is particularly glamorous, and we all know that no one quite does a deep V like her. If you cut her, she would bleed a great deep V. They are of her essence.
Rihanna
Perched atop this gloriously frilly cupcake tower of a Giambattista Valli gown, Rihanna is the picture of IDGAF-what-you-think fashion. Like, obviously she knew people were going to hate on this dress. But why should Rihanna care what you think?! She's too busy storing snacks under the eighty-five layers of bubblegum-pink tulle surrounding her body. Snacks, and the secrets of how to be a perfect creature.
Haim
Guys, just...guys. It is about time to see our Haim gals getting the Grammys shine they so deserve. Este got a little bohemian in a fringed Chloé, but Danielle and Alana both killed it in Stella McCartney suits. Because suits on the red carpet is pure boss. Or bawse. Or even bahsse. Whatever, it works.
Anna Kendrick
There are few things in life chicer than Anna Kendrick in this Band of Outsiders suit. Only a marble coffee table, an unmarked sheet of paper, or a photo of Tilda Swinton could possibly rival this level of sleek chic.The decision to wear a blazer without anything under it was a risk that totally paid off: It's sassy and elegant all at once. She's like your hot boss who intimidates you while making you want to be a better person, who one night takes you out for drinks and over-shares about her wild past but you don't mind because maybe she'll let you borrow her blazer someday.