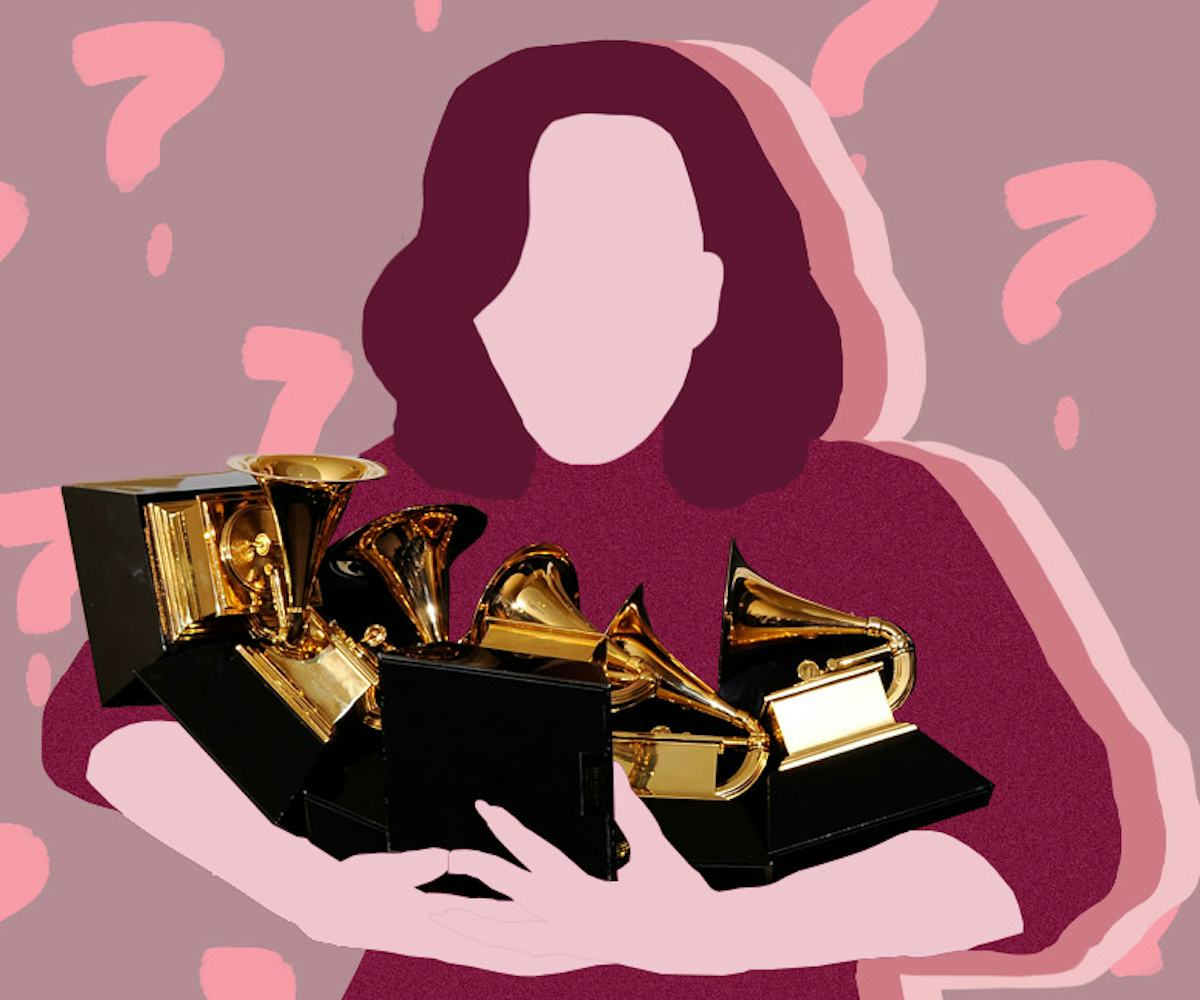 Photo by Kevork Djansezian/Getty Images; Illustrated by Lindsay Hattrick
Are The Grammys Doomed To Irrelevance?
All that's gold may not glitter
Awards—even when not the goal of a creative venture—are validating.
Watching awards shows has become a highlight on our collective cultural calendars. Most of us love to predict nominations, argue over the snubs, critique the winners, and start all over again once the ceremony ends. We see it with the hype surrounding the Oscars, certainly, and we see it with the Grammys.
But while the film industry has changed dramatically since the inception of the Academy Awards eight decades ago, the music industry has changed even more drastically since the Grammys first launched 60 years ago. The dawn of streaming has changed the industry's standard of what success is. You can have a No. 1 song on the Billboard Hot 100 list that has considerably fewer music streams than the song 10 spots down. Which one is more successful? Which one has more of an impact? And so when a formerly important signifier holds less and less meaning, where does winning a gold megaphone fit into the grand scheme of things?
No matter what happens after an artist wins a Grammy, they will forever be announced as "Grammy Award-winning...," and that designation still holds quite a bit of clout, Shannon Sanders tells me. Sanders is a two-time Grammy award winner, a record producer, singer, and president of the Nashville Chapter of Recording Academy. Sanders stresses the Grammys are voted on by folks within the industry, and so a win holds a lot more weight than merely selling a lot of albums, because, much like the Oscars, Grammys are awarded to musicians by their peers.
Eric Knight, founder at Persistent Management and lead singer of Disciples of Babylon, emphasizes that point, saying, "The Grammys are a great thing to have in terms of being recognized for your work by a group of your peers in your industry... you, as a [voter, have] the obligation to judge music based on the merit of the music itself and not what was at No. 1 on Billboard during the eligibility period."
It's that eligibility period that's key here. Sanders reminds us that artists have to submit their music to the Recording Academy to be considered for an award. Remember when Frank Ocean didn't submit Blonde for Grammy consideration despite it being one of the best-received albums of 2016? An artist (or their team) has to consciously throw their work into the ring to be judged and ultimately awarded. "Once you get closer to the organization and understand it's about creators celebrating creators, artistry over numbers, its significance becomes clear," Sanders says. 
Much in the same way that the Oscars are now recognizing movies released by streaming platforms like Amazon (Manchester by the Sea) and Netflix (Mudbound), streaming is also disrupting the Grammys. Last year, Chance the Rapper became the first artist to win Album of the Year for an album he didn't even release in physical form. Some people wonder, though, if streaming's ease of connecting artists directly to fans will preclude the artist's need for award show validation. As Lucas Asher, the lead singer of Faulkner, says, "As streaming continues to dominate, it's likely to supplant the appeal of the Grammy awards for established and indie artists alike."
Perhaps this is true, but it is difficult to deny the power of being recognized by the industry in which these artists have worked so hard to attain success. A more pressing concern is whether or not the Grammys will continue to recognize true artistry and innovation or ignore it all in favor of more traditional work. (See: When Adele's 25 beat Beyoncé's Lemonade for album of the year.) Perhaps Ocean has the right idea by bypassing the system altogether, secure in the knowledge that he is making the art he wants to make on his own terms. No gold megaphone is more important than that.