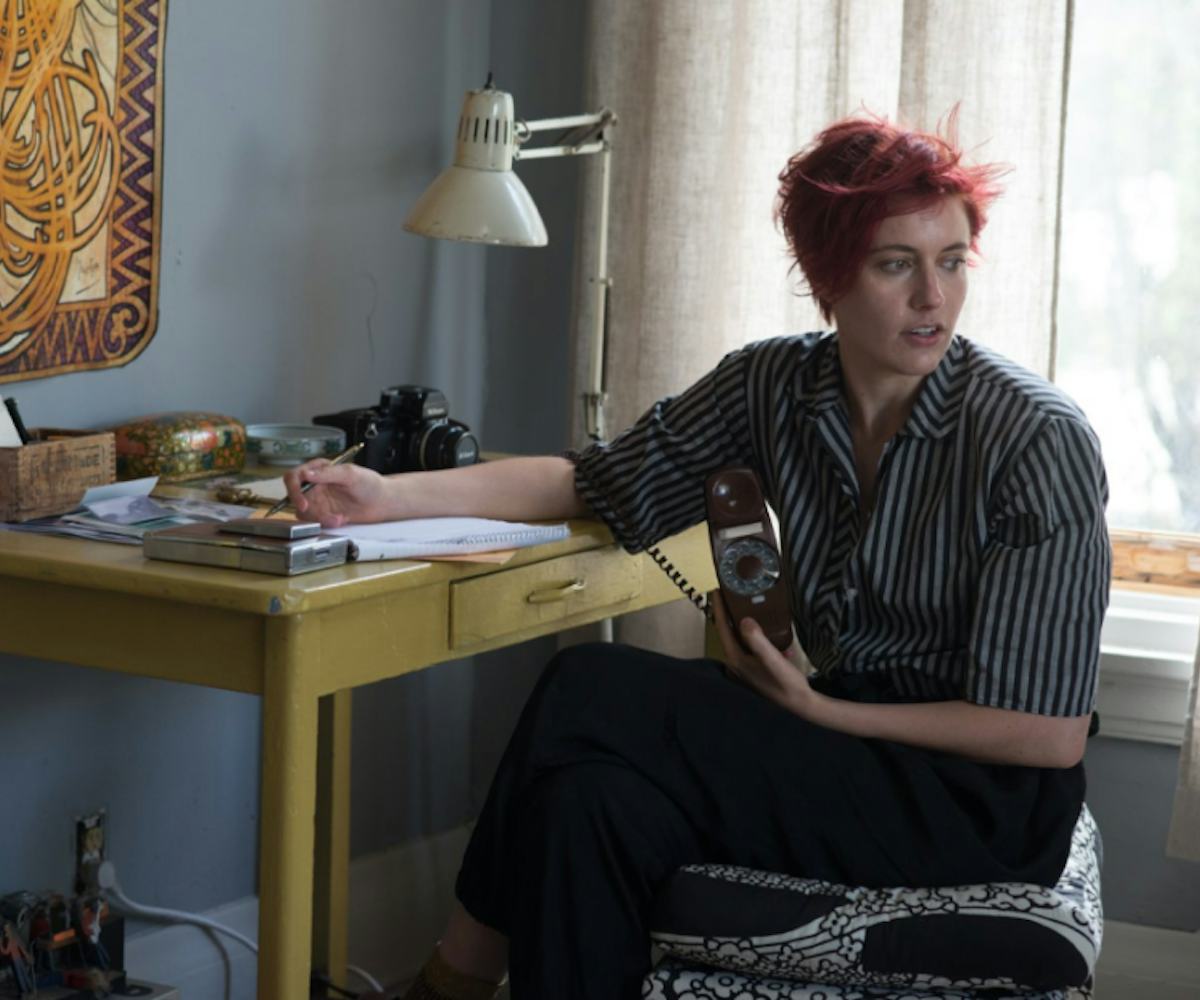 Photo courtesy of A24
With '20th Century Women,' Greta Gerwig Caps Off A Banner Year
An appreciation of the actress
There's a scene in 20th Century Women—when we are being truly introduced to Greta Gerwig's character, Abbie—that can only be described as peak Greta Gerwig. She dances around in her bedroom to Suicide's "Cheree" as voiceover narration tells us, "She learned to dance when she got sad. She saw The Man Who Fell to Earth and dyed her hair red." The vignette gives us a snapshot of Abbie, a photographer who moved to New York to pursue her dreams, immersed herself in the city's fertile punk scene, and fell in and out of love. Director Mike Mills has said that Abbie was loosely based on his own sister, but it wouldn't be surprising if he always had Gerwig in mind for the role, and that's because Abbie feels fully inhabited by Gerwig herself.
Gerwig is the kind of performer whose acting doesn't even register as such. She comes off not as a blank canvas, but as an already painted picture—a Greta Gerwig original. The roles she finds herself playing seem to adapt to her, rather than her adapting to them. Her characters often feel like subsets of our pre-conceived notion of Gerwig. And while that isn't conventionally the mark of a good actress, that quality means she's never not intriguing to watch.
But for the first time, her form of non-acting acting is being received with more gravitas. As awards season chugs along, the words "Oscar" and "nomination" keep finding themselves adjacent to Gerwig's name in a way that it hasn't before, thanks to her work in both 20th Century Women and also Pablo Larraín's Jackie, where she plays Nancy Tuckerman, the Kennedy administration's Social Secretary. Gerwig, who first broke out with her role in Noah Baumbach's 2010 comedy Greenberg, seems to be breaking out all over again.
This year alone, she starred in four feature films. In addition to her roles in Jackie and 20th Century Women, Gerwig also starred as the title character in Rebecca Miller's underseen Maggie's Plan, and as Dawn Wiener in Todd Solondz's Wiener-Dog. But it is Gerwig's role in 20th Century Women that renders her luminous, playing a teenage boy's friend and mentor figure who shapes his outlook on the world by exposing him to cool music and feminist literature.
It's a role that Gerwig slips into perfectly, and like many of her roles, it adapts to her as much as she adapts to it. Abbie—like Maggie, Dawn, Frances Ha, and Brooke (Mistress America)—is a creative dabbler whose appeal is rooted in her awkwardness. But as much as Abbie already is Greta, Greta is also good at playing Abbie. Her trademark gummy smile and dazed inflection color Abbie as a woman constantly looking to cure her ennui, someone self-described as "so cocky, so angry, and so happy." Abbie dances with the impassioned movements of someone longing to numb the pain. Her sexual advances (on Billy Crudup's character) are as awkward as many of other Gerwig's characters, but she's also wildly confident when she chooses to be, like when she says she learned how to be looked at by men. She pulls off this line believably.
Gerwig's confidence as an actress appears to be growing with each film. Any profile or interview of her indicates she just sort of fell into acting. She grew up in Northern California dreaming of becoming a playwright, but after several schools' rejections and theater doors closing in her face, she pursued English and philosophy at Barnard College instead. She met the scrappy indie filmmaker Joe Swanberg around that time, through her then-boyfriend, and appeared in his micro-budgeted film LOL, kicking off a collaboration that would span three films. Her transition from the cinematic ecosystem that at the time was being called "mumblecore" to larger indies was cemented when Noah Baumbach cast her in Greenberg opposite Ben Stiller. She was on her way.
In a recent Vulture interview, Gerwig said, "I have no hope of ever being as good as those women," referring to Meryl Streep and Cate Blanchett, whose talents in acting are arguably unrivaled. "I've known that you can only ever be who you are. I try to do the best work I can with what I've got." And sure, Gerwig may not be as technically gifted as Streep or Blanchett. But what sets Gerwig apart from these acting giants she dares not even compare herself to, is that she's more than just an actress. She's a persona, hirable because of what she already possesses and projects into the world.  
In that regard, she's reminiscent of Chloë Sevigny, herself not the most technically gifted actress, but one that emanates natural charisma. Sevigny, whose filmography leans toward cult, lends her It Girl currency to every movie she's in, whether it be Kids or The Last Days of Disco or The Brown Bunny. She carries herself in a way that's different from formally trained actresses. As does Gerwig. What they have can't be learned in a workshop.
Gerwig, in many ways, feels like a descendant of French New Wave icon Anna Karina. Neither studied acting, and both have become muses and collaborators of auteurs marked by their aptitude in capturing the spirit of their times (Karina with Jean-Luc Godard and Gerwig with Noah Baumbach—both pairs also romantically linked with each other). Like Karina, Gerwig is an irresistible on-screen presence. It's not just that smile—so addictive to gaze upon—and it's not just the way she speaks—as if she's been chewing on her words and still can't get them to come out the right way.
Gerwig's relationship with Baumbach has become more than artist and muse. It's evolved from the first time they linked up on Greenberg—then strictly director and actor—to now functioning as creative collaborators. Two of Baumbach's best works (Frances Ha and Mistress America) were co-written by Gerwig, and it's her touch that has made his works livelier and funnier and, frankly, as a female viewer, far more relatable. It is Gerwig who completely averts the male gaze in these movies—whatever charm she possesses is never used for the advancement of a male character, and romance is never at the forefront.
Sadly for us, Gerwig and her screen presence are going on a little hiatus. But will get to see her talent manifest itself in different ways; it was just announced that she'll be voicing a character in Wes Anderson's new stop-motion animation film, Isle of Dogs, and next year, she'll make her directorial debut with Lady Bird, a movie she also wrote that stars Saoirse Ronan as a young woman who spends a year back home in Northern California. While we won't see Gerwig on screen, the movie will be unmistakably hers. We can't wait.