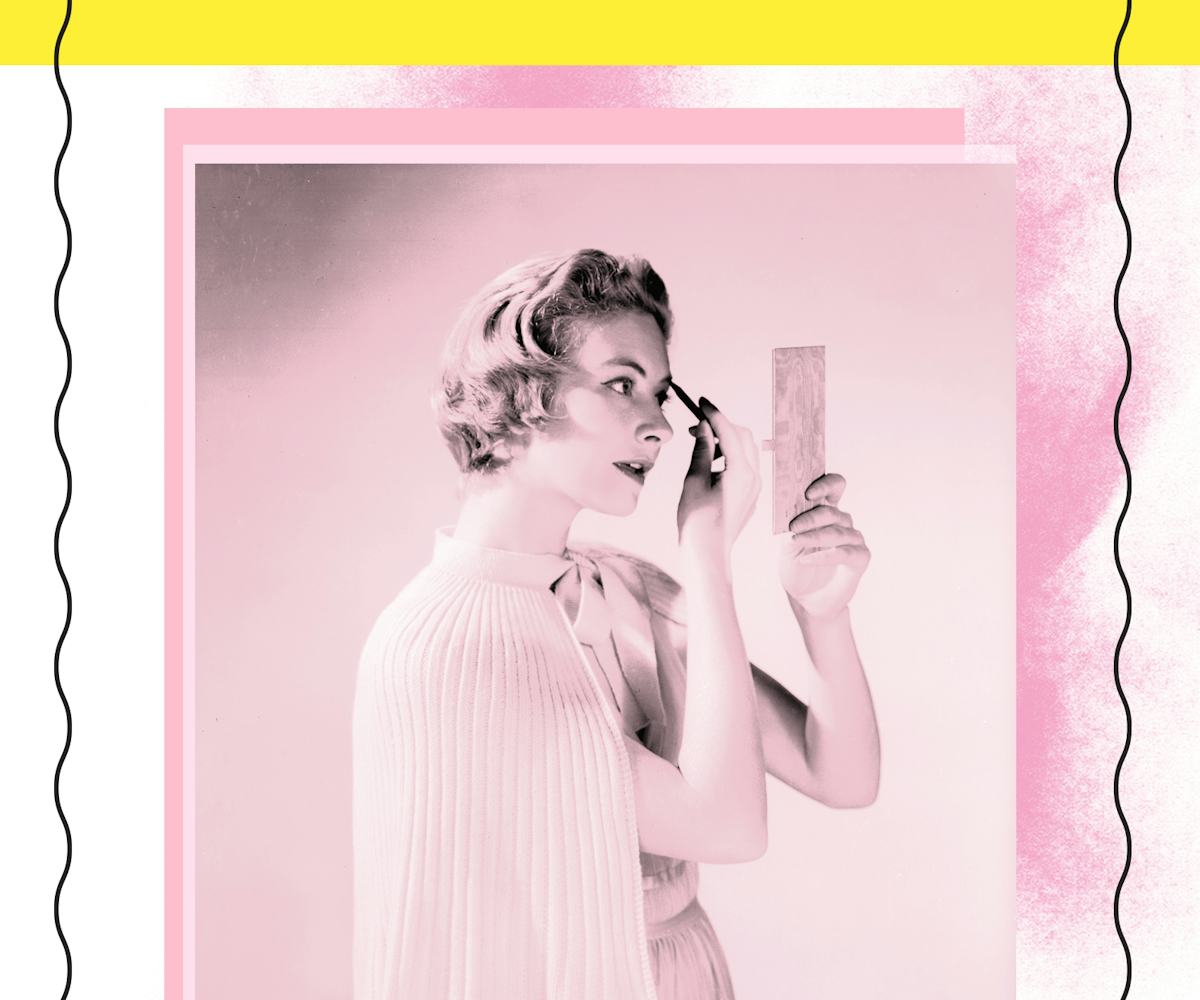 Photo by Chaloner Woods/Getty Images
7 Steps To Adultifying Your Beauty Routine
Your grown-up regimen awaits
The time has come to accept the inevitable: you're growing up. Embrace it! Becoming an adult can be daunting, but not when you have guides as easy (and, let's face it, as cool) as the ones in our new Adultify series. Now, you won't ever have to utter that cringe-worthy term "adulting" when you accomplish something, like doing your laundry—you know, basic, responsible grown-up activities—because you'll know these truths to be self-evident.
A few weeks ago, I turned twenty-six, and for the first time ever, I felt the need to start acting a little bit more like an adult. While I grasp onto my youth for dear life and cringe at the idea of calling myself an "adult" (ugh!), I do realize there are certain things I should start taking into consideration in order to get my act together, at least on the beauty front.
My hair is currently lime green and, believe me, I have no plans on dyeing it back to a natural hair color anytime soon (because that would be boring). However, I'm a constant offender of falling asleep with my makeup on, having ruined numerous cotton pillowcases with black mascara and fuchsia lipstick stains, which at this stage in my life seems slightly unacceptable. With that in mind, I've recruited the help of several experts to teach me how one can "adultify" their beauty routine, making sure to cover all of the bases from hair to makeup and nails.
While this may sound awful and bleak, fear not. "Adultifying" your beauty routine doesn't mean "become a boring grown up" (and I'm pleased to confirm that the experts say my hair can stay green), but rather taking the time and extra steps to take better care of your body, polishing and refining your look, and making sure you cleanse off that cat eye before you hit the hay. 
Read on for seven tips that will whip your beauty routine into shape. 
1. Invest in a proper set of brushes
Now that you're planning on taking a more adult approach to your beauty routine, it's time to stop applying your makeup with your fingers. "I would recommend building your collection of proper brushes to diffuse the use of fingers to apply eyeshadow and foundation," says Rocio Matos, Blushington Makeup and Beauty Lounge's director of education. "This will make your application look more professional and less amateurish." While a quality set of brushes can be a bit on the pricier side, it's worth the investment in the long run. They'll last you for a long time, and your makeup will consistently look flawless.
Additionally, now that you're going to invest in a brush set, please make sure you properly clean them. Dirty makeup brushes have the potential to cause breakouts, irritation, and—gasp—even pink eye (never share your brushes, it's a major no-no). Make sure you have a brush cleaner on hand to improve the quality and life of your new, super-adult makeup brushes. 
2. Go for a subtle contour
Kira Nasrat, celebrity makeup artist and brand ambassador for VIOLET GREY, thinks that an understated contour is the way to go when it comes to adultifying your beauty routine—emphasis on the word understated. "A subtle contour is one of the easiest ways to elevate your look and give you a polished, defined, and sophisticated beauty look. I like the Charlotte Tilbury Filmstar Bronze & Glow palette because it's very natural looking and easy to use—just follow the hollows of the cheekbones with the bronzer and go over the apple of the cheeks with a peach-pink blush," Nasrat told me.
Again, while we suggest trying out this beauty trick, please do not go full Kim Kardashian and transform your face to something semi-unrecognizable. This will most likely result in what I'd like to call a "reverse adultification situation"—in other words, really tacky. Always remember, less is more.
3. Get a grown-up manicure
The state of your nails is a crucial part of your soon-to-be adultified beauty routine, and neat and clean is the way to go.
The first thing to do? Nix the neons and the glitter. We get it, bright and sparkly nail polishes are festive and fun, but if you want to look more refined and grown up, these kinds of shades should be reserved for special occasions only (vacations, New Year's Eve, etc.). Still, this doesn't mean you can't have a little bit of fun with texture. Jin Soon, founder of JINSoon Nail Lacquer and Jin Soon Natural Hand and Foot Spas suggests, "If you are going for an upgraded look, it's best to shelve the glitter and try a non-shiny nail effect, like a sandy finish, such as JINsoon Sahara, or an interesting topping, such as JINsoon Polka White."
If you're ambidextrous enough to successfully paint the nails on both of your hands (without painting your actual hands), it's important for your overall manicure to be clean and even—which means focusing on more than just the polish itself. Soon suggests paying more attention to your cuticles, as it's "an essential part of manicuring." She told me, "When your cuticles are clean, colors look more finished.  Make sure to push back the cuticle and trim only the straggling portions since cuticles grow out fast and can peel off when you cut them too much." If you are lacking time, she suggests applying oil around the cuticles to conceal the dryness and provide a clean look. Celebrity nail stylist Karen Gutierrez suggests owning a good cuticle nipper (and carrying it around in your purse) so you can resist the urge to pick at any cuticles or hang nails.
Gutierrez also emphasized the importance of not skipping a base coat to provide a foundation for a long-lasting manicure. "It makes a huge difference in extending the wearability of your manicure," she says. "A base coat can prevent polish from staining your nails, especially against dark colors. I suggest investing in a ridge-filling base coat to even out any indentations in the nails." 
4. Consider the condition of your hair (and go professional)
I chatted with David Adams and Frank Rizzieri, hair experts and co-owners of FOURTEENJAY Salon, to get advice on how to adultify one's hair routine—and thankfully, it doesn't involve a mom cut.
It turns out, the overall condition of the hair is more crucial than the cut and color. "You can be any color you want to be, but your hair must be in good condition for it to look amazing," Adams told me. "Fried hair is not good in any shade—especially for those who like to change their color all the time or who like double process colors. 'Adultify' your hair so that it is shiny, healthy, and you, or your partner, can actually run your fingers through it!" 
Rizzieri suggests focusing on the quality of the products you're using. "Sometimes relying on cheap and convenient means products that only mask underlying problems." The better the quality, the healthier your hair will be. Makes sense, right?
There are plenty of great product lines out there that address specific hair types too, whether you have dry (Rizzieri suggests Aveda's Dry Remedy line) or chemically damaged (for this, he suggests Aveda's Damage Remedy line) hair. Still, he adds: "For hair that is overprocessed, dry, brittle, and breaking, nothing—absolutely nothing—is better than a great haircut. Fizzy and fractured ends look and feel awful." 
While DIYing our hair can be fun, store-bought dyes aren't necessarily the greatest for our precious locks, and cutting your own hair has the potential to be disastrous (especially when you don't have the proper training).  Adams suggest taking the leap to getting professional (and much less damaging) service from a trained stylist. "Maybe it's time to throw away the at-home hair color and kitchen scissors and treat yourself to professional salon service. Most salons offer complimentary consultations. It's the perfect way to learn about options, pricing, upkeep, and what really works best for you," he suggests. Rizzieri added that you should get a cut that "suits your hair type, face shape, and lifestyle—and stay committed to having it maintained every six to eight weeks."
5. Invest in a silk pillow case
Seriously. This may sound a little bougie, but silk pillowcases are miracle workers—and you'll thank yourself down the road for using one.
The friction from cotton pillowcases actually removes oil and shine from your hair, leaving it looking dull and lifeless. Even scarier, the friction causes creases on the face and leads to wrinkles. Silk pillowcases are not only soft and luxurious to the touch, but they help restore hair elasticity, shine, and smoothness while working to prevent and delay wrinkles.
I spoke with Jennifer Chang, founder and designer of Kumi Kookoon, the luxe silk brand that offers everything from loungewear to bedding, about the importance of silk pillowcases. "At night, your face is resting on a pillow for seven to eight hours, so why not make it a pillow that helps your beauty regime while you sleep?" she said. "Silk pillowcases are like a combination of lingerie and night crème for your face—not only do they look and feel beautiful, but they can help you to stay beautiful too by delaying wrinkles and keeping hair shiny and smooth. Also, there's something so relaxing and luxurious about laying your head on a silk pillowcase."
Chang has designed her own silk pillowcases for Kumi Kookoon, which contain 18 amino acids that work toward improving the condition of your skin and hair. Sounds like a sound investment to us.
6. Take your makeup off before bed
And I don't mean this just for the sake of your new, bougie silk pillowcases.
We've been taught from an early age that washing our face was important, but how many times have we deemed ourselves too lazy to get up and take off our makeup before we passed out for the night?
I chatted with Dr. Nicholas Perricone, dermatologist and founder of Perricone MD, who stressed to me that "Proper cleansing of the skin is vital—and whatever else you do or don't do, remove makeup before bed." Sleeping with your makeup can lead to a slew of skin issues, from chapped lips and dry skin to clogged pores, acne, and wrinkles. Dr. Jessica Weiser of New York Dermatology Group also stressed that you must wash your face to completely remove makeup every night before bed, and suggests following up with an overnight emollient (whether you prefer a cream, oil, lotion, etc.).
"When you finally hit number two-zero and above, it's time to shape up," says Beverly Hills dermatologist Dr. Harold Lancer. "It's time for any random behavior with your skincare habits to evolve into programmed behavior. So you want to develop a skin regimen that you stick to—you can't just wing it haphazardly from day to day." In short, break your habit of being lazy and always wash your face before you crawl into bed.
7. Get at least eight hours of sleep a night
Yeah yeah yeah, I get it. Eight hours of sleep is basically impossible when you're a young adult with a full-time job and bustling social life. But seriously, get some sleep, damn it.
Perricone explained to me that eight hours is the magic number, and that "Pulling all-nighters or late nights will accelerate aging and show up in the skin. Adequate sleep is vital to avoid eye area puffiness and dark circles and to maintain vibrant skin." He adds, "Not getting enough sleep is also linked to the craving of high-calorie, high-fat foods." Eek. 
I'm not saying you have to give up partying altogether (hey, adults can have fun too!), but take a break sometimes to catch up on some much-needed shut-eye. Your soon-to-be glowing skin will thank you for it.