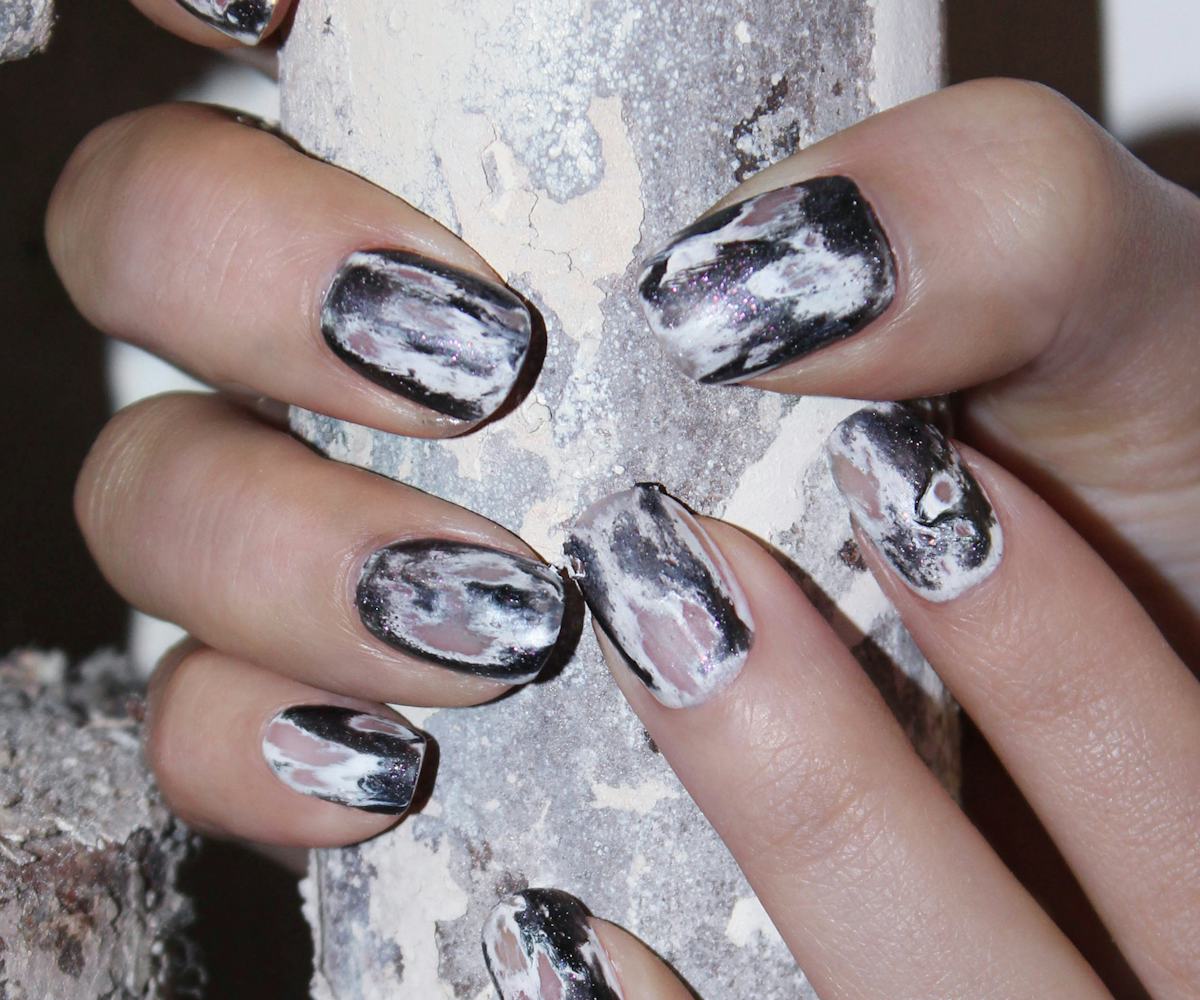 manicurious: grunge nails
the '90s are having a moment…and now your nails can, too.
No one needs to tell you that the '90-s are back--you've got the fuzzy, eyelash sweaters and Tevas to prove it--but while our Spotify has been properly grunge-ified (we can't be the only ones playing Nevermind on repeat) our nails, well, not so much.
Because while it's easy to pull on a pair of ripped 501 jeans and safety-pinned Chucks, chipped nails is usually the thing that kind of drives us crazy. But when we saw this worn-down nail art from Jin Soon Choi, we instantly realized we found it: the grunge version of the mani. The best part about it--besides the fact that it looks pretty awesome and is a nice break from super-ornate nail art--is how deceptively easy it is to do. Finally, a mani that comes out even better the messier you get with it.
Follow along with the step-by-step process below, and then show us the results--Instagram a photo with #manicurious so we can check it out. (And while you're at it, tweet at us your playlist recommendations for what to listen to while you're mid-mani.)
1: Apply JinSoon Power Coat Base Coat.
2: Apply two coats of NARS Ecume polish.
3: Apply two coats of JinSoon Obsidian on top, covering it fully.
4. Wipe parts of the nail with a makeup sponge dabbed with nail polish remover to get the scratched grunge effect.
5. Apply JinSoon Matte Maker Top Coat to give it a dull--but protective--finish.
JinSoon Power Coat Base Coat - $18
NARS Ecume Opaque Nail Polish - $19
JinSoon Obsidian Nail Lacquer - $18
The finished product: '90s, grunge-inspired nails