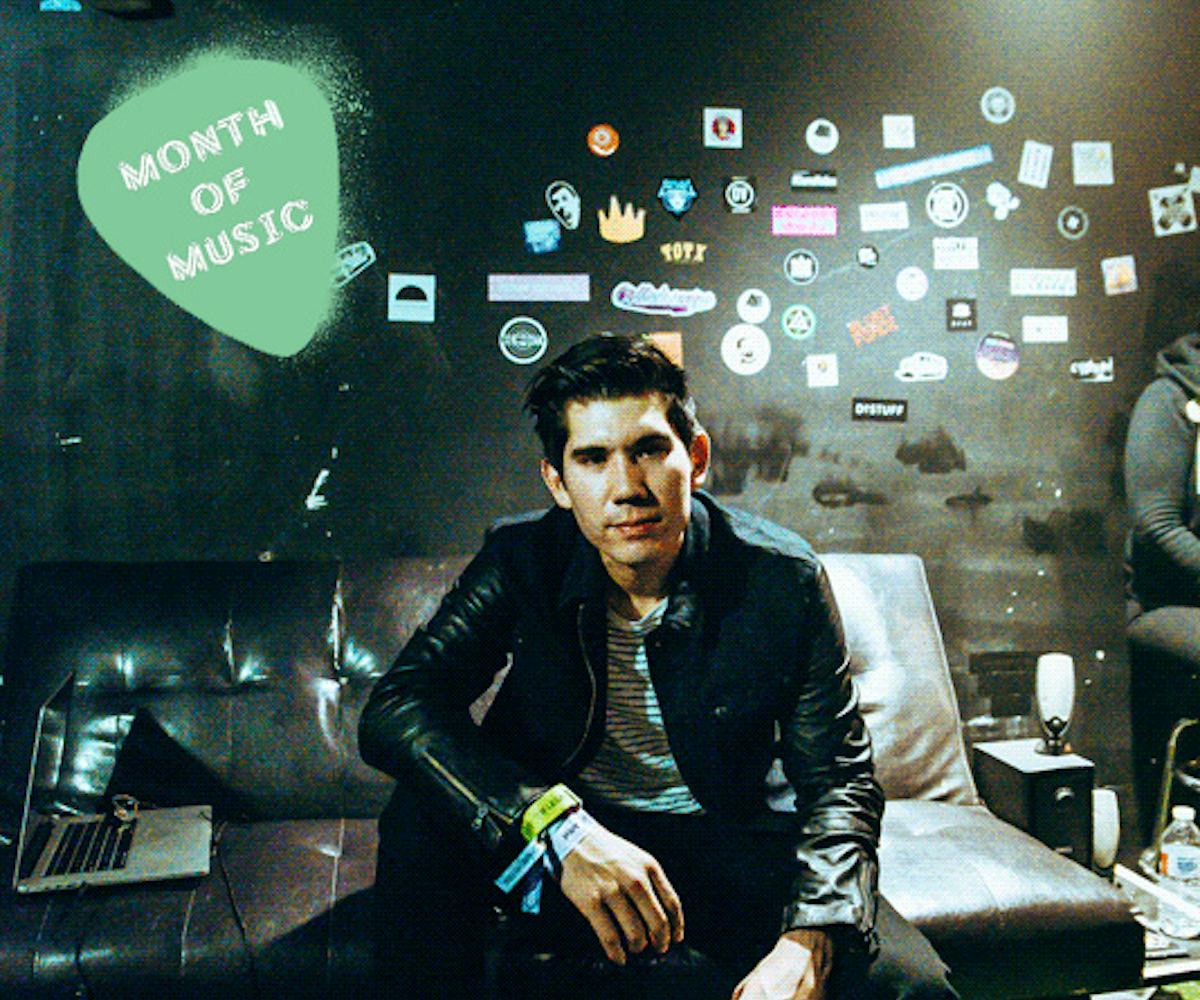 Photographed by Kara Smarsh.
Gryffin Is Electronic Dance Music's Low-Key Maestro
We share music because we want to connect with others on a deeper level. We want to relay and relate to a message that can't be said with just words. This April, NYLON is dedicating six days a week to introducing you to new artists and budding favorites. With interviews and GIF portraits done down at SXSW, NYLON's Month of Music is an exercise in finding aural pleasures outside of the Top 40. It's an exercise in challenging you and ourselves to not stick to one genre. But above all, it's a celebration of bold voices and sheer talent. Enjoy.
Electronic dance music moves at an astronomic rate. One second you're convulsing to trap music, the next you're vibing to tropic-infused beats. The trends come and they go, but one thing is for sure: Gryffin is ahead of them all. Nay, Gryffin floats above them all, with glittering productions that pulse with a sense of heart seldom heard (or felt!) in dance music. His remixes have soared up the Hype Machine lists and popped up on nearly every in-the-know music blog. The multi-instrumentalist is a true maestro. Remixes, like the one he did of Whitney Houston's "I Learned From the Best," don't strip the original of its emotional intent; rather, they amplify it to new heights—heights that are blissfully sad and relentlessly joyful, at the same time. Gryffin is consistent. Perhaps he's got the Midas touch; perhaps it's just that he's straight-up brilliant, but there's no denying his impact stretches far and wide. With Gryffin as your life's soundtrack, the lightness of being becomes bearable. It encourages you to feel everything. 
What song of yours fits the following situations?
Getting ready in the morning?
"Daydreamer." It has that morning vibe. When I'm getting ready in the morning, I typically find myself getting lost in thought. My remix of "Talking Body" is a pretty good way to start your day, too.
Me time?
My remix of Whitney Houston's "I Learned From the Best" makes you reflect a little bit.
Hooking up?
The "Desire" remix. That is easy. It's so sensual. Olly [Alexander] did such a good job on that track's vocals. I tried to bring it out in that remix.
Can you recall a moment in your life—whether it's a song, a show, a video—that convinced you, you wanted to be doing music?
I don't know if I can convince a specific moment. I've always been in love with music. I grew up playing the piano; I'm a classically trained pianist. It's always been a part of me. My cousin was in a rock band called Thrice. They're still touring around. I really idolized what he was doing and went to a ton of shows in Orange County. It got me thinking about how much I love music. It's where I fell in love with music. Seeing a relative of mine do so well was pretty inspiring.
Where did the electronic element come in?
That came in college. I started to get into dance music. I love all different kinds of music, but it was during college that I fell in love with it. I downloaded this Ableton program, that I use now, and just started to make my own stuff while incorporating my older, childhood instrumentation. There was a hybrid to be found.
If any artist, dead or alive, could cover your music, who would you want it to be?
Someone like The Rolling Stones. Mick Jagger would be great. I love him. I loved them as a kid. It would be so cool to have someone not from my world do something like that. He's proven himself, time and time again, to make great music.
Have you ever been starstruck?
The one time I was—this is actually hilarious—I was in Hawaii. I must have been in seventh or eighth grade. I was big into wrestling, like WWE. I met The Rock—you know, Dwayne Johnson? I've never told anyone this before. I saw him at some resort's cafe. I walked up to him after my dad told me to walk up to him. I said something like, "Hi, The Rock. I'm Dan. I'm a big fan. Can I get an autograph or a picture?" He was like, "Yeah. I'm having lunch with my agent. But if you wait for me outside, I'll come and say hi." I go outside and wait with my dad. Fifteen minutes go by and word has got out that he's there. A hundred people are there and he gets bombarded as he leaves. He starts taking pictures. I'm little, at this point, and am getting pushed out. He stops, looks around to find me in the crowd, grabs my arm, takes a picture with me, pats me on the back, and says, "Thanks for waiting, kid." I became the biggest Rock fan, ever. I still rep him to this day. I still have the photo.
At the end of the day, how do you wind down and ground yourself?
I've got a great girlfriend that keeps me grounded. She's always good at bringing me back down to earth. I just got a French bulldog puppy, too. Her name is Gigi. She's awesome. She was here at South by Southwest, but she left with my girlfriend this morning.
Photographed by Kara Smarsh.