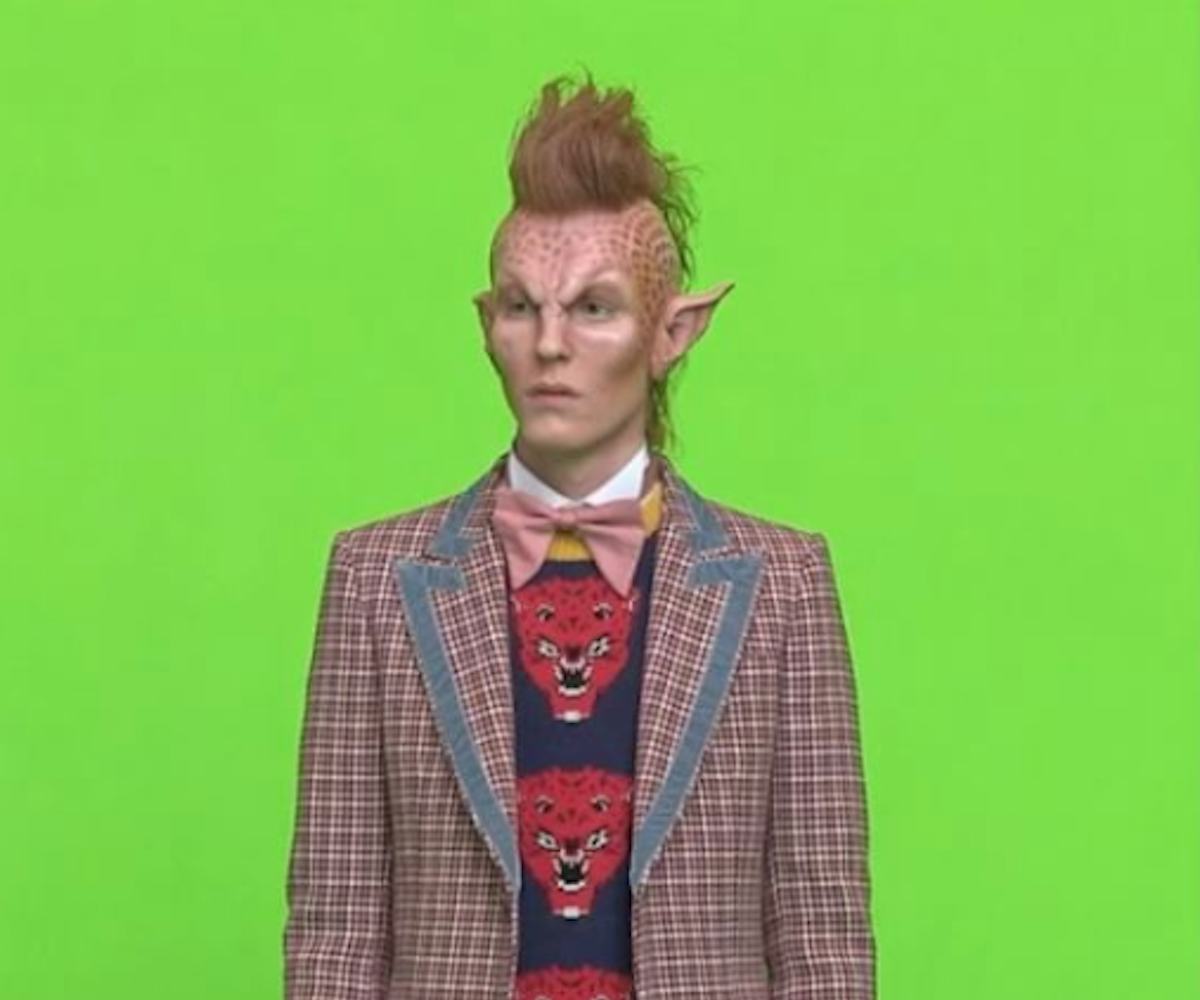 Photo via @gucci/Instagram
Gucci Responds To Plagiarism Accusations
Last week, the world wide web was raving about the #GucciAndBeyond campaign for the brand's Autumn/Winter 17 line, which depicted its muses as extraterrestrial aliens. Shortly after the images began circulating online, Pierre-Louis Auvray called out the brand for plagiarizing his work. "Young creatives struggle enough without big companies shamelessly stealing from them so fuck off Gucci," he stated on Instagram."I am just a student working hard on building my own stuff and the last thing we need as young creatives is to be ripped off."
As you'll see on the Central Saint Martins womenswear student's Instagram page, Auvray has been styling models with alien-esque features for months now. In fact, it's practically his signature touch at this point in her career. BA Fashion Central Saint Martins also posted a statement about the incident on Instagram with the following caption: "Wherever your influences come from, it is vital to credit. Young emerging designers and artists only have their ideas to trade."
After days of stalling, Gucci's creative director, Alessandro Michele, finally commented on the controversy in an interview with Business of Fashion [BoF]. "It's not true," he said. "It's something that makes me feel really sad. People build a story around nothing." Michele argued that he was not even aware of Auvray's work until this weekend following the plagiarism allegations. 
He added, "[The campaign is] about my memories, so movies from the '70s [including Star Trek: Lost in Space] that I saw many times. It's more about space, we have the robots, the aliens... I tried to work with Chris [Simmonds, artistic director] and the guys and Glen [Luchford, photographer] on strong characters." Michele also went on to explain that the use of pointed ears on an alien does not belong to anyone and dates back to characters from franchises like Star Wars and Star Trek.
Michele claimed that he is open to a private discussion with Auvray to settle the dispute, but reprimanded the staff at Central Saint Martins for the manner in which they addressed the situation. "I'm so sad, because I think it's not a good idea for a teacher at a school like this to push a young guy to destroy, in a way, his creativity," he said. "Creativity [is] not about the fame. I mean, it could be possible that you are thinking something that is in the mind of someone else. The idea that I'm 45 doesn't mean that I have no creativity. I'm like a student, it's the same, it's not a war!"
He concluded that "Instagram is transforming reality." Auvray also recently submitted the following response in defense of his authenticity to BoF:
This is an aesthetic that I have heavily featured on my social media for a very long time ... I intended to keep working on and make it a part of my graduate collection portfolio, [but] I will no longer be able to do it because I am just a student and Gucci has an international platform ... Fashion has some really ugly sides and what happened to me is very sad but I am conscious that some companies [have done] even worse things to plenty of other young artists. But it doesn't mean it should be normalised. Instagram and social medias are great promotion tools for us, I just wish these companies would not use them to steal our ideas.