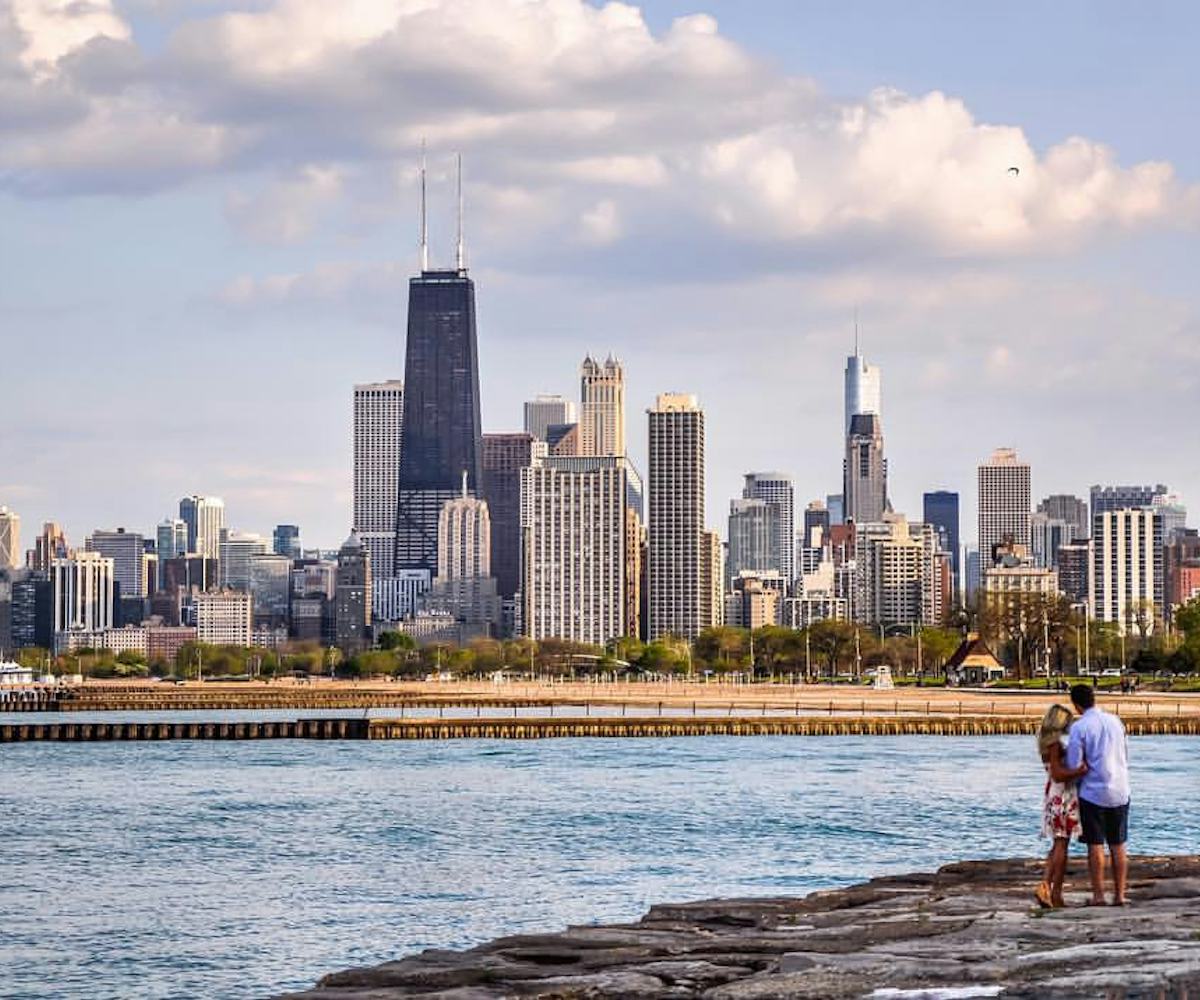 Photo via @ekpendds/Instagram
NYLON Cool Girl's Guide To Chicago
Never think of it as the Second City again
Chicago has many names—The Windy City, Second City, City of the Big Shoulders—but as someone who was born and raised in this Midwest crossroads, I call it The Biggest Little City. Chicago might be the third biggest metropolis in the U.S., but it's a honeycomb of distinct pockets—from the West Loop, which smashes trendy restaurants in brick warehouses next to old-school butchers, to the artful vibes of Pilsen, where boutiques and galleries intermingle with bodegas and panaderias—there's so much substance beyond downtown's Magnificent Mile, and yeah, The Bean. In fact, if you only stay downtown, you're doing yourself a disservice.
This is one of those cities in which the history and culture are inescapable even on a simple stroll. From every block of its namesake brick to hearing Kanye West as you pull up at a neighborhood bar to a random encounter with Chance the Rapper outside a record store, Chicago is a distinctly tangible experience—a massive city disguised as a bustling neighborhood.
The next time you roll through, though it's perfectly acceptable to dip your toes into The Loop, skip Navy Pier. You can do so much better. Venture to some of our picks below and get to know Chicago through the breadth of its people, legendary bites, and eclectic nights out. Oh, and if you want to grab a Chicago hot dog? No ketchup. And buy it at Home Depot for $3 with a bag of chips. Trust us.
WHERE TO GO: Beauty Bar
The Chicago iteration of Beauty Bar is not only always stacked with unique and fun themed nights, but is so popular, lines often run out the door and down the block. A brief sampling of upcoming events: Daft Punk Dance Party, Emo vs. Pop Punk, Another '90s Party, Bump & Grindcore, and Y2K: The Milennial Dance Party. Lose yourself among the venue's sparkling walls and get snapped by legendary local photographer group Glitterguts, known for pop-up photo booths where they shoot against wild prints handpicked at fabric stores.
WHERE TO EAT: Schwa
We're not going to pretty this one up for you: it's near-impossible to get a reservation at Schwa. In fact, it's one of the hardest reservations to get in the country. But it's worth it. Not only is chef Michael Carlson a mad genius with food innovations (he once made a pad thai with jellyfish tentacles instead of noodles), this is one of the only high-end molecular gastronomy restaurants that eschews normal pretenses. It's BYO and you'll often find them blasting albums from the likes of Squarepusher or Funtcase. Because that's what they want to listen to. Catch your waiter in a good mood and you might be lucky enough to share in some pickleback shots.
WHERE TO GO: Chicago Architecture Foundation River Cruise
Chicagoans wholly agree this might be a "tourist attraction," but everyone should still do it. Most locals have, several times. Ride the afternoon away down the Chicago River, carving through the heart of downtown and learning about architecture in the process. They now offer the tour at twilight, so you can catch the magnificent cathedral-like and all-white Wrigley Building bathed in sorbet colors at sunset.
WHERE TO DRINK: Lost Lake
Lost Lake isn't just a tiki bar, it's an escapist fantasy, encapsulating 1930s Hollywood with a verdant tropical mood. Surrounded by bamboo and banana leaf-print wallpaper, it's a fab mix of laid-back vibes with delivery on mixology. Sure, you'll find classic punches and oversized drinks to share (danger alert), but as well nods to more modern interpretations with ingredients like tamarind shrub, absinthe, and pomegranate.
WHERE TO SHOP: The Occult Bookstore
Sitting in a nondescript storefront on Milwaukee Avenue, The Occult Bookstore has been around just shy of a century, specializing in rare and antique artifacts, vintage books, occult art, living stones, and more. While they originally only dealt in selling to active and renowned spiritualists and shamans, they've opened their doors to anyone who has a desire to learn about the occult and their own spiritual growth. Come browse, mingle with one of their resident clairvoyants, or attend their weekly Occult Social Coffee Clutch that happens every Wednesday evening.
WHERE TO DRINK: The Violet Hour
Before going to The Violet Hour, we recommend starting your evening down the street at one of Chicago's legendary slashies, Ola's Liquor, at 947 N. Damen. Slashies, or taprooms, are an old mainstay that are both liquor stores and bars. Unfussy with mismatched glasses, drink prices written on the bottles in Sharpie, and two-liter bottles of soda for mixers, Ola's is a quintessential Chicago experience. Make sure to buy a bottle of Malort on the way out before heading to The Violet Hour, which is, by all accounts, a 180-degree experience from Ola's. With no signs outside, a strict no phones policy, and precision with vintage cocktails (including proper presentation for an order of absinthe), this sumptuous retreat whisks you away to another era.
WHERE TO STAY: Longman & Eagle
Sure, most Chicago hotels are downtown, but there are a few outside the dense pinpoint of State and Madison worth checking out. In the rapidly growing neighborhood of Logan Square is Longman & Eagle: a restaurant with an emphasis on regional American fare, a mind-blowing whiskey selection (they currently stock more than 300 varieties), and, above, a six-room hotel. Each one is uniquely designed, and most come with not just Netflix and custom furniture... but mixtapes!
WHERE TO EAT: Saved By The Max
We visited this pop-up diner that pays homage to Saved by the Bell when it first opened, and it's proved so popular, they've extended their operations through the end of 2016. A near-exact replica of the show's restaurant, The Max has quickly become a must-see destination for locals and visitors alike. It doesn't hurt that there are award-winning chefs at the helm and, come nighttime, they host Bayside After Dark, featuring everything from trivia to variety shows and throwback parties.
WHERE TO STAY: Dana Hotel
If you want to stay in the nucleus of Chicago, pick the Dana Hotel. Not only does this boutique hotel feature Vertigo Sky Lounge on the rooftop with panoramic views of downtown, but the loft-style rooms boast sustainable woods, natural stone showers, and floor-to-ceiling windows, all with a modern touch. It's also centrally located with easy access to the El train, and if you need a pick-me-up after crawling the city all day, they have a full in-house spa.
WHERE TO SHOP: Kokorokoko
Kokorokoko isn't just any vintage shop, it's a vintage shop that focuses on the '80s and '90s, specializing in, as they say, "the hottest finds from the post hip-hop, pre-internet era." Looking for a retro party outfit? Done. Need Wu-Tang earrings? They got you. Channel your inner club kid or skater, and pop by to get lost in a sea of Iceberg, JC de Castelbajac, and, yep, even the rogue piece of Von Dutch. It's a sea of fun ephemera.
WHERE TO EAT: Pequod's Pizza
Once and for all, yes, Chicagoans eat deep dish pizza. We just don't eat any deep dish pizza. Don't sully your opinion of deep dish by going to a bigger brand name and essentially eating lasagna in circular form. Pequod's pizza is downright hedonistic, with generous topping chunks, a sweet tomato sauce, and their famous, famous crust. First-timers might look at said crust and think it's burned, but no! Pequod's achieves this crunchy perfection by placing extra cheese between the back of the crust and their decades-old cast-iron pans before cooking. Ever fall in love with food before? This is what it feels like.
WHERE TO SHOP: Reckless Records
With three locations in Chicago, Reckless has a long history of delivering incredible selection at reasonable prices. Go to the Wicker Park location for the best experience, where you can catch in-store appearances by bands, like Dosh & Ghostband, or perhaps run into a famous Chicago face (Billboard just filmed Chance the Rapper here handing out free records to giddy fans). Whether you're looking for Atmosphere or Breeders, Reckless has it, making it the ultimate crate-digger's dream.