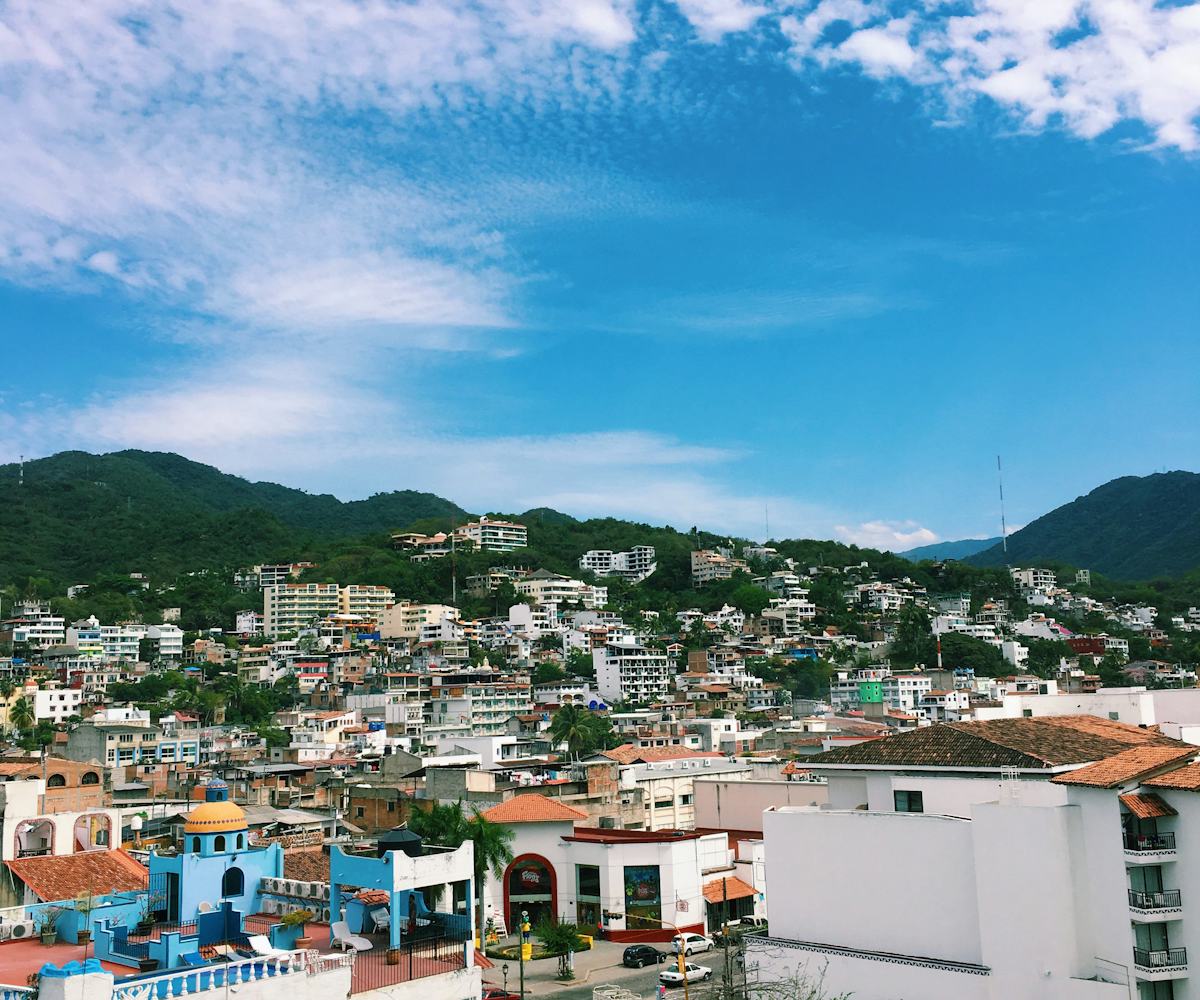 photo by Yasmeen Gharnit
The NYLON Guide To Puerto Vallarta
What to do in Mexico's tourist capital
When you're surrounded by the ocean, sand, and sun, it's pretty easy to categorize whatever place you're in as "paradise." And while there's definitely some validity to it, Puerto Vallarta somehow stands apart from other oceanside towns. While it's certainly the tourist capital of Mexico, among the many Señor Frog's, you'll find some innovative restaurants, bars, and sites. But even without all of them, it would be worth the trip just for the views and landscapes alone.
Click through the gallery to find the best places to go in Puerto Vallarta. 
WHERE TO STAY: Villa Premiere
Rolling up to the Villa Premiere felt like stepping into the most glamorous telenovela. Suddenly we were Thalía, swept into a sun-soaked beachside resort, and flanked by a sumptuous pool and the Pacific Ocean. The suites all boast spectacular views of the Bay of Banderas, and the hotel itself is only 10 minutes from the center of all the action. Whether lying in a cabana or veging at the spa is your thing, the all-inclusive Villa Premiere truly is a respite from the chaos of city life.
WHERE TO EAT: Maia
Puerto Vallarta undoubtedly conjures up images of idyllic natural beauty and bottomless tequila shots, but would you guess that it's a gastronomic capital to boot? Delicious restaurants abound in this town, but one that definitely stole our hearts had to be Maia, located just a block up from the gorgeous Playa de los Muertos. Headed by the award-winning chef Hugo Ahumada, this establishment prides itself on its support of the local economy, sourcing its ingredients from nearby markets and producers. With an interior decorated with the traditionally inspired works of Mexican artists, Maia stimulates both sight and taste in a uniquely Vallartense way.
WHERE TO DRINK: Bodeguita del Medio
Once night falls, the city rises in a flurry of thumping beats, strobing lights, and clinking glasses. The main artery of Puerto Vallarta's tireless nightlife runs along its iconic boardwalk. One of them, the two-story Cuban restaurant Bodeguita del Medio, stands as one of the city's preeminent watering holes. Its walls crack with the names and hearts of guests who have come before, and its plates of fried plantains are perfect for snacking on while you sip authentic mojitos and listen to the live band.
WHERE TO DRINK: The Gin Joint at Grand Miramar
Set on the top of a mountain at the highest point of Puerto Vallarta, this rooftop bar boasts idyllic 360-degree views of the city and Pacific Ocean. If you visit between November and March, you'll be able to watch whales jump through the Bay of Banderas. But no matter what time of the year, you should go in the afternoon and stay through sunset. The view is everything you and your Instagram followers could ever want.
WHERE TO DRINK: Paco's Ranch
As a Catholic nation, at first glance, Mexico may appear to be a bastion of conservatism. But a few years ago, gay marriage was legalized in the capital. And even before then, Puerto Vallarta emerged as a world famous destination for the LGBT community. Rainbow flags wave all over town, perhaps most notably at the revered Paco's Ranch. Drag queens lip-synch for their lives under shimmering disco balls as an often shirtless clientele pounds the dance floor until sunrise. What a time to be gay in Mexico.
MUST-SEE: Casa Kimberly
Originally owned by designer Janice Chatterton, the stunning residence was bought by Richard Burton as a gift to Elizabeth Taylor, who fell in love with Puerto Vallarta while filming The Night of the Iguana. Although it has been expanded from the time that Liz and Dick lived there, the massive home, which has now been converted into a hotel and restaurant, still holds some of the couple's items, including a massive pink marble bathtub.
MUST-SEE: Marieta Islands
A few miles off the coast, Islas Marietas is one of Mexico's most scenic destinations. The former military testing site boasts a collapsed stone roof and abundant marine life, thanks to environmental protection laws. Bring a meal and snorkeling gear, and you're set.
MUST-DO: Cruise of Bay of Banderas
Grab a bottle of wine and rent a boat or ride a yacht across the coast. Once you reach the Bay of Banderas, when you approach some seriously eerie rock formations, jump overboard and snorkel. You'll see a ton of sea horses, which just so happen to be the city's mascot.