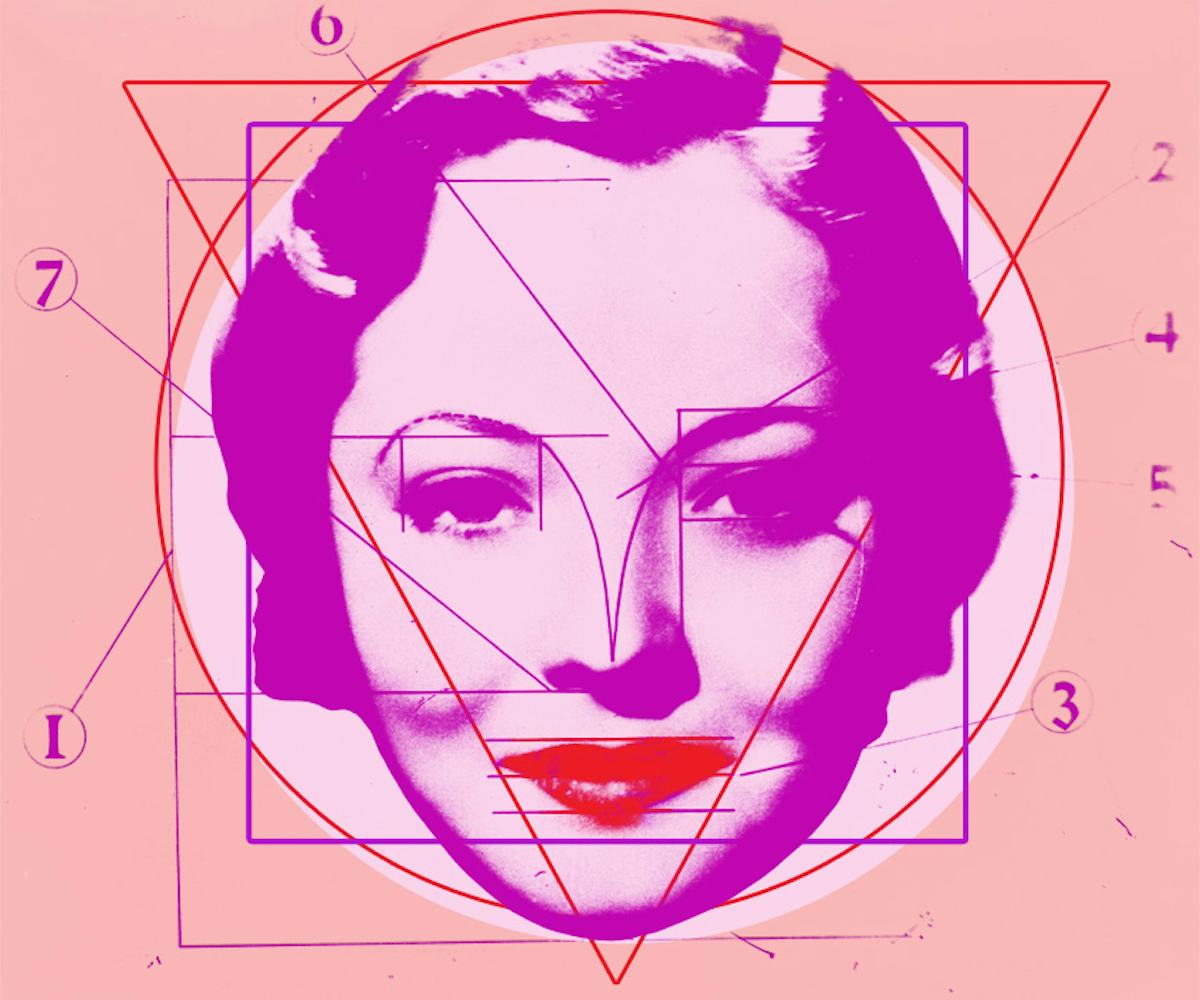 photo via General Photographic Agency / Stringer/Getty Images
why it's time to start breaking hair rules
because no one really has a round face
The first girl I met with a round face and a bob chopped squarely above her jaw was named Kat. Her bob was not a sleek black Louise Brooks look, nor was it the subtle pastel colors everyone is in search of right now. Hers was blood red. 
Women with round faces are told that they aren't supposed to have a short, blunt bob, but Kat was the epitome of a tough, get 'er done, in-your-face alt queen of the early 90's. To say that I admired her would be an understatement. I worshipped her. 
Since then, as a hairstylist at a fairly well-known downtown NYC salon called Seagull (I know it's a dork name but it came with the business), I try to ignore the idea of "rules" or even suggestions of rights or wrongs when it comes to style, body types, and face shape. But it's hard, especially when those rules—laws, even—are built into the very fabric of the beauty industry.
The source of these rules is something called Milady's Standard Textbook of Cosmetology, originally published in 1938. It is a museum-quality relic of a book (and that's the only place, if any, where it belongs) and is a bible for the young, curious person looking for a bright and rewarding career in the hair salon industry. It is a tedious study, at best, in hair rollers, teasing, and comb-outs that are only employed in period films and maybe some Rockabilly-themed weddings. At its worst it is a pretty offensive road map for how to make everyone on the planet look like a white European. 
One huge issue is that the book touts the oval as the "generally accepted" face shape. According to the text, women with other face shapes have to work to literally erase their faces—with swept-up, teased, and lacquered hair, it gives tips to "minimize the effects" of having a features like a wide nose. Remember, this is the book that is considered a must-read for hairstylists. 
So, after having studied this book to ultimately acquire the license required to be a stylist, you can imagine the shudder that goes through me when asked, as a professional, if someone's face is too round. They also ask me if they have a forehead (of course you have a forehead!), if they are too short to pull off long hair, too old to have long hair, or too pale to do anything. 
Often I have my clients ask me what they can do to sparkle, pop, and shimmer. I tell them that putting dark, sometimes even black lowlights against gray hair can make it look like actual silver. I do this a lot in large chunks of color, inspired by Susan Sontag, Gloria Steinem, and obviously Anne Bancroft's sexy Mrs. Robinson. But according to the Milady Standard, gray hair is a big no. This super-chic hair color of the moment is apparently a bad thing because it shows age—and in America, allowing the world to see you age is akin to tying yourself to a stake and throwing the match that lights your own fire. It is considered the absolute opposite of vibrancy. 
Important: There is no such thing as age-appropriate hair. The idea that women of a certain age (over 30, 40? I have no idea) cannot have long hair or an eye catching color is absurd and totally insulting at (best). It's also is uniquely American. Carla Bruni-Sarkozy, the former first lady of France, was not only a style icon but a sex symbol at 45, in 2012. Google her now to see her at 48 wearing her hair with signature Jane Birkin bangs. There are zero signs that her beauty is on the fade because of her age.
When someone tells me they have fat temples and don't want to draw attention to them with bangs that have an upward slope I simply say, "Oh. Well, I don't see that." As in, that is seriously not what I see. Though I believe it is important to have empathy for people and their situations I simply cannot agree with my clients when they say they have round faces. Plates are round. The sun is round. This letter is round: O. Almost no one has a round face. 
In hindsight, Kat, my previously mentioned hair icon, did not have a round face. It was a generously wide oval, sure, but not a circle. If she was privy to this conversation, I think she would say to us: "I don't give a fuck what anyone thinks of what I do with my body. Why do you?"
Shaun SureThing is the Lead Stylist and Owner of Seagull Hair Salon NYC.