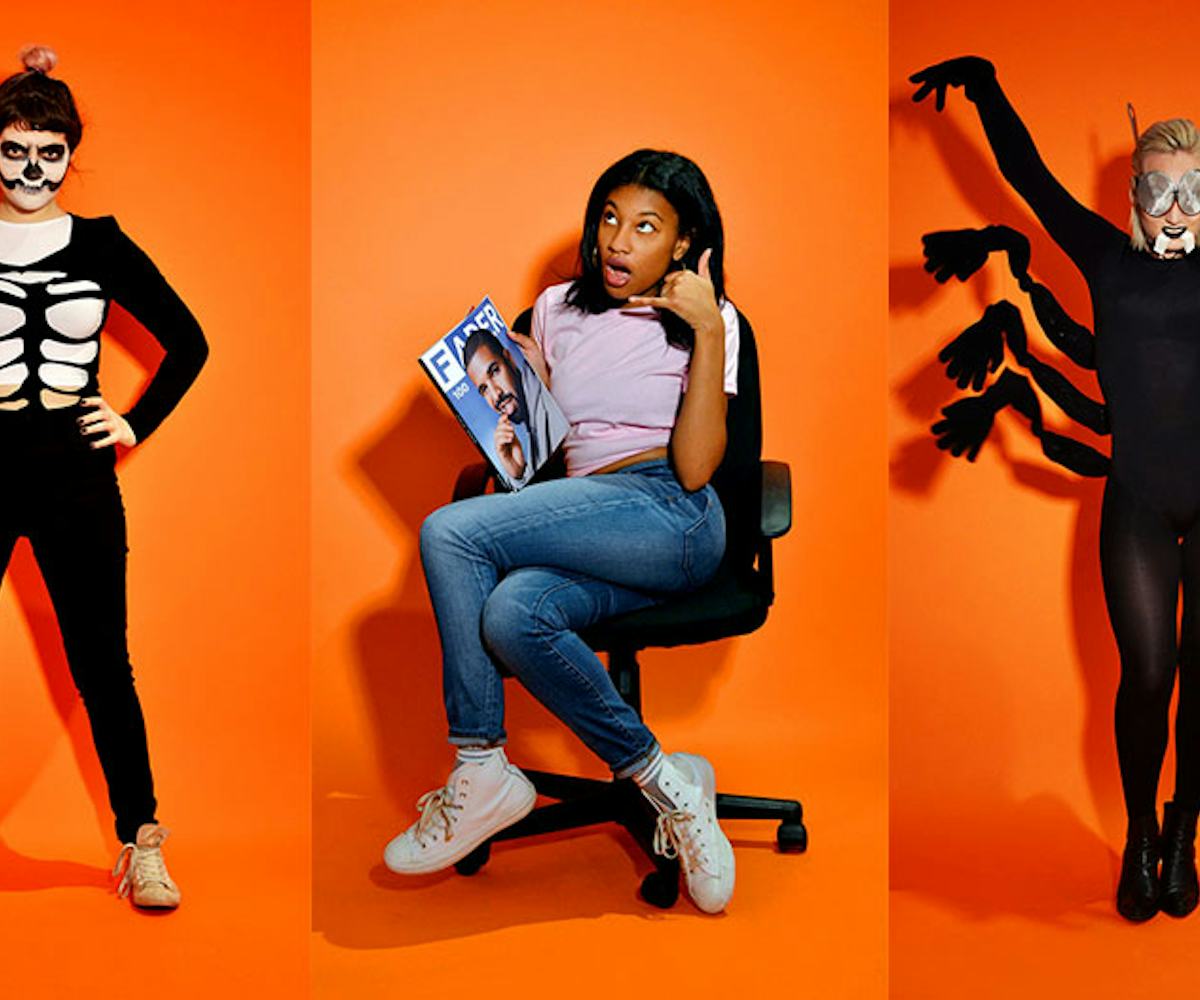 Photographed by Mamaesa London Wilmot.
$25 Or Less: 3 Last-Minute Costumes That Don't Suck
Halloween only comes around once a year, but some of us can't think 365 days ahead about what we're going to dress up as. Nobody ever plans on waiting until the last minute to conceptualize their costume idea, but sometimes it just happens. At one point, we've all had to settle for whatever's left at the party store or resorted to paying a ridiculously expensive two-day shipping fee for an overpriced costume on Amazon.
Fear not, friends, because we've got three costumes that you can put together yourself using items that are already in your closet plus a few pieces that you can buy from local department stores with a budget of $25 or less. We already showed you how to make your cat costume less basic, but this guide brings more tricks to your treats.
For this year's last-minute Halloween Challenge, we sent three
NYLON
staffers to department stores, thrift shops, and convenience stores around New York. They could only spend $25 and had approximately two hours to get it all done. The concepts they came up with are pretty original and can work if you're flying solo or with your squad.
Flip through the gallery above, we guarantee it'll have you feeling in the Halloween spirit.
Hotline Bling Girl – Sydney, Digital Editorial Assistant
This year, I actually had a few weeks to spare to put my Halloween costume together, but of course I didn't start looking for the remaining pieces until yesterday! The first time I watched "Hotline Bling," I instantly knew that I wanted to be one of the girls in the beginning of the video. I already had high-rise, light-washed blue jeans from Madewell and a white leather pair of Converse in my posession—which would have been the most expensive parts of the costume—so I was already saving money. All I needed was a shirt, hoop earrings, and a phone headset, if possible. (I also happened to have a copy of Drake's FADER cover, so that was a freebie.) 
Originally, the plan was to buy everything at Kmart. I managed to find cheap gold hoop earrings from Nicki Minaj's line, but affordable pink T-shirts were nowhere in sight. After checking in Uniqlo and Gap, I headed over to American Apparel, because basics. Apparently, I wasn't the only girl with 1-800-HOTLINE-BLING on her mind, though, as I was informed by associates that customers bought most of the remaining pink shirts that morning. I wound up settling for the largest pink tee in the kids section, but it worked. To achieve the perfect cropped-top look, I knotted the shirt with an elastic hairband in the back. Done!
Total amount spent: $21.70
Spider – Claire, Digital Production Manager
Total amount spent: $25.50
Skeleton – Tile, Social Media Director
After so many years of intricate costumes gone awry, I've learned what I'm capable of on Halloween—fake blood and lots of face makeup. I wandered around the aisles of CVS in search of literally three things... White face makeup (this ended up being a white eye pencil. S.O.S.), black face makeup—ultimately, a combo of glittery black eye shadow and very intense eyeliner—and a black T-shirt.