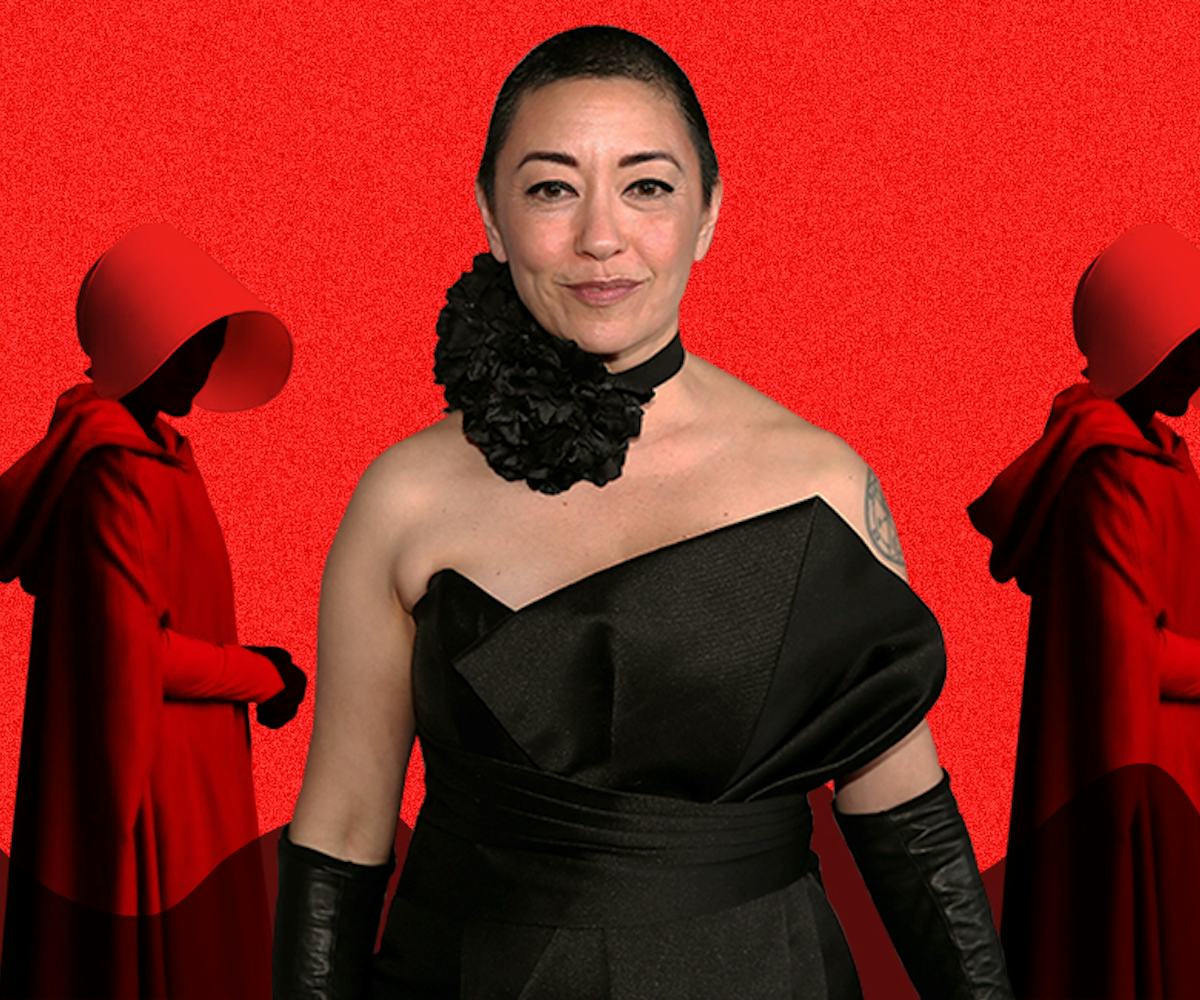 Graphic by Lindsay Hattrick
'The Handmaid's Tale' Costume Designer On "Dressing For Dystopia"
"This job is the most personal one"
Costume designer Ane Crabtree has a lengthy resume spanning 28 years, having worked on everything from Westworld to Masters of Sex. However, the job she has connected with the most is for Hulu's The Handmaid's Tale, the story of a dystopian near-future in which fertile women are forced to bear children for high-ranking officials in a new fundamentalist regime.
"This job is the most personal one I have had the pleasure of designing," Crabtree says. "I think when you feel something so deeply, and those emotions go into the work, you can only be truthful in the design. That makes this job so simple and so complicated at the same time." And while it was difficult to completely separate herself from this project, Crabtree says she's been incredibly moved by the way the show—and subsequently her costumes—have been able to play a role in the cultural conversation currently surrounding women's rights. 
Seeing the impact of her work, it only seems fitting that Crabtree's Handmaid's Tale costumes would be the star of a new collaborative exhibition between Hulu and the Savannah College of Art and Design. Appropriately dubbed "Dressing for Dystopia," the show debuts at the SCAD FASH Museum of Film + Art on May 1. So ahead of the exhibition, we caught up with Crabtree to talk about her design inspirations, how she created a whole new set of costumes for the Colonies this season, and the impact her iconic, blood-red handmaids robes have had since the show's debut. Read our Q&A below.
Tell us a little bit about the SCAD exhibition and collaborating with them on the project.
SCAD is a wonderful creative ground that combines so many of the arts, including fashion and film. I've always been a fan. Last year, Vogue had a pop-up presentation at the PUBLIC Hotel that showcased my work on Season 1. Mangue Banzima, the curator of that show and a SCAD alumnus, approached me about having an exhibition with a longer showing, this time at SCAD FASH Museum of Fashion + Film. Who would say no to that? I'm lucky that he and SCAD see the value in the work and want to share it in a way that is artistic and educational. Everyone wins in that situation.
I am just now understanding the value and symbolism behind the work. Something that was [personally] meaningful in the designing of the costumes has taken on a life of its own—touching other people politically, emotionally, psychologically, and, perhaps, in an artistically-inspired way. I want my brown-skinned nieces to see a woman in their family in a museum. I want to inspire women and people of color to create what could be a vehicle to teach others.  
How much of an influence did Atwood's original text have on the costume design? What other source material did you use to create the costumes?
Margaret Atwood has been an influence on me—and certainly on the costumes—since I saw the original Handmaid's Tale film back in 1990. I start with all things Atwood, and I'm pretty sure she knows I am a rabid fan. Beyond this, I look to artwork, music, other cultures, religions, and creeds to [influence] the clothing. Nature inspires via color and the way things move. My two Davids, David Byrne and David Lynch, have informed the work. So has Matthew Barney, Blondie, Patti Smith, industrial workwear, and Kimiko Crabtree, my mother. Inspiration is everywhere.
I'm particularly curious about the thought process behind the handmaids' outfits—they're so striking, especially in scenes where you see them marching all together en masse. What was it like designing that particular costume? 
It was lengthy. I mean it took forever mentally to find what clicked for me. The biggest thing for me was to design something akin to a t-shirt and jeans, and something that moved like a river of blood when the wearer is walking in it by way of a bright red dress and some crazy headgear, along with a very expansive cloak. The new normal.
Why did you feel like headwear was a necessary part of the design? 
The headgear came directly from the original novel and was something we [originally] thought we would stay away from, [as] it didn't feel particularly modern. In the end, though, it solidifies the idea of keeping these women from having the freedom to talk to each other, to sell and trade contraband, to hide secrets. That is the patriarchy thinking they can control the masses. In the end, this design helps to conceal secrets—to communicate to the next handmaid. It is a weapon used against the patriarchy in those ways. It translates to something otherworldly and strange. And yet it is utilized as a very normal piece of clothing, like a baseball cap. 
What is it like watching your creations onscreen? Do the costumes still feel oppressive or is there a feeling of unity when all the handmaids are together?
It is heaven. Achingly beautiful to watch, I won't lie. But I should preface that with the idea that no costume designer, especially me, has a filter on what one creates. It's like giving birth to a creation. You don't find it ugly, even if it is. Sometimes the costumes are oppressive and sometimes they liberate the body—all of it is [reflexive] from the individual, including myself. My emotions towards the costumes change on a daily basis, sometimes within the hour of watching the show.
We're seeing new costumes on the people shipped off to the Colonies this season. What was your thought process like when creating these new looks?
My thought process was, Oh holy hell, what do we do now? Sincerely, I was worried about a creative dry-up—meaning, I was blocked in the beginning of the design process. How do you make [something for a place] as important to the story as the Colonies? A beautiful mash-up of Dinah Washington's "This Bitter Earth" and Max Richter's "On the Nature of Daylight" got my brain spinning towards the colonies. It was the muse that gave birth to the whole place—the unwomen, the aunts, and the guardians. The faded colors of a world battered by radiation—caught in a Van Gogh and Wyeth painting. 
What was it like seeing women wearing garments inspired by your designs to protest last year?
Heaven and hell, beautiful and terrifying, just like the show. And the show is just like real life in America—beautiful and terrifying. Surreal, too. I'm very proud, and I have [few] words for it. Something from my brain, inspired by the words of Atwood, has seeped into the consciousness of people brave enough to protest what isn't right with the world. I am astounded by the nature of human nature itself. Still, I don't think I have had the time to fully grasp the moment. Perhaps with some time, I will.
SCAD x Hulu's "Dressing for Dystopia" will be on display from May 1 to August 12 at the SCAD FASH Museum of Fashion + Film. Learn more about the exhibition here.