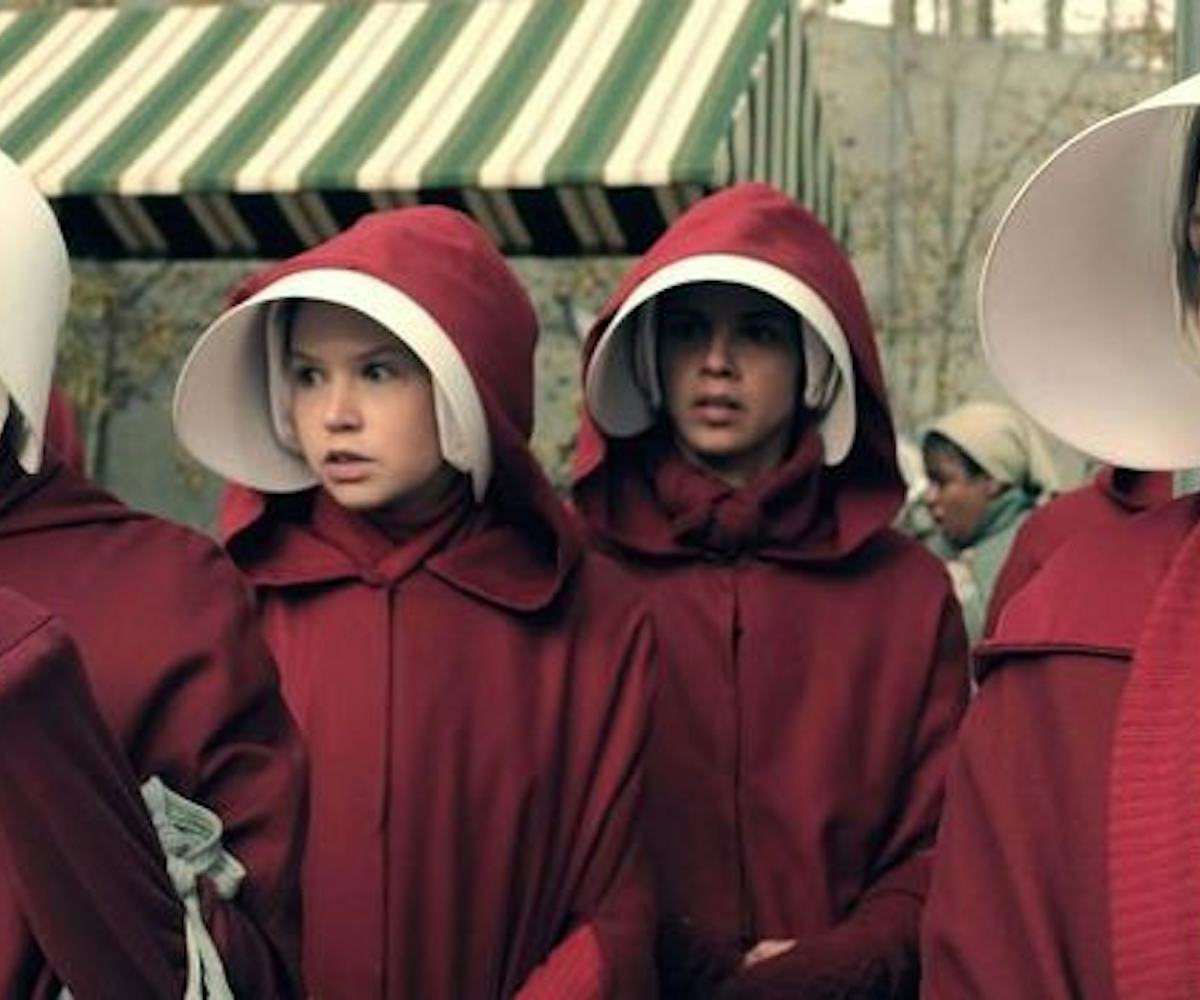 Photo Via Hulu.
The "Disturbing" 'Handmaid's Tale' Wine Is No More
Keep your "blessed be the fruit" jokes
Yesterday, MGM announced that it created a limited-edition wine tied to its award-winning (and all-too-real) dystopian drama, The Handmaid's Tale. However, after intense online backlash, the company decided to scrap the tone-deaf product.
According to the initial announcement in People, MGM revealed a new collection of two red wines inspired by handmaids Offred and Ofglen, as well as one white wine named after Commander Waterford's wife, Serena Joy. They were supposed to go on sale via online wine seller Lot18 on Tuesday afternoon, but by late evening, the backlash had grown so intense that MGM decided to cancel the line entirely.  
A blatant capitalization on a show that touches on some extremely pertinent and terrifying real-world issues, the announcement had many seeing red. "Finally a product that combines everything I hate: wine, marketing, unbridled capitalism, and authoritarian patriarchal dystopias where women are chattel!!" Bitch's Andi Zeisler tweeted. "'Can you turn rape into marketing copy?' 'Sure, you bet.' 'Great, it's for Handmaid's Tale wine.' 'Haha, love it,'" Margaret Lyons captioned a screenshot of Lot18's trite description of the line.
Electric Literature's Jess Zimmerman also weighed in on the controversial line, calling it, "disturbing." They also pointed toward the fact that this isn't the first time a brand has used The Handmaid's Tale as a marketing tool, citing things like Vaquera's Hulu-commissioned clothing line and The Wing's line of Handmaid-inspired merch. 
Check out a few of the reactions, below.