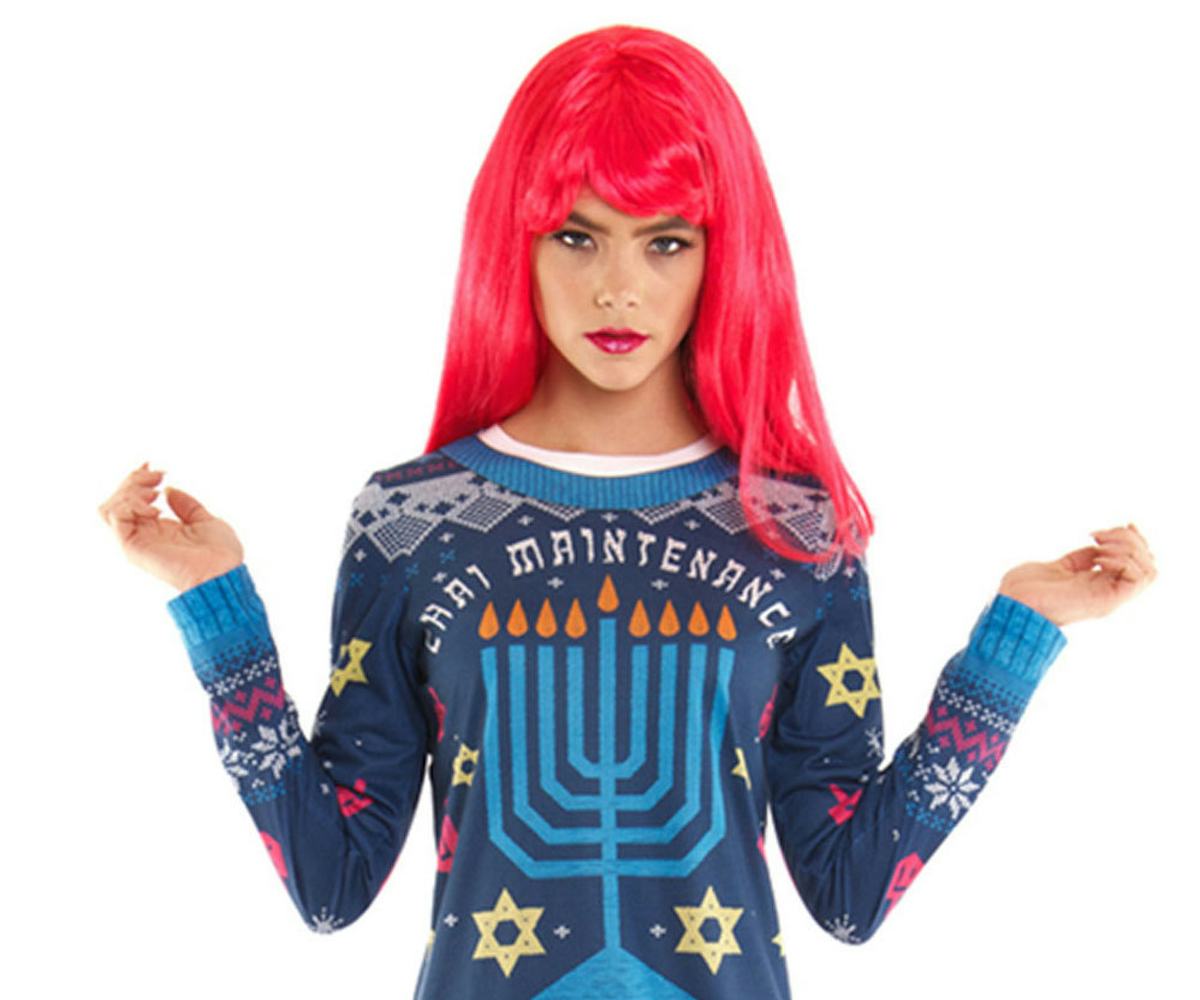 Image via Nordstrom
Nordstrom's Hanukkah Sweater Sparks Outrage, But Is It Really Offensive?
The ugly holiday sweater has become one of our most cherished seasonal traditions, right up there with spiked egg nog and getting wasted at the office party. And it's not just for gentiles, oh no. Jewish people too have been marking the celebration of Hanukkah with their own variations on woven ugliness.
One retailer, however, may have just taken this trend into some bad territory. Thanks to the Hanukkah sweater above, Nordstrom has been under fire for cultural insensitivity and fielding accusations of anti-semitism. On the otherwise perfectly innocuous—though perfectly ugly—item sold by the luxury retailer, one can just about make out the words "Chai Maintenance." It's a pun that employs the Hebrew word for "life" (as in "L'Chaim") and "high maintenance." Get it?
Sure, it's cheeky and meant for Jewish people to buy and wear. However, this little slogan taps into the longstanding stereotype of the overly demanding, neurotic "Jewish American Princess." Though this stereotype is something Jewish people, such as myself, enjoy playing with, it would certainly be uncomfortable to see something perpetuating it hanging on a rack in a luxury retailer's holiday section. Moreover, putting the pun next to a Menorah—a religious devotional item—is dicey. 
Look, we Jewish people have a very active and healthy sense of humor about ourselves, our religion, and our culture. Very active. On a personal level, if one of my friends knitted this sweater, I would dig it. If a Jewish designer sold it through an indie portal that had a for-us-by-us feel, I'd be cool with that, too. Feeding our sense of humor back at us through us through a shiny corporate filter, however, is dangerous territory. Even if the designers of this sweater were themselves Jewish, the chain-store context here makes it all rather icky. I'm not surprised that Facebook had a minor meltdown over it. 
For its part, Nordstrom reacted to the outrage by pulling the item and offering an apology that credited lack of care rather than ill intent. "We made a mistake by not looking more closely at the words on the sweater before we posted it—had we done so, we wouldn't have offered it," said a spokesperson. "As soon as we heard from customers, we removed it from our site right away. We're terribly sorry for offending people and sincerely apologize."
I know a lot of Facebook responses to this piece are going to say that the public response was hyperbolic and unmerited, that it's really not a "big deal" and the PC Police have gone overboard again. True, throwing out claims of anti-semitism might have been a step too far. However, context is everything with things like this and, even for this wildly impious Jew, this is unfortunate. This dumb sweater wasn't the end of the world, but it wasn't "okay" either. Try harder next time, and with a funnier joke. 
(via The Chicago Tribune)