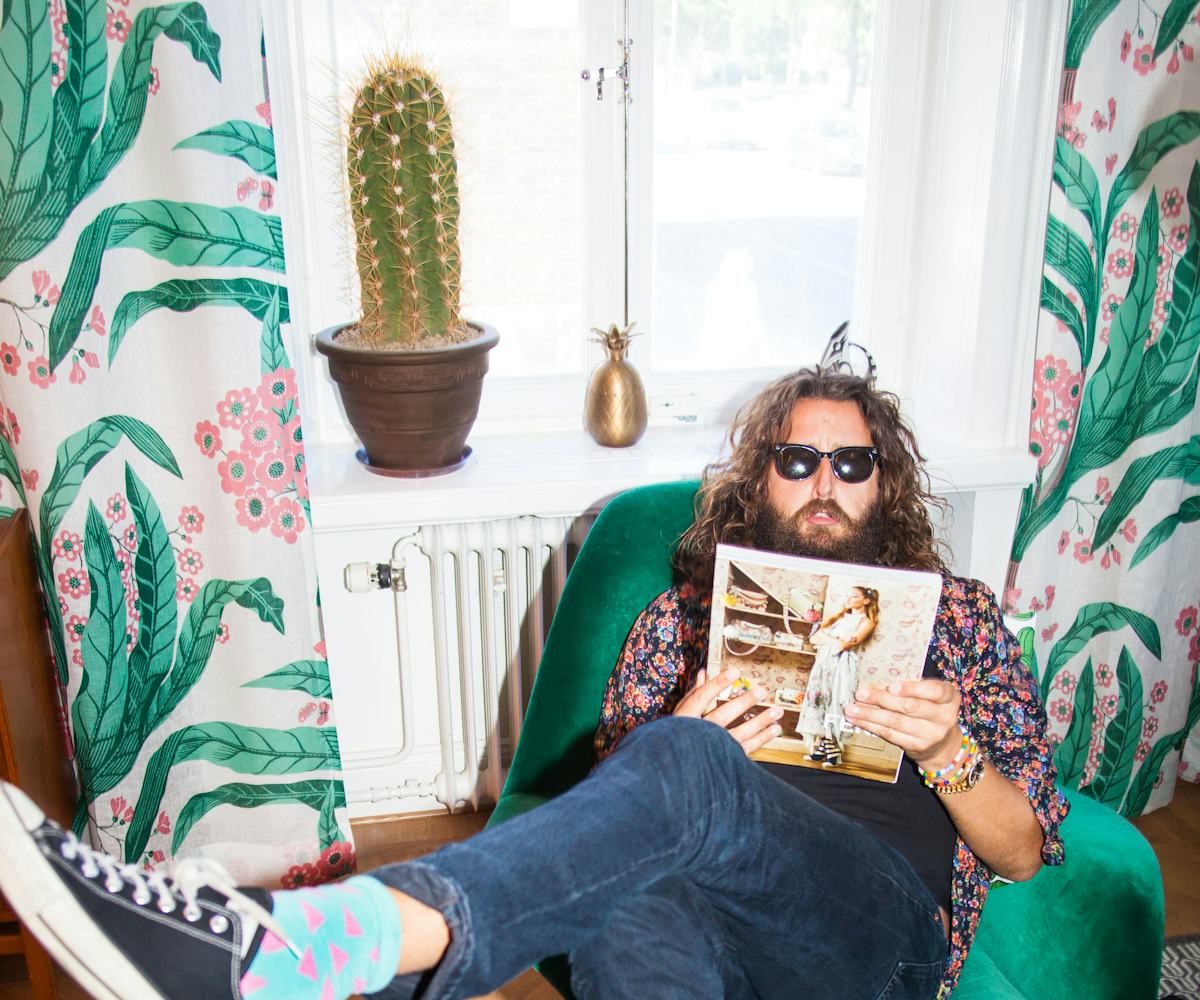 Photograph by Luka Roné
How To Build A Sock Empire In One Easy Step
"All play, no work" makes Viktor Tell a Happy Sock guy
It's likely that you're already familiar with Swedish sock brand Happy Socks. Maybe you've seen it on the shelves of stores like Opening Ceremony or Scoop, or perhaps its bright and colorful designs have caught your eye on the street. The brand, founded in Stockholm in 2008, has become a fashion industry mainstay, essentially transforming the sock market into something that's not only practical but also fashionable.
But what's the story behind Happy Socks? Why are these particular socks so... happy? I sat down with co-founder and creative director Viktor Tell at the Happy House, the brand's Stockholm headquarters, to chat about the brand's history. The atmosphere of the airy, colorful townhouse exudes good vibes thanks to multiple "sock walls" showcasing hundreds of vibrant prints and styles.
"The name was inspired by a group of friends I had," says Tell. "Everyone had been down, and for some reason, they put on the most colorful thing they had in their home to make themselves feel happy." This sense of cheeriness is exactly what the Happy Socks brand embodies, as seen in its socks featuring everything from neon stripes and argyles to whimsical sharks and lollipops.
While some entrepreneurs will tell you that it took years and years to develop their brand and get the ball rolling, Tell and Mikael Söderlindh, co-founder and CEO, took a pretty "balls to the wall" approach when launching Happy Socks, proving that sometimes, it's best to just dive in. "We both really liked socks. They have the potential to be a conversation piece and are a fun way to really make a look," says Tell. "We just really couldn't find what we were looking for, until I told Mikael about my idea for Happy Socks. Being the businessman he is, we had the company up and running within four weeks."
Fast-forward to almost a decade later, and they've built an actual global sock empire. On top of their massive array of cheerful and colorful socks for both men, women, and kids, the duo has expanded their vibrant prints and patterns into underwear, a more toned-down (yet definitely still happy) line of dress socks for men, and quite a few noteworthy collaborations, with everyone from fashion icon Iris Apfel to Adidas.  
Now, Happy Socks is taking things to the next level. For the upcoming Fall/Winter season, the duo brought on a new designer, Paula Maso, to help spearhead its new women's line, Hysteria. "It's going to be a separate, standalone brand with standalone stories—it's much different than our core product," says Tell. "With Hysteria, these socks are more versatile. We have different materials and lengths, and it's suited to more ways of dressing. Some will work better with your heels; others are perfect for your party look, and so on. The styles will follow trends more, and follow the wants and needs of the customer."
Additionally, three major collaborations are hitting stores separately starting in September, including a cake-inspired Steve Aoki collection, a sugar skull-heavy collection featuring artwork by tattoo artist Megan Massacre, and a commemorative Yellow Submarine-inspired line.
Tell explains that none of this would be possible without a ton of dedication. "The project you want to start is not a side project; it's your full-on focus because it's going to take time. It may sound like we're happy-go-lucky, but it's definitely been a lot of work," he says. "A lot of craziness, a lot of not sleeping, a lot of hard work. And you can't do it because you think it's going to make you money—you have to have a real reason to want to do it."
Yet despite his dedication to his job, Tell lives by the motto "all play, no work." While that may initially sound like the Happy Socks team is just a bunch of party people, it means something a lot deeper to Tell, who says: "If your work is fun and great, it becomes play. If you're working all of the time, but you love it, it's play. You just need to find something you love to do, and working will turn into play."
So, what's next for the brand? Tell has two ideas in mind. "My ultimate dream collaboration would have to be [with] Bill Murray—I just think it would be amazing. In a way, it's even more fun that we haven't worked with him because I like the idea that he's unapproachable. The Bill Murray sock would probably just be no sock at all—a non-sock," he says. "We've also been joking about having our first sock in space. We'd love to send some socks up there." 
We have no doubt that we'll soon be seeing astronauts sporting pastel plaid socks. If Tell can dream it, it can happen.