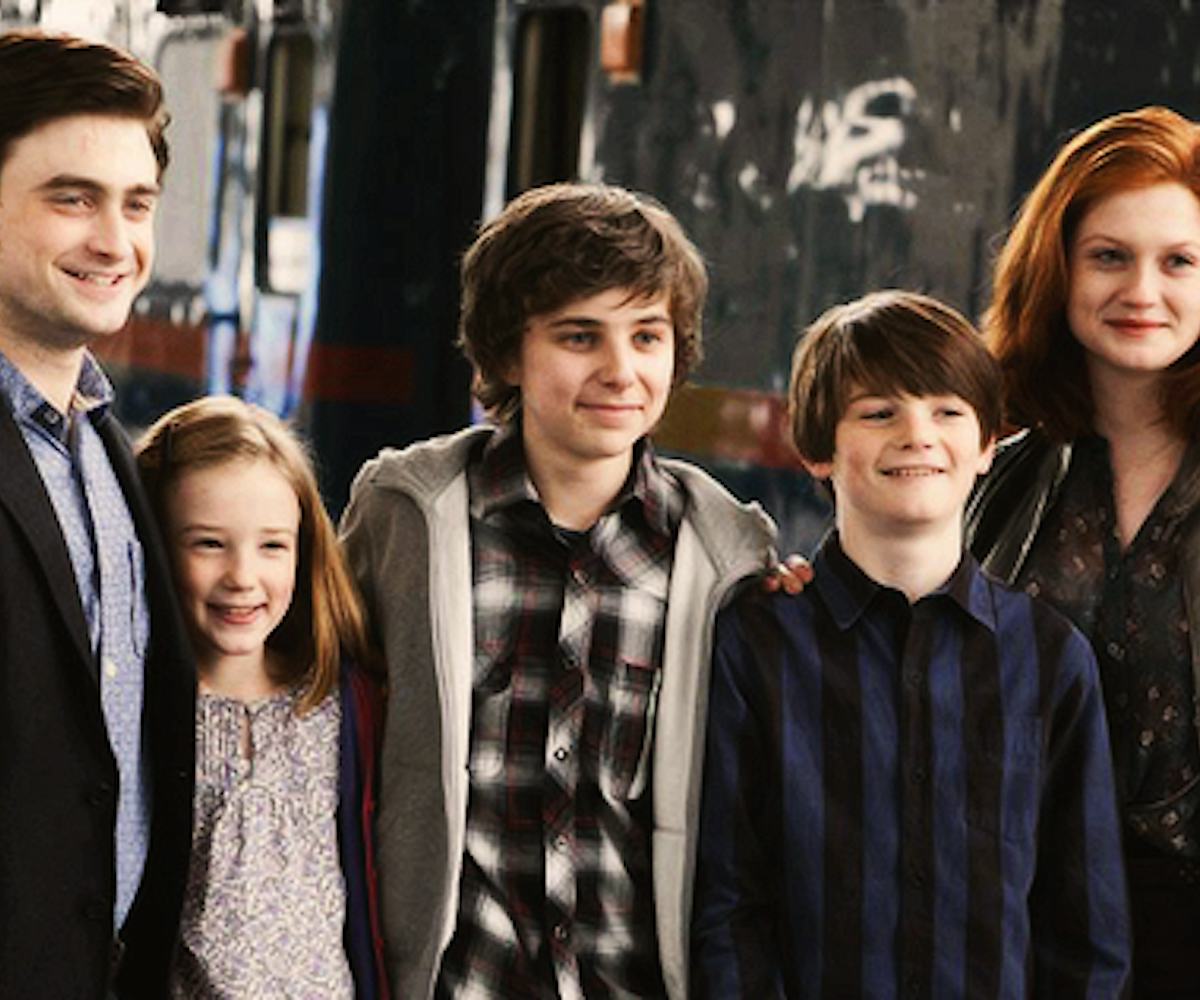 Photo courtesy of Warner Bros.
Here's Your First Look At The Grown-Up Version Of Harry Potter's Family
We already got a glimpse of what Harry Potter's future family looked like in the epilogue of The Deathly Hallows, but all of that makeup didn't really do the vision justice. This morning, Pottermore released official photos of Harry (Jamie Parker), Ginny (Poppy Miller), and Albus Severus (Sam Clemmett) from the forthcoming "Harry Potter and the Cursed Child" play. 
Set after the pre-epilogue events of Deathly Hallows, this two-part play picks up 19 years after Harry saves the wizarding world. Now, he's an ordinary employee at the Ministry of Magic while his youngest son, Albus, struggles to live up to his legacy.
Based on these photos alone, we think that the casting for this play was perfect. (Given that J.K. Rowling was directly involved once again, we anticipated that it wouldn't disappoint.) It's also worth noting that the rest of the cast for this production is even more diverse than the films, which we are super pleased about. In the next few days, the official shots of Ron (Paul Thornley) and Hermione (Noma Dumezweni) in costume are expected to be revealed. Do you believe in magic or nay?
Preview performances of "Harry Potter and the Cursed Child" begin on June 7. The play officially opens to the public on July 30 at the Palace Theatre in London. For more information, click here. In the meantime, check out the Potters in the gallery, below.
Goodbye, Daniel Radcliffe. In Rowling's own words, "He simply is Harry now. There's a kind of relief in watching him, he gets it so right."
Ginny is so... mature! Rowling says it best again: "I think a lot of people would like to have Poppy's Ginny for a mother. Kind and cool, exactly as I imagined her."
Aww, baby Albus! Rowling knows how much it means to us to see him too—"There's much I could say about Sam as Albus, but we'd be into spoiler territory so quickly, I'll just say we couldn't have cast better."
Don't mess with the Potters.