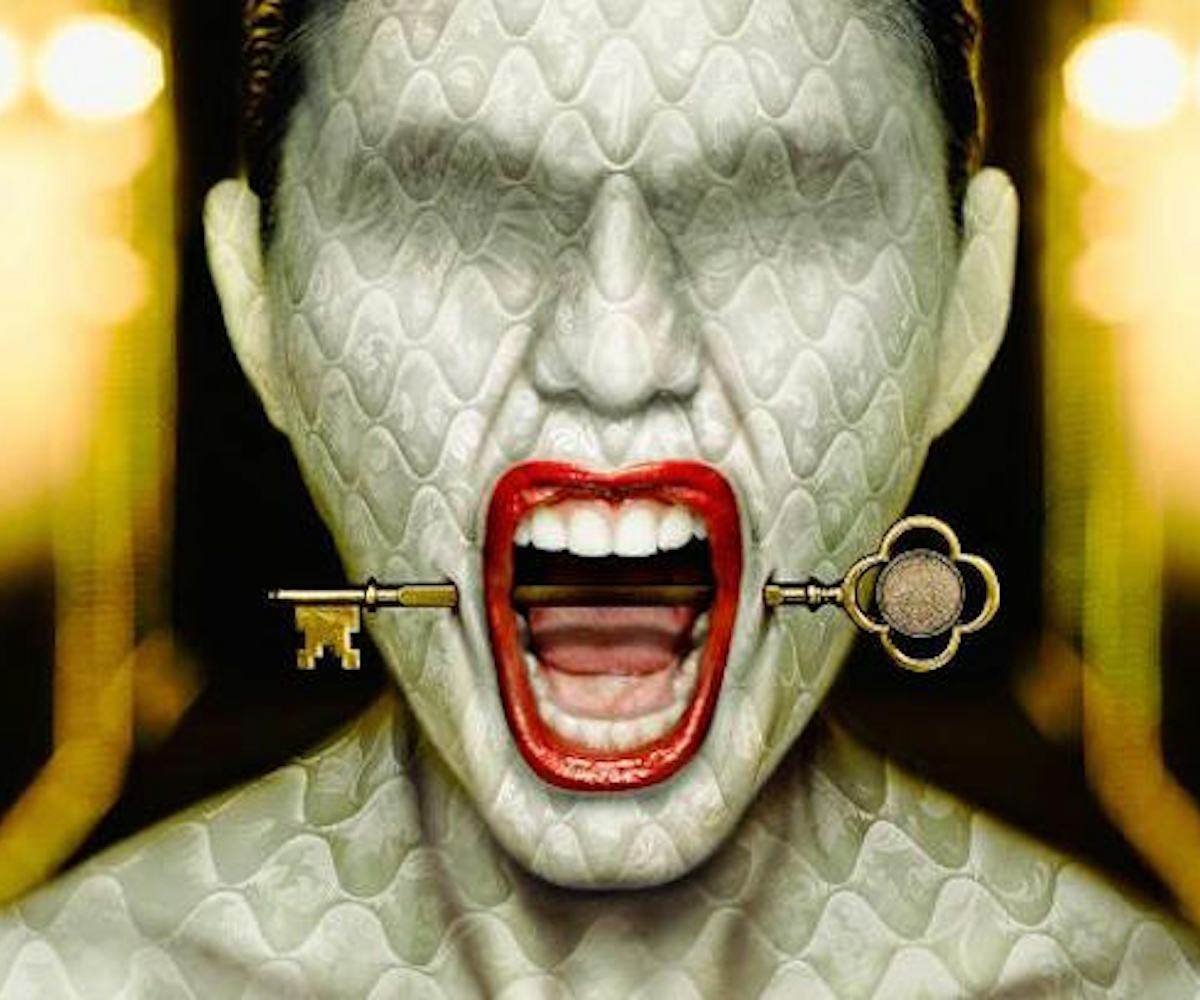 Image Courtesy of Fox
'AHS' In Real Life: The 10 Most Haunted Hotels In America
american horror stories you can check into
It's not only coming up on Halloween, it's just hours until the debut of what's already looking like the most delicious macabre treat of the year, American Horror Story: Hotel. 
With those two witchy things in mind, we've got haunted hotels on the brain. Not only do they boast everything haunted houses offer—bumps in the night, dark histories, and so on—but overnight stays for intrepid travelers and room service. Like, why would you want to check out a purportedly haunted residence when you could check into one? Also, we are 100 percent sure at least a couple of these destinations inspired whatever will go down in AHS: Hotel. Best to read up now, right?
Photo via the Stanley Hotel
Stanley Hotel, Estes Park, CO,
The Stanley Hotel already has a creepy history given is was the inspiration for the Overlook Hotel in Stephen King's classic The Shining (though it was the Timberline Lodge that provided exteriors for Stanley Kubrick's adaptation). Sharp managers have kept the 1980 movie playing on loops on various TVs there. As well, many guests claim to have run into deceased former employees, and long-dead founder of the hotel and his wife have been seen continuing to "go about the business of running their beloved establishment as though they were still alive. Flora's antique Steinway can be heard playing in the dead of night and Mr. Stanley has been captured in photographs surveying the goings-on in the Billiards Room." 
Check out the Stanley Hotel here.
Photo via the 1886 Crescent Hotel and Spa
The 1886 Crescent Hotel and Spa, Eureka Springs, AR
As with most of the hotels on this list, the Cresent prides itself on its haunted history and uses it as a selling point. Few, however, have gone so far as this one, and perhaps with good reason. Self-billed as the "Most Haunted Hotel in America," the former hospital claims no less than nine permanent ghostly residents, including a young woman who either jumped or was pushed from its top floor. It also maintains a constantly updated blog of ghost sightings and stories supplied by visitors.
Check out the 1886 Crescent Hotel and Spa here.
Photo via the Hotel del Coronado
Hotel del Coronado, Coronado, CA
Doesn't that look nice? Well, according to legend, it's a little less inviting when the sun sets. Just like the Stanley, the beautiful Coronado was the inpiration for a Stephen King story, this one centered around its famously haunted room, 1408. As well, the ghost of guest Kate Morgan—whose body was found near the beach—is said to wander the halls. Reportedly the "beautiful stranger" was waiting for either her husband, her brother (a doctor who would have treated her cancer), or a lover. Apparently, she still is.
Check out the Hotel del Coronado here.
Photo via the Queen Mary Hotel 
Queen Mary Hotel, Long Beach, CA
Once the world's most luxurious ocean liner, it's now one of the weirdest—and perhaps most haunted—hotels. Permanently parked in Long Beach since 1967, RMS Queen Mary saw 49 of its crew and passengers pass away during its service as a civilian vessel and an unknown number of soldiers and POWs during its service as a WWII troop transport ship. Cabin B340 in particular is said to still house the spirt of a passenger who was murdered there. Treachery on the high seas is always a draw for us.
Check out the Queen Mary Hotel here.
Photo via the Congress Plaza Hotel
The Congress Plaza Hotel, Chicago, IL
The Congress Plaza is one of the few hotels mentioned here that does not boast about its haunted history. Management would rather tell you that it's been a stopover for presidents visiting the Windy City. Nonetheless, legends have developed involving various eerie characters, including the ghost of Chicago kingpin Al Capone, "Peg Leg Johnny," a homeless man said to have been murdered there, the shadowy outline of a woman who's taken up residence in room 441, and "the hand of mystery," the disembodied appendage of a construction worker who was accidentally entombed in the hotel's walls up while it was being built.
Check out the Congress Plaza Hotel here. 
Photo via the Hollywood Roosevelt Hotel
The Hollywood Roosevelt Hotel, Los Angeles, CA
We'd actually love to stay at the storied, retro Roosevelt just based on its location, interiors, and hopping pool area. If we ever do, we'll be on the lookout for L.A. celebrities both living and dead. Past guests Montgomery Clift, Errol Flynn, and Marilyn Monroe (who lived there for two years before her career took off) are said to be regular visitors. Beats running into LiLo in the lobby of the Chateau Marmont.
Check out the Hollywood Roosevelt Hotel here.
Photo via the Myrtles Plantation
The Myrtles Plantation, St. Francisville, LA
The Myrtles Planation is not only haunted by ghosts, but by history as well. Rumored to be on the site of a Native American burial ground and the home and worksite for African-American slaves, the place already has a creepy legacy, even if you don't count the 10 ghosts said to roam the grounds. Of particular note is former resident William Winter who was shot by an unknown assailant and died on the 17th stair of the main house. People claim to hear his footsteps as he tries to climb inside. 
Check out the Myrtles Plantation here.
Photo via the Hotel Jerome
Hotel Jerome, Aspen, CO
Similar to the Congress Plaza Hotel, this spot is more likely to bill itself as a luxe stay than a haunted house, but the 126-year-old establishment has its share of supernatural stories. The most popular tale is that of "Water Boy," a child who drowned at the hotel's pool back in the 1930s. Apparently, he wanders the halls near his family's former room (310) shivering and wrapped in a wet towel, leaving soggy footprints behind. There's also Henry O'Callister, a brokenhearted silver prospector, and Katie Kerrigan, a maid from the 1890s who caught fatal pneumonia trying to rescue her cat from a frozen pond. According to legend, she still offers turndown service.
Check out the Hotel Jerome here.
Photo via the Lemp Mansion
Lemp Mansion, St. Louis, MI
The Lemp Mansion, the former home of a local brewer, absolutely bathes in its reputedly haunted history with eerie tours and events throughout the year. It's an easy sell, as no less than four members of the once-rich, once-esteemed Lemp family took their own lives as the clan's fortunes dwindled. All of them are said to stop by the mansion from time to time. As well, there is the troubling story of "Monkey Boy"—a hidden Lemp child said to have been born with profound disabilities. 
Check out the Lemp Mansion here.
Photo via the Casa Monica Hotel
Casa Monica Hotel, St. Augustine, FL
Obviously beautiful, this one has pretty much everything you'd want in a haunted hotel—radios turning on and off, children laughing from unoccupied rooms, footsteps heard in empty halls, whipsers attached to no one flying through the bar. Our favorite recurring story is that of a man who guests say enters their suites, makes a beeline for the bathroom, and then vanishes. Seems even the dead have to relieve themselves once in a while.
Check out the Casa Monica Hotel here.