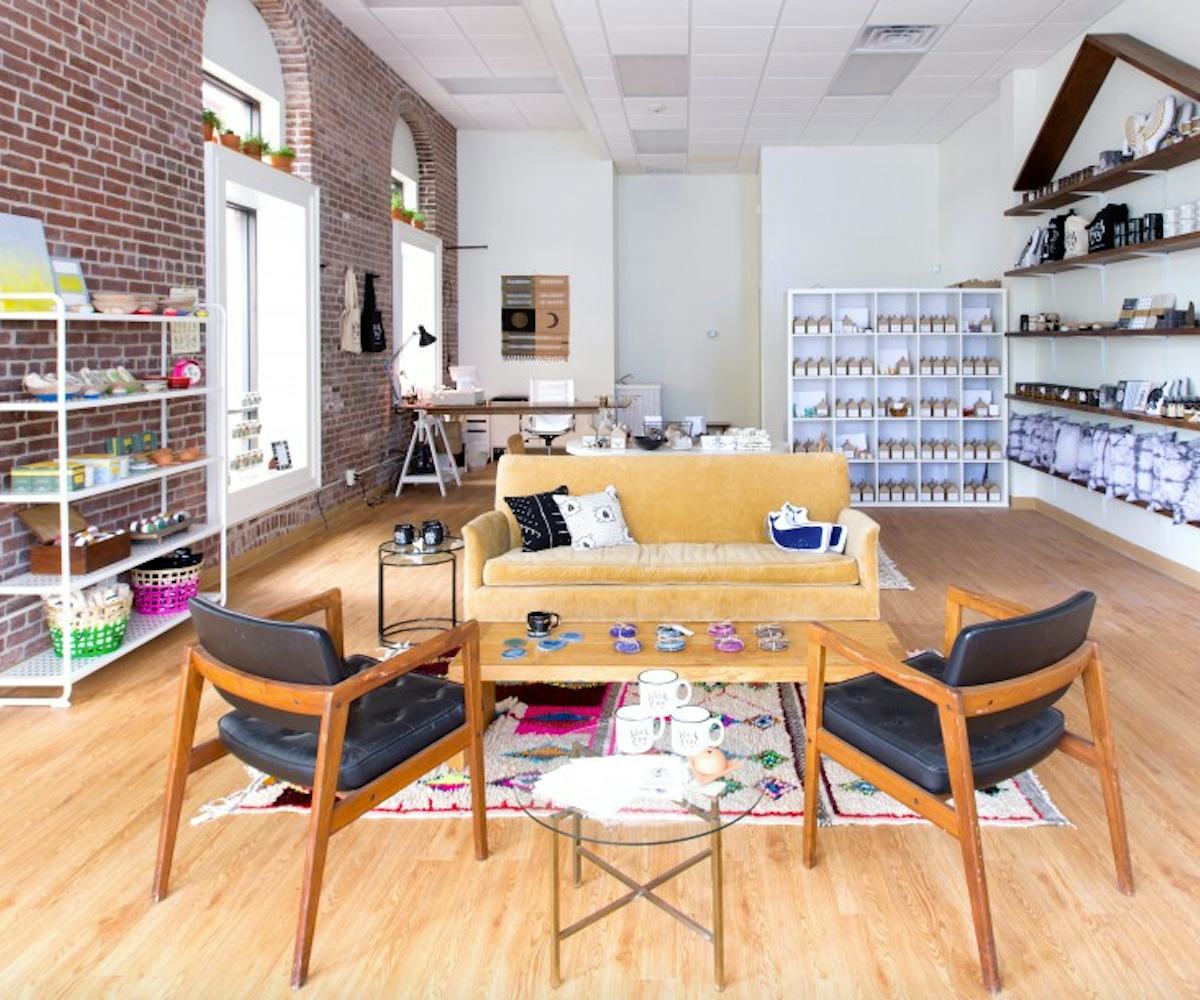 Photo courtesy of HausWitch
HausWitch Is Salem's Shop For The Modern Witch
Here at NYLON, we know that witchcraft is so much more than the Hocus Pocus stereotype. Spells are a way of casting our hopes and goals into the universe, and rituals allow us to get more in touch with both ourselves and our surroundings. We look for any little way we can bring a little bit more magic into our world—and so when we discovered Salem's witchy home decor shop, HausWitch, we were thrilled.
The interior of the Massachusetts shop is a mix between modern Scandinavian and Mid-Century styles, but propped on the shelves are everything from spell kits to tarot cards to candles. Shop owner Erica Feldmann combined her love of witchcraft and interior decorating to create a store that's truly one-of-a-kind, and thanks to the Internet, you can enjoy its offerings even if you don't live in Witch City. We chatted with her about how HausWitch came to be and what she thinks modern witchcraft is all about.
What inspired you to start HausWitch?
Basically, I've been interested in home decorating since I was a kid, and then I've also been interested in witches since I was a kid. I moved out to Salem five years ago to study witches in grad school under the heading of a feminist history, and just by necessity I moved to Salem because the rents in Boston were really high. So after I graduated from grad school, there was not a tremendous amount of places that were hiring witch experts, and I just kind of came up with the idea—what if I could start a decorating company where you didn't have to have a lot of money because the transformation could come from reusing things or recycling things, or just kind of looking at things a little differently, and I could call it "HausWitch." That's how that happened.
How do you curate the things that you offer in your shop?
Value is a huge thing for me, because a big part of the HausWitch mission is to keep things affordable. I don't want to alienate anyone really in any income bracket if I can help it. Aside from value and pricing, in terms of the furniture, everything is either secondhand or vintage, which kind of implies secondhand. It's really about finding statement pieces, where if you are a college student and you're buying a piece of furniture from me, I want it to be the special thing in your house that maybe you did spend a little more money on, but it's because it really makes you smile every time you see it. I think having meaningful things or things that make you smile or feel more comfortable at home is ultimately the best thing you can do to make your home feel like a space you want to be in.
Did you put together the HausCraft spell kits yourself?
Yes, I did, with the help of my intern and my store manager, CJ. We came up with the kits just as a way to put a little bit of HausWitch in a box that you can ship all over the place, and I just wanted to make one for each of the things that I felt were really important in helping people feel good in their space, so there's balance, there's protection, there's clearing, harmony, finding the space that's right for you, and of course, coziness, so I thought I would touch on all of those things with little spell kits and that would be the best way to represent what I do in a portable, shippable way.
How do you find a balance between offering the witchy things in your shop and the pieces that are strictly home decor?
I just try to make this metaphysical movement more accessible to everyone, so a middle-aged mom from the suburbs can come in here and still be able to relate and identify with things that maybe a 16-year-old from Brooklyn would. It's about staying true to what I honestly feel like will improve the vibes in your house, but also not alienating someone who is a little less familiar with metaphysical or mindful living.
A lot of witchy shops tend to be dark, or gothic, which can make them unapproachable to people who are unfamiliar with witchcraft, but it's refreshing that your shop is so airy and bright.
That is the feedback that I hear most often. I think it goes back to the fact that there is a huge market or people who are interested in this kind of stuff but who aren't dark, mysterious people, and are just trying to incorporate some of these things in their regular lives as accountants or students or whatever. Walking into a dark store is very intimidating for a lot of people, so I think it's a really nice way of presenting a lighter, brighter witchcraft.
How would you define modern witchcraft?
It's a really mindfulness-based. I think that movement of being present and living mindfully has bled into all sorts of different arenas, and I think this is one of them. It's a pretty smooth transition from something like the teachings of Eckhart Tolle into the kind of stuff that we do in the store—the events and meditations we do here. I think that it's really just that feeling like you have to dance naked in the woods is over. I think modern witchcraft is more about being able to combine it seamlessly with a more mainstream lifestyle. 
HausWitch, Boundaries in a Bottle, $27, available at HausWitchStore.com
HausWitch, Witch City Mug, $13, available at HausWitchStore.com
HausWitch, DreamHaus Spellkit, $45, available at HausWitchStore.com
Worthwhile Paper, Moon Phase Notebook, $16, available at HausWitchStore.com
HausWitch, Rabbit Pillow, $26, available at HausWitchStore.com