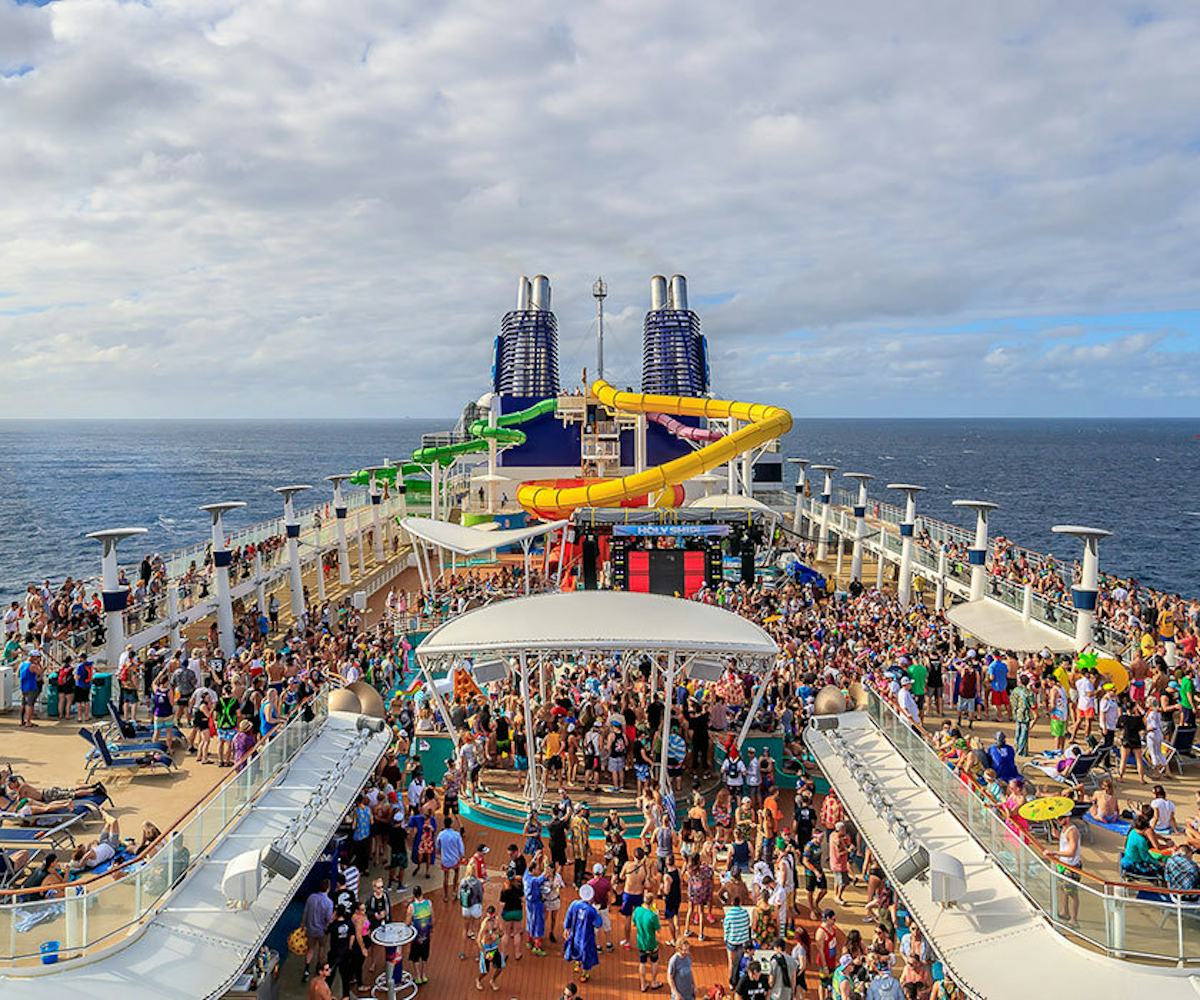 Photo courtesy of Holy Ship!
How To Survive An EDM Cruise If You're An Introvert
Holy Ship, what did I get myself into?
"You can't understand it from the outside looking in, and you can't explain it from the inside looking out."
That is, perhaps, the best way to describe Holy Ship!, an EDM festival on a literal cruise ship. Tony Contreras, a veteran of the festival, adds to that comment, saying an experience like this is so much more than dancing and music. Rather, it's a community builder and world-shrinker. "It has become a community of amazing people from around the world brought together by a common passion for great music and positive energy," he says. Sounds like an extrovert's dream and an introvert's nightmare.
I happen to fall somewhere in the middle of that spectrum, leaning, more often than not, toward the latter. Traveling alone is always a bit of a personal challenge because of that. The idea of being on a cruise with people I do not know—people who most likely came with a group of their own—is anxiety-inducing. Being crippled by it is not an option, though. After all, everyone on board is there for the same reason: the music. That's something to talk about, right?
"It's by far the kindest, happiest festival I've been to," Casey Tremblay tells me. "Everyone is so pleasant and sweet. Everywhere you go, you're getting gifted ship trinkets that someone made or bought to give away." 
I'm still intimidated, though. The ShipFam members I've spoken with (HolyShip! veterans who return year after year and stay friends after the festival) all sing the inclusiveness of the event. I believe them, but I also have to believe in myself and my ability to let go. That is, after all, the only way to get the most out of something as outlandish as being on a cruise ship, sailing through the Bahamas, all the while dancing to some of the best DJs in the world. So, here's how I plan on breaking out of my shell, as per the suggestions from ShipFam members themselves.
1. Do not make a schedule
Contreras and fellow ShipFam member Mark Martinez stress the importance of not being tied down to a schedule. Exploring the ship is the only way get out and meet people. Having no schedule ensures you're open for whatever experience comes your way. "Chances are you're going to meet some amazing new people," Contreras says. "Hang out with them."
2. Bring giveaways
"I absolutely love trading swag with other shippers," Contreras says. "It's a great way to meet people and spark a conversation." Carlos Ramirez echoes that, saying it's people like Contreras who help weave a tight-knit family vibe. Tremblay brings extra bags just for the swag. Looks like I have some crafting to do.
3. Spend time on your own
Well, that's going to be... easy, but, on a less sarcastic level, breaking free from the madness is beneficial to maintaining an air of spontaneity. When Ramirez suggests I "run off by myself," he means opening myself up to possibility. 
4. Join the Facebook group
There exists a Facebook group connecting everyone set to embark on the journey. To me, it sounds an awful lot like the group I joined the summer before my freshman year in college, where friendships started and eventually grew into something special IRL. "The Facebook forums serve as a breeding ground for continuing the positive vibes and bonding," Tremblay says.
Sigh. I've got some talking myself up to do, people to connect with, and cares to shed. New year, more open me. Pass that liquid courage, fam. She's going to sea.