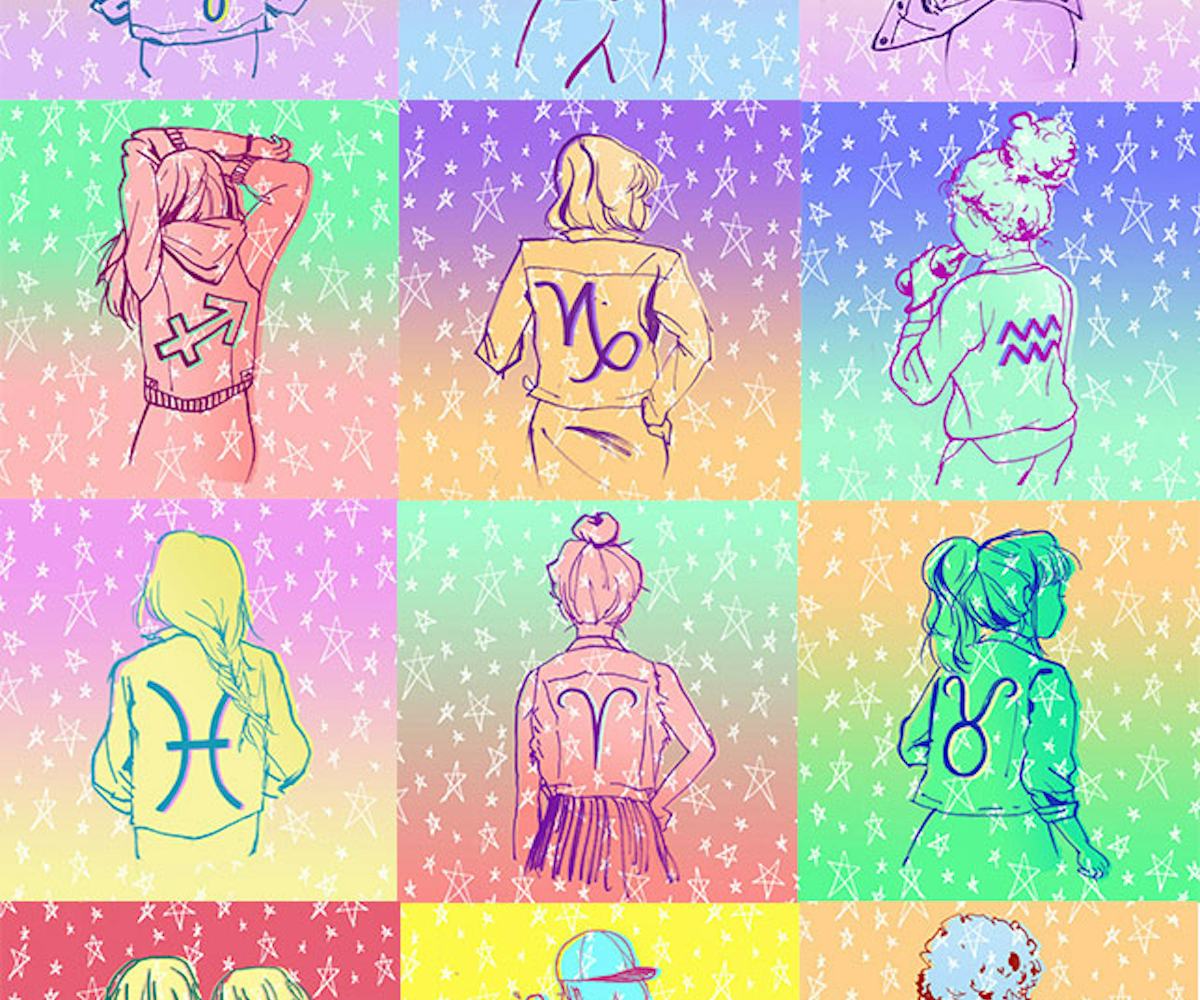 illustrations by julie kwon
your september horoscopes are here
back to life, back to reality
The end of the summer—with its cooling temperatures, growing layers, and darkening, decaying colors—always felt like more of a letdown than anything. However, this September will be anything but a letdown, or even an end, with whirlwind astrological transits that lend spring's airy quality of endless possibility to late summer's chill, if morbid, slowed-down vibe.
The month begins with Venus, goddess-ruler of love, family, friendships, and money, finally moving into direct orbit. Acting from love in a clear and direct way garnered few results last month, but you'll begin to see the cobwebs clear and that golden, autumnal light shine through by September 6. 
A bright and congenial Virgo solar eclipse will fall on September 13, further clearing the slate for a crisp, clean restart in professional and health-related matters. Appropriately, this back-to-school energy will permeate this lunation and lend an energizing boost to organizing your life for productivity. 
Though a fun and optimistic month overall, all 12 signs will have to buckle down and get real about their future prospects when karmic ruler, Saturn, sets up camp in Sagittarius on September 17. Now is the time to stand up for what you believe in—you won't be able to duck this blow. That same day, Mercury will go retrograde in relationship-oriented Libra, shining a light onto what defines our core partnership ideals. 
The month closes with autumn's official calendar start and a sobering lunar eclipse on September 27. Each of us will be asked to trim the fat of what no longer serves us before fall turns chilly. 
Virgo: Skeletons in the ClosetYour tendencies toward privacy have been bordering on diabolical secrecy lately, especially when it comes to matters of the heart (and another notable organ located due south…). It's been a sexy, fun escape, but expect the secret rendezvous and unhealthy relationship patterns to cool off on September 6 when Venus goes direct in—what else, but?—your 12th house of escape. 
Venus's new path will carve away your dark, destructive tendencies, followed by a crisp, fresh start on September 13. A solar eclipse in your sign on that day will unleash those skeletons from your closet for good, lending a much-needed boost to your confidence sector.
Enjoy this, because after September 17, your family will lean on you for support more than ever. What's more, you are beginning a life phase of establishing a solid foundation for emotional security, including heavier domestic responsibilities and simplifying life down to the bare essentials. Get rid of anything that doesn't feed your soul—you'll be glad you did in October. 
Libra: Friendly Fire & Dirty LaundryYou'll finally start to feel comfortable in your own skin again once Venus begins moving direct on September 6.  Since Venus rules your fair sign, last month's tough-love retrograde period hit you hardest. You might have felt snubbed by your friends—or you might've blown off a friend yourself. Whatever friendly fires occurred last month can be easily ironed out this month, so long as all parties value the friendship equally.
How you communicate has been a major theme of your summer, but it'll be more powerful than ever after September 17 when Saturn perches in your third house of communication. This same day, cranky Mercury will turn retrograde, tripping over himself—and his words—until October 6. Pay attention to what happens around the 17th; you're being taught vital lessons about communicating authentically.
If your relationship status with your belle or beau du jour is unclear, expect it to be crystal clear by the end of the month, when a lunar eclipse lights up your seventh house of partnerships. There's no use in hiding anymore—everything will be out in the open.  
Scorpio: Social ClimberOnce Venus lifts herself out of her tizzy and begins moving direct on September 6, you'll be in an enviable position to re-launch your career in the right direction. If you've been sitting on a business idea, September looks to be the most lucrative month for unveiling it to the public. Even better? Lucky, ambitious Scorpio will be poised to catch the eye of important and influential VIPs. Creative types will be in the best position of all, career-wise, finally harvesting the accolades you deserve.  
After the solar eclipse on September 13, pleasurable opportunities to cast a wider net socially will be plentiful. Take advantage of this period to network as much as possible—a connection made now is likely to result in an important relationship that will ultimately help you achieve your long-term goals.
After the glow fades around September 17, you'll need to get serious about locking down your finances. A surprise expense near the end of the month may require you to reset your budget. You're on a defining journey to a higher level of maturity.  
Sagittarius: Growing PainsMoving forward in matters of the heart has been like grinding gears lately, but once Venus begins moving direct on September 6, so will you. Coupled Sags who've been struggling to see eye-to-eye on a defining philosophical or moral issue in their relationship will be able to accept the facts and move on now. Single Sags—or those in relationships hanging on by a thread—have a very high likelihood of making a deep, romantic connection with someone more on your level, spiritually.
But let's be real: The main astrological focus of September will be your career. A glimmering solar eclipse will set off your 10th house of honors and profession on September 13, a brilliant position for launching new businesses or sending out your resume. Watch what happens mid-month—you're poised for a higher paycheck and more leadership responsibility.
Even so, Saturn manages to steal the show on September 17, when he sets up camp in your sign until late 2017. Now, the planet of karma and hard lessons will ask you to rise up to a new level of maturity. 
Capricorn: Idle Hands Venus, ruler of money, has been moving retrograde through your eighth house of shared resources since July 25. A new dawn arrives on September 6, when Venus balances out any stagnancy you've felt financially. Any financial disagreements you've had with a romantic or business partner, or even a roommate, will be easily resolved this month. 
Mercury will travel retrograde through your 10th house of honors and profession from September 17 until early October. Alas, your career will have to take a backseat now, and you may feel that your superiors are passing you up and ignoring you. Patience is your best recourse now, as this is a temporary, if vexing, phase. Wait to initiate any new projects or endeavors with VIPs, career-wise, and don't even think about signing contracts until mid-October. Sit tight and meditate on your professional goals; are they still in line with who you are at your core?
Domestic spats will come to a peaceful resolution on September 27 with a lunar eclipse in your fourth house of home and family. News of the sale of a home or a pending rental application or mortgage may close out the month on a bright, happy note. 
Aquarius: Peace, Love, and UnderstandingSince late July, Venus, the ruler of love, family, and money, has been slowly grinding backward in your seventh house of relationships. Things have been less than romantic in your love life, and you may have even felt like you were enduring a bad episode of a "relationship rehab" reality show—starring you. Fortunately, Venus will go direct on September 6, causing a rippling tide of peace and harmony throughout your life, but especially in your relationship sector.
September 13 may present a golden opportunity to boost your cash flow, possibly with a lucrative and slightly bizarre investment. (Hello, scarves made by spiders, anyone?)
Your social circle will likely see major changes around September 17 as you reevaluate the substance of your closest friendships. Being popular will be less and less important, and you'll end the summer surrounded by a small group of close confidantes. On the same day, Mercury will move backward, affecting your ninth house of travel until October. Be extra cautious this month if travel is planned—new destinations might be bumpy, but old standby vacation spots will be twice as enchanting. 
Pisces: Swim GoodA passion project you've been preoccupied with will see a major breakthrough this month around September 6, when Venus goes direct after moving retrograde since July 25. Relationships might've seemed to creep at a turtle's pace, but you're on the brink of establishing an important partnership—either romantically in your personal life, or in business. Pay close attention to what develops around September 13, when a solar eclipse ignites your partnership sector.
Career-minded Pisces will begin to reap the fruits of their professional endeavors after September 17. Those who have been working hard to gain notoriety are likely to achieve recognition as top professionals, within their department, company, or even industry.
However, if you haven't been pursuing your most soul-enriching goals, work-wise, this will be a difficult period of tough-love lessons. Saturn, planet of karma and responsibility, will enter your 10th house of career this month, where he'll stay until late 2017. Pisces stuck swimming upstream toward an unfulfilling future should take this opportunity to explore new streams and rivers.
Aries: Loosening Your GripWhile September is traditionally reserved for reigning in any lingering excesses of summer life, Rams are bound to feel the opposite this month. You've held fast, and what was a challenging—and almost maddening—summer is finally winding down.
The emotional tempest in your love life will begin to subside after September 6, when Venus leaves her retrograde station for a direct route. Once the tides shift, romance will pick up and begin moving at a pleasant clip.
Career-wise, things only improve after the 13th with the strong possibility of a dreamlike opportunity landing in your lap at work. Being the first sign of the zodiac, Aries are born leaders. Throw in the influence of your take-charge ruling planet Mars, and you're poised to run the show. Though circumstances may seem too sweet to last, trust that your success is well deserved and also hard earned.
Defining your moral and ethical standards will be highlighted after September 17 when Mercury begins his retrograde phase in your relationship sector. You'll be no shrinking violet when it comes to expressing your core beliefs, but be cautious to think before you speak. Miscommunications with your partner are bound to leave bruises, so exercise patience until early October. The month ends with a rejuvenative lunar eclipse in your sign, allowing you to shake off any lingering dead weight in time for fall's big entrance.
Taurus: Waiting to ExhaleYou've spent the summer grappling with family drama and feathering your nest, but September brings the balance you crave. Venus, your ruling planet, has been retrograde since July 25—an uncomfortable aspect that's had you Bulls ready to jump out of your skin. Luckily on September 6, Venus will turn direct like a deep exhale, giving you peace of mind and confidence. 
With more harmony within your family and domestic world, you'll finally be able to be fully present in your love life. Directing the pace to fit your comfort level is a cinch for you now, too—a big push for singles ready to get back in the dating game and newly linked lovers ready to establish something deeper and more concrete. Pay special attention to developments around September 13, when an auspicious new moon and solar eclipse brighten your romance sector.  
The days around September 17 may serve some financial hurdles. Take time and space to center yourself before letting minor hiccups build into an explosion. You've got this, but you need to adopt a new level of maturity and responsibility when it comes to money. 
Gemini: Ch-Ch-Ch-ChangesThe recurring communication challenges you faced with your partner through the summer are a thing of the past this month. Once temperamental Venus takes a direct course on September 6, relationship and money talks (the big kind, with a capitol T) will go more smoothly. A significant life decision in one of these areas may be on the horizon, but don't worry—whatever route you choose to take will be clear and sunny.
The looming changes you've been sensing will more than likely effect your domestic situation, all for the better. You could turn on a dime and decide to uproot to someplace completely new, or sign the deed to a new home. Saturn, dealer of hard lessons and initiations into adulthood—will begin throwing his weight around your relationship sector on the 17th, a sobering aspect that will stick around for the next couple of years. Commitment will be the main focus, and with Mercury beginning a retrograde period that same day, it's very probable the twinges of change you feel will materialize in your relationship. If you've disagreed about moving—or moving in with—your partner in the past, a new agreement may be reached. Well-grounded relationships may even see engagements and elopements.
A social inventory might be necessary after September 27, when an intense lunar eclipse puts your friendships under the microscope. Expect troublemakers and drama magnets to drop like flies. 
Cancer: Know Yourself, Know Your WorthCelestial Crabs who've struggled to find financial stability since July 25 will finally find a firm foothold after September 6, when Venus stations back to her direct course. This month will be all about asserting yourself in your work life and making necessary changes to boost your confidence and earning potential. For some, this could mean big changes, like accepting an exciting position or taking the first steps in changing careers. 
Meanwhile, a major life-changing event involving a sibling could develop mid-month with a dazzling new moon and solar eclipse on September 13. Pay attention to what materializes around this day—you'll be over the moon when you hear the news!
Mercury will take a detour on September 17 in your fourth house of domestic and family matters, and will remain retrograde until October 6. Put matters related to real estate, moving, and signing contracts on pause until then. If you can't avoid moving forward on a related decision, you'd be well-advised to move at a snail's pace, collecting every bit of information possible while stalling until October. Perspective is your greatest currency.
An empowering lunar eclipse on the 27th links back to the professional focus at month's beginning, forcing you to take a karmic leap you may not feel prepared for. Embrace your fear—the rewards will be tenfold.  
Leo: Tongue-Tied #thirstbucketThe summer might've seemed like a constant struggle to salvage your self-love and respect, but the past months have been your chrysalis period. Strangely, as the sign personifying regal confidence, Leos require quite a bit more ego stroking than others to quench your, well, thirst. But now, you can no longer rely on validation from others—it will need to come from deep within. 
If this sounds like a recap of summer's (sometimes cruel) lessons, then you can expect a huge surge of positive energy pushing you forward once Venus goes direct on September 6. But beware: If you've been childishly ignoring karmic lessons out of fear or egoism, you'll be forced to relive your poor decisions until healthy change is made.
On the bright side, a magnificent solar eclipse will beam into your second house of money on the 13th. Suddenly, opportunities to multiply your cash flow will seem to rain from the sky. September couldn't be more perfect for launching new businesses and projects monetizing your talents and passions. 
Temper yourself after September 17 when Mercury, ruler of communication and technology, travels retrograde in your third house of communication. Don't let your tongue get your teeth knocked out.