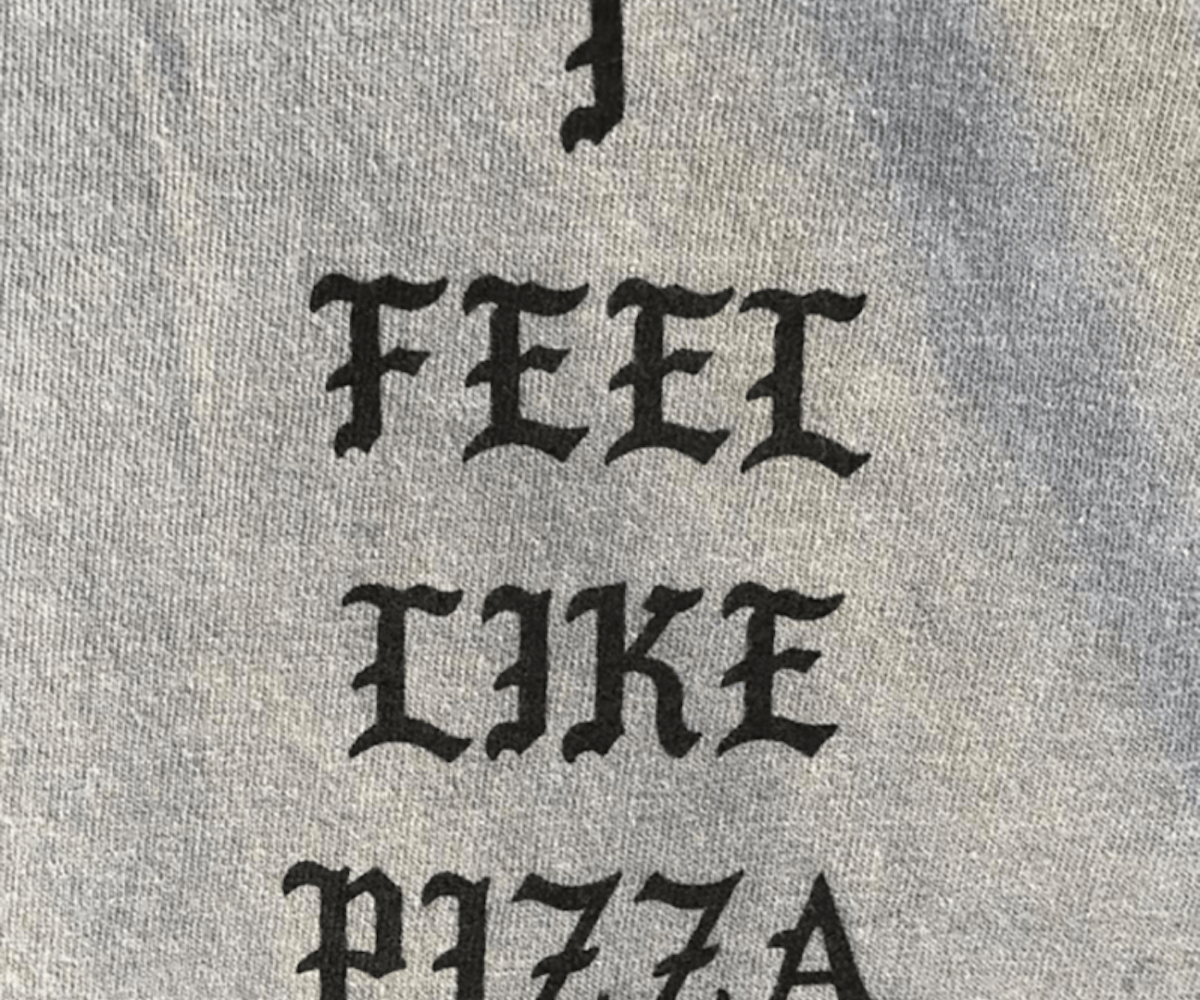 Photo via @h0tgirlseatingpizza Instagram
Did Forever 21 Just Knock Off Hot Girls Eating Pizza?
And yet another fast fashion brand is caught in the act
In the latest news of giant fast fashion corporations plagiarizing the designs of independent artists, it seems that Forever 21 may be the latest offender. The brand has started selling a T-shirt on their website, called I Feel Like Pizza Graphic Tee, which looks oddly similar to the limited-edition tees the cult Instagram account Hot Girls Eating Pizza was selling on Depop. In fact, they're pretty much identical.
But this is where it gets a bit tricky. Even if Forever 21 knocked off from Hot Girls Eating Pizza, the account's design was actually a parody of Kanye West's merch (though, was in no way a direct copy). So, where does one draw the line—is it plagiarism, or is fair game?
"My T-shirt was made as a nod to Kanye, Forever 21's shirt was made to make money. Period," says Marta Freedman, Hot Girls Eating Pizza founder. "I'm not the first to parody Kanye's Pablo shirts, but I did move forward after learning Kanye was in approval of 17-year-old Austin Butts making DIY reproductions earlier this year." With that said, there a ton of brands and designers out there that are known for their use of parodies—which are not blatant rip-offs.
"I thought of designers and brands I really admire that are known for their parody designs—like Brian Lichtenberg and UNIF," says Freedman. "Even Supreme is known to do this once in a while—like when they parodied Hermes—and then a smaller brand will go and make light fun of Supreme. I thought about what would happen if Forever 21 copied Vetememes or a UNIF tee—those smaller brands would definitely think it's an issue."
While Freedman doesn't plan to reach out to Forever 21, explaining to me that she doesn't think there's anything she can do, she still wishes to make consumers aware. While this has been quite the trend in the fast fashion industry lately, it's affecting the artists who depend on the sales of their artwork to live. 
"This was a creative outlet, and the fact that my work was replicated without credit is where it hurts," says Freedman. She adds:
I'm lucky enough to have a full-time job in addition to running Hot Girls Eating Pizza, producing freelance events, and doing custom nail decals for brands. I really feel for those designers, artists, and collectives—whose artwork is their livelihood—that lose rent money over a Zara reproduction or a Forever 21 knockoff. I think it's cool that everyone is banding together to "fight back," and at the very least, trying to make the consumer aware that this is not okay.
We've reached out to  Forever 21 and will update this post if we hear back. What we really want to know is what Kanye think of all of this.