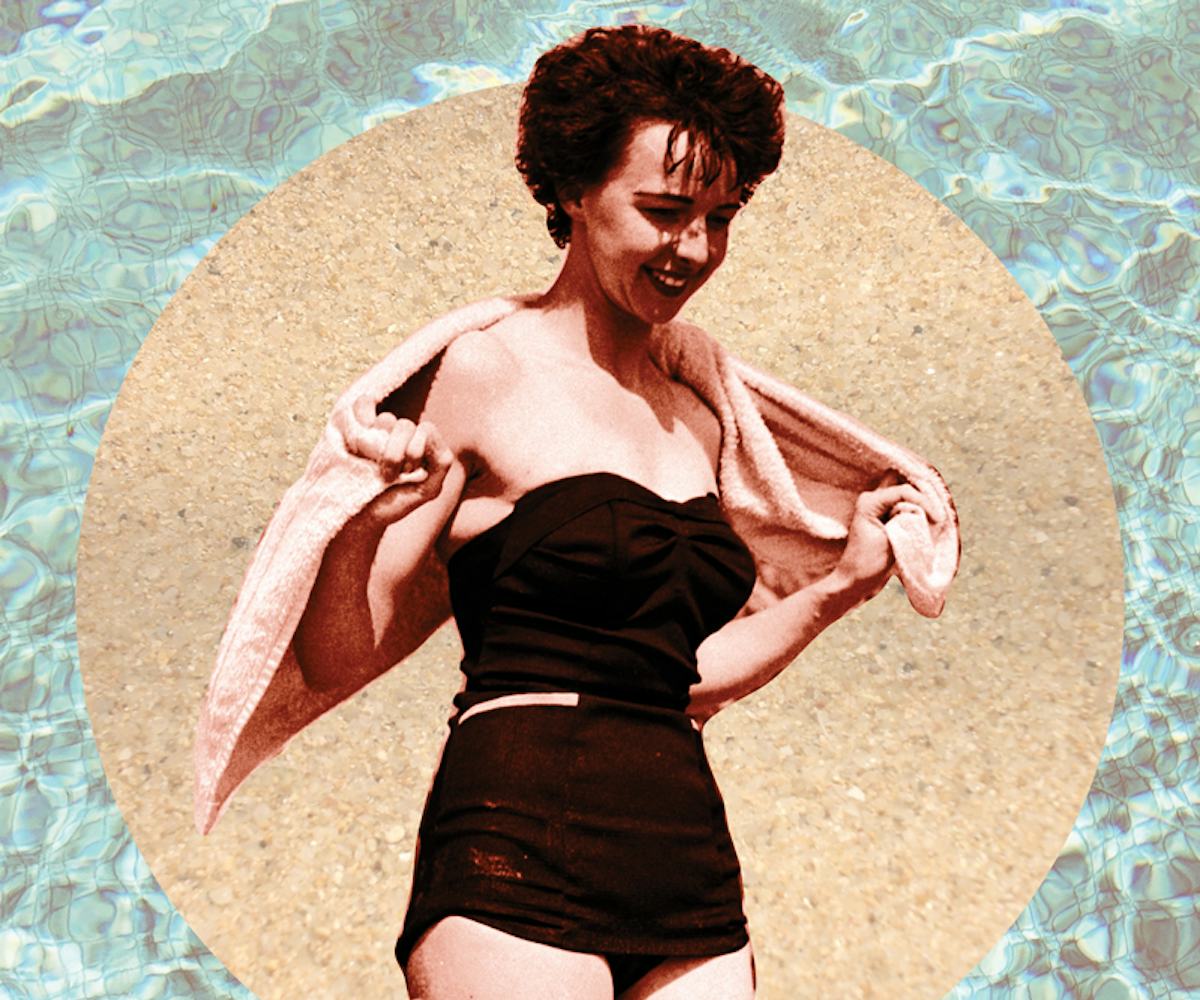 Photos by Getty Images and Wikimedia Commons
How To Do Beach Beauty, The Right Way
The experts school us on how to have an effortless (and gorgeous) day on the shore
The concept of beach beauty always tends to be a bit of a struggle.
As much as you want to look your best while sprawled out on the sand, the sweltering heat and humidity mixed with sweat and saltwater isn't exactly the best recipe for an ultra-glamorous hair and makeup moment. Whether we're piling on the waterproof makeup or just literally cannot get our hair right, many of us tend to give up—at least I do.
What I was dying to know was how one can achieve that flawless-yet-effortless beauty look that you only see on the beaches of magazine pages.
While in Miami for Swim Week this past weekend, I knew it was the perfect place to get answers to what seemed to be my eternal dilemma. Sure, the models marching down the runways weren't about to take a dip in the Atlantic, but the experts behind-the-scenes at said runway shows certainly must know what to do if they were.
While backstage at Tori Praver's 2017 swimwear show, I had the opportunity to chat with the brains behind GLAMSQUAD: creative director Giovanni Vaccaro and director of makeup artistry Kelli Bartlett. I snagged some insider tips and secrets on how to actually get beach beauty right. 
First and foremost, SPF is the most important step to take for all. Bartlett suggests using sunscreens that provide a physical barrier over the skin, rather than ones that soak into your skin—this is especially best for those with sensitive skin. Vaccaro also stressed the importance of SPF products for the hair—which many brands now carry. This will help keep your color (especially if you're blonde) looking fresh and unaffected by the sun's harsh rays.
While so many beachgoers spend time trying to fight the shine and oil that the sun and high temperatures can cause, Bartlett feels strongly that you should embrace it—and even amplify it. "I think it's important to work with that moisture, that dew, and that sweat that's naturally going to happen at the beach," she says. "Try taking it to another level! If you know you're going to be glowy and dewy, you might as well make it a little more metallic. Try using something like a highlighter to really enhance that summer sparkle." 
When it comes to the rest of your makeup, Barlett suggests skipping all of the waterproof mascara and eyeliner formulas and focus solely on a bold and bright lip. "The beach is not the time to be putting on tons and tons of mascara," she says. "Rock your favorite sunnies—let them be huge and bold—and then put on a big, bright lip." Her favorite shades for a day on the shore are orangey reds, though she says purples and fuchsias are having a big moment right now. Her personal favorites are Linda Rodin's Luxury Lipsticks.
When it comes to your hair, you really have to keep in mind what your plan is beforehand. Are you going to lie out on the sand all day or are you going to spend hours body surfing? 
If the water isn't your thing, Vaccaro says you should try styling your hair a bit beforehand. Using a large barrel curling iron will give your hair just the right amount of texture, and the heat will help keep your hair in place against the harsh humidity. 
However, if you plan on taking a dip, Vaccaro is all about preventative measures. He suggests bringing a hydrating and conditioning hair mask with you to the beach and applying it to your hair while you lay out. "You can slick your hair back in a tight ponytail, which looks super cool and beautiful, and then when you go in the ocean, the mask will obviously rinse out, leaving your hair soft and hydrated. This also helps prevent damage from both the sun and the salt water.
Once you're out of the water and your hair is in that in-between stage of being wet and dry (this is right about when my baby bangs turn into a giant poof ball), Vaccaro suggests reaching for an easy styling product. Whether it's a light oil to tame frizz and flyaways or opting for a wave spray to give you an effortless texture and separation (Ouai's versions of both being a personal favorite of his), it all depends on your hair's natural texture.
All in all, beach beauty is about embracing what you got, and then enhancing it rather than trying to mask it.