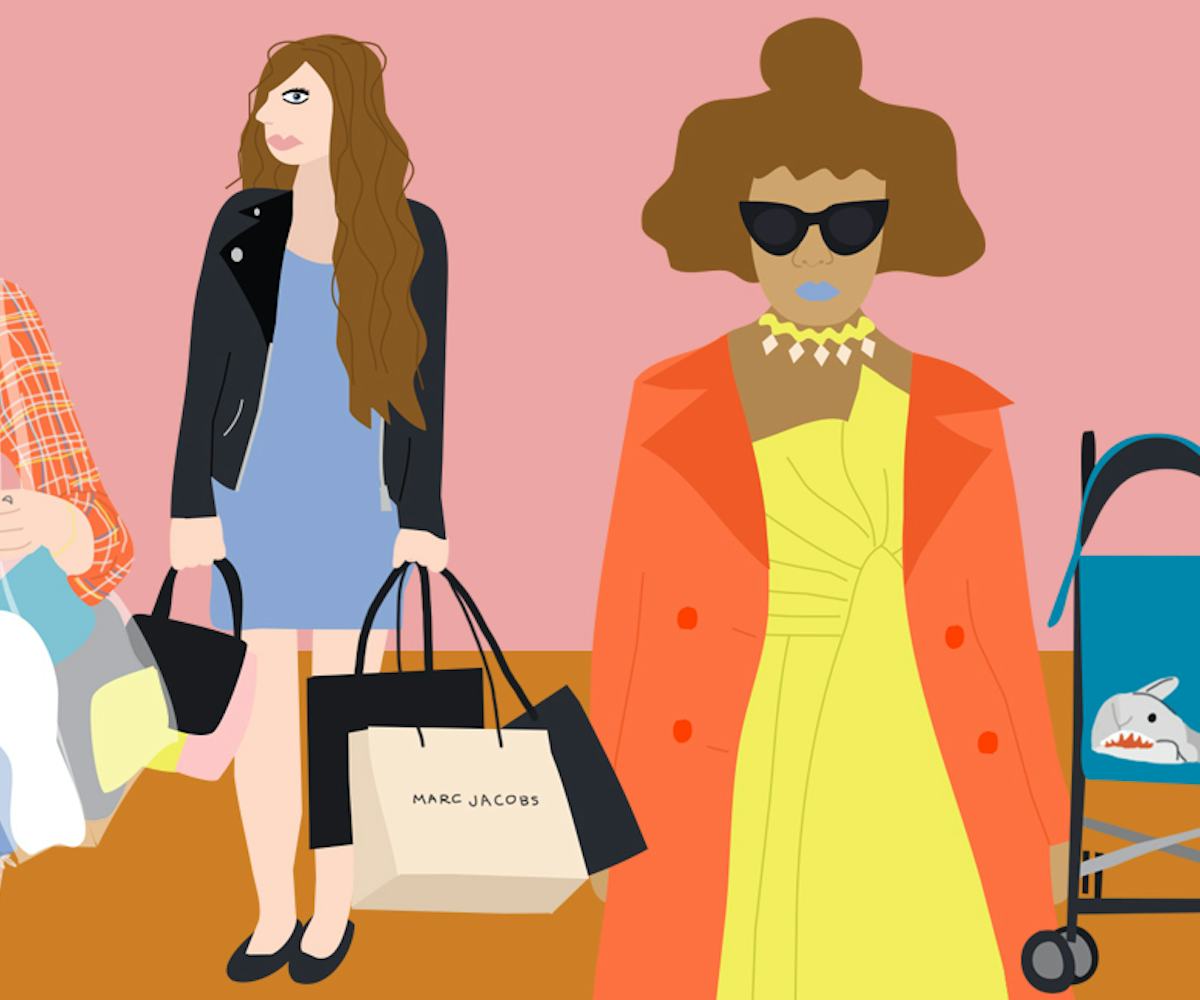 Illustrations by Lindsay Hattrick
How To Dress Like Your Favorite Scammer
In honor of this scam-filled summer
Our summer-long fascination with scammers began with the story of one Anna Delvey, or, rather, Anna Sorokin, a faux German heiress who conned her way through New York's elite social scene. Delvey's story, written by Jessica Pressler and released by The Cut this past May, went viral and, in the process, earned itself an upcoming Shonda Rhimes-helmed series.
While the story of Delvey sparked a nationwide fascination with the art of the con, she was certainly not the first to scam her way into our hearts—and she's certainly not the last. How could we forget one of the OG scammers, The Hipster Grifter, aka Kari Ferrell, who lied her way into dudes' apartments, the hospital, and even the offices of Vice?
But, let's come back to the present day because the past few months have been chock-full of cons and cheats. Did you catch the June blockbuster Ocean's 8 with some of the finest (though, fictional) lady scammers in the biz? Most recently? Aquarium-robbing scoundrels and lunch money-swiping lunch ladies (the evil!). Yep—it's been one hell of a summer!
One thing to take note of? Each of these scammers has a very specific look, all with signature aesthetics that were key in their ability to pull off their respective cons. Curious as to how you can emulate your fave? In honor of this very, err, busy summer, we put together a how-to video and a comprehensive guide to dressing like the con artist you've always dreamed of being, below.
The Socialite Scammer
If you, too, wish to con your way into fancy hotels, expensive dinners, and parties brimming with socialites, look no further than the true star of the summer of scam, Anna Delvey.
Always looking slightly startled, the Socialite Scammer wants you to know she has money, but she does this without the funds of an actual rich girl. When she's not lounging around in Alexander Wang sheer leggings, she's dressed—but not so much to impress. Basically, she's kind of sloppy. The idea is to wear designer everything (or, at least, designer-passing), but still keep your appearance a little rough around the edges. Your staple shrunken leather jacket is ever so slightly outdated, while your black bow flats—also outdated—look like they've seen better days.
But what really makes the look of the Socialite Scammer is the hair and makeup. Delvey's hair was, well, not the hair you would expect of a wealthy heiress. It was ratty, kinda fried, and, to be frank, looked like shit. But don't worry, her unusual eyeliner—a slightly winged swipe of black liquid liner on the upper and lower lash line (that ignored the water line)—is here to distract you from all those split ends.
The Hipster Grifter
The Hipster Grifter is one of the original viral scammers, making her way into the news back in 2009 after conning her way through Brooklyn (and New Jersey!)—stealing cell phones, borrowing (ahem, stealing) money, faking cancer, and even lying her way into a job at Vice. She's skilled, and she's resilient—nine years later, she even resurfaced attempting to con her way into Fashion Week!
The Hipster Grifter dresses like, well, your run-of-the-mill Bushwick-residing hipster (is that even still a relevant term?)—the original, Kari Ferrell, being quite fond of a vintage-inspired frock. However, her most eye-catching quality (which likely was what got her caught) is her massive phoenix chest piece. Not a fan of tattoos? Well, this look may just not be for you then, kid.
Let's not forget when her character was reimagined as Homeless Heidi on High Maintenance, played by actress Greta Lee. Okay, fine, Lee claims the character wasn't based on anyone in particular, but swap the retro frocks for oversized men's flannels and denim cutoffs (and the whole fake cancer thing for actually being homeless), and there are some definite shared character traits.
Looking to emulate this indie band-loving con artist? Don't forget to carry around your favorite totes from your favorite spots to frequent (and find victims at)—Whole Foods, Buffalo Exchange, and your favorite Greenpoint, Brooklyn, coffee shop—which also carry all of your shit, because you're also, you know, between residences.
The High Fashion Con
If there's any scammer we'd want to be, it would be the ever-glamorous High Fashion Con—probably one of the most badass scammers around. I mean, let's think about who this scammer type was played by in the all-female cast of Ocean's 8: Sandra Bullock, Cate Blanchett, Awkwafina, and, umm, RIHANNA.
How can you become your own High Fashion Scammer? Run around town in a Met Gala-appropriate gown, even if that's not really where you're headed, and hide under a sleek trench coat and oversized sunglasses. The dead giveaway? A stupidly expensive (like, $150 million expensive) diamond Cartier necklace. Or a convincing fake.
The Shark Thief
The Shark Thief is arguably one of the strangest scammers of our time, and also one of the easiest to imitate. If you're going to steal something at a public aquarium in San Antonio, Texas—or at least look like you might—the idea is to blend into your tourist-filled surroundings. A black tee and jeans will do just fine, but may we suggest a touristy baseball cap of some sorts to really make you fly under the radar?
Sure, there's the whole "baby carriage that's not actually holding a baby, but instead holding a small bucket containing a small stolen shark named Miss Helen" thing which isn't the easiest to pull off—even for a skilled scammer—but we're not trying to be that literal here.