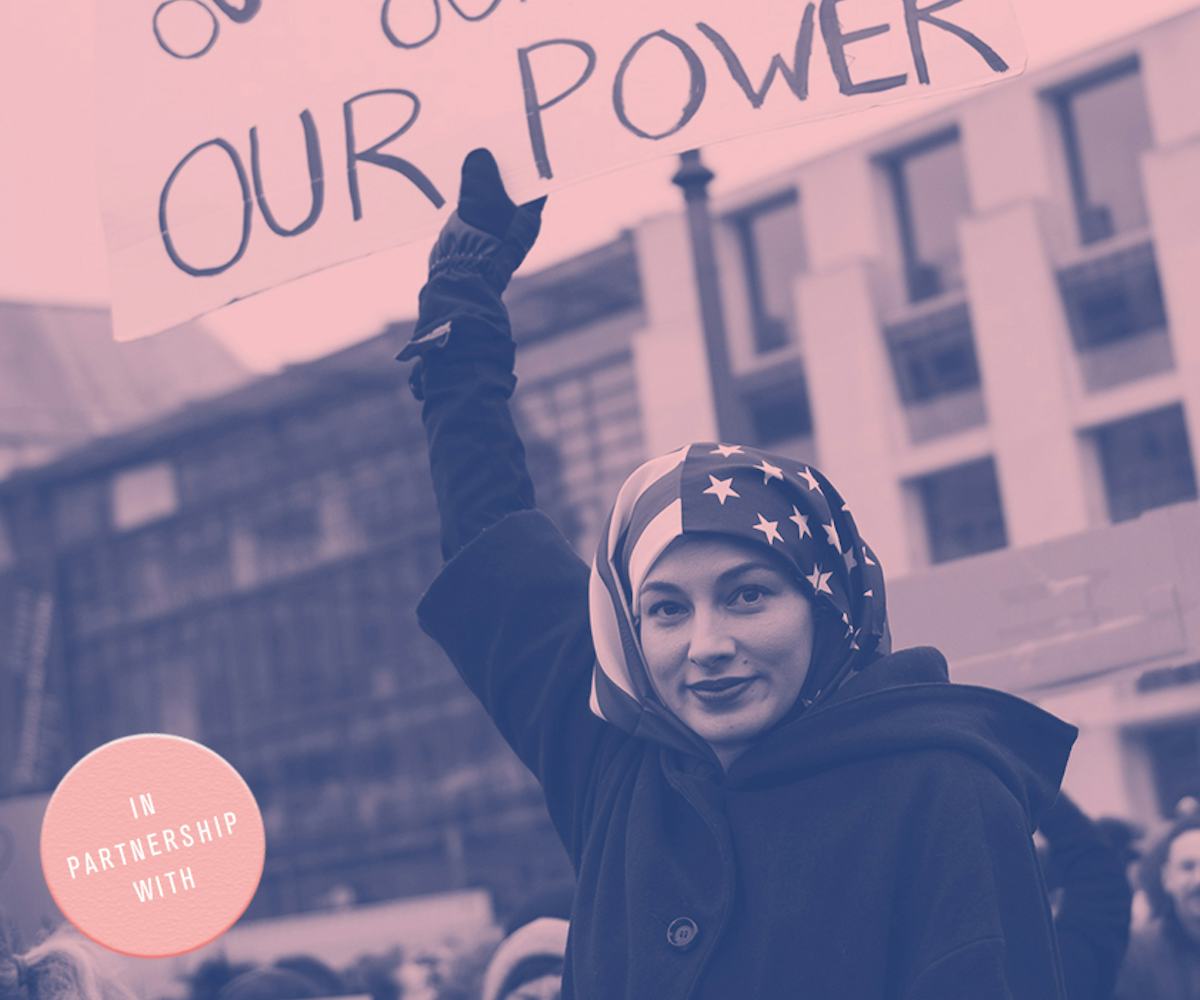 Photo by Steffi Loos / Getty Images
5 Actionable Ways To Fight For Women
Presented by the Hulu Original 'The Handmaid's Tale,' now streaming
January's historic Women's March on Washington was just the beginning for the newly galvanized population focusing on equal rights for marginalized groups. The time to sit back and let the world sort itself out is not now, not when there are powers that be who vehemently want to restrict a woman's free will and control over her body, her pay, and mere existence. (One of those powers is even being rewarded for his contributions in creating "a more dynamic and innovative work world, and celebrates the valuable contributions women make to society." The irony!)
Advocacy begins with a spark. From there, you've got to fuel it. Yes, you are but one human, but these type of systemic problems require those who are a part of the system to speak and act up; do more to benefit more. The fight is a tough one, sure, but it is good, and it is necessary. Don't let the bastards get you down.
Donate
Donating is a fabulous way to get involved with the movement. For one, it helps you learn about the issues at hand via research into various nonprofits and programs, which can spark more action aside from monetary. At the end of the day, money talks and the more an organization working to benefit women's rights has of it, the more resources it can tap into. Planned Parenthood and the ACLU are always great places to donate. The National Organization for Women, The American Association of University Women, and The Association of Women's Rights in Development are also great nonprofits fighting for equal rights.
Educate Yourself
It was mentioned before, but reading up on and asking about ways to get involved with the movement is imperative. The Countable app offers up daily updates on your lawmakers and the issues, which you can learn more about via the Resistance Manual.
Volunteer
Taking time to physically put in the work for causes you care about not only benefits the cause but also benefits your mental well-being. Volunteer Match is a great resource for individuals looking to volunteer in their community but who aren't too sure where to begin or what opportunities are out there.
Flex That Democratic Muscle and Get Involved in the Government
One of the best parts of our democratic system is our ability to speak with our local representatives and make our voices heard. Don't sleep on that right. The House of Representatives and Senate make it easy to find and contact your local representative. Call them, write them, picket them outside their office building with the facts. The League of Women is a great organization geared toward getting more people involved in the government. The more people that do so, the louder the cause becomes, the more likely progress can and will be made. If that's not enough, run for office. As long as you're 25 or older, you're eligible to be elected to the House of Representatives. IGNITE and She Should Run provide educational services to women looking to get involved in the government. Participating in your school's or college's government, too, provides ample experience in public speaking and working with others to problem solve and other necessities for excelling within the world of politics.
Support One Another
The media loves to pit women against one another. Don't play into that. Support the trans women in your life; support the Muslim women in your life; support the homeless women in your life; support them, and uplift. Whether that means talking through issues or educating them on various ways to go about being more involved in the women's rights movement, the time to lean on one another is now. The Skidmore-Union SUN Network has also created comprehensive, six-step guide to dealing with everyday prejudice and discrimination which can aid difficult confrontations.
This guide is presented by the Hulu Original, The Handmaid's Tale, now streaming.