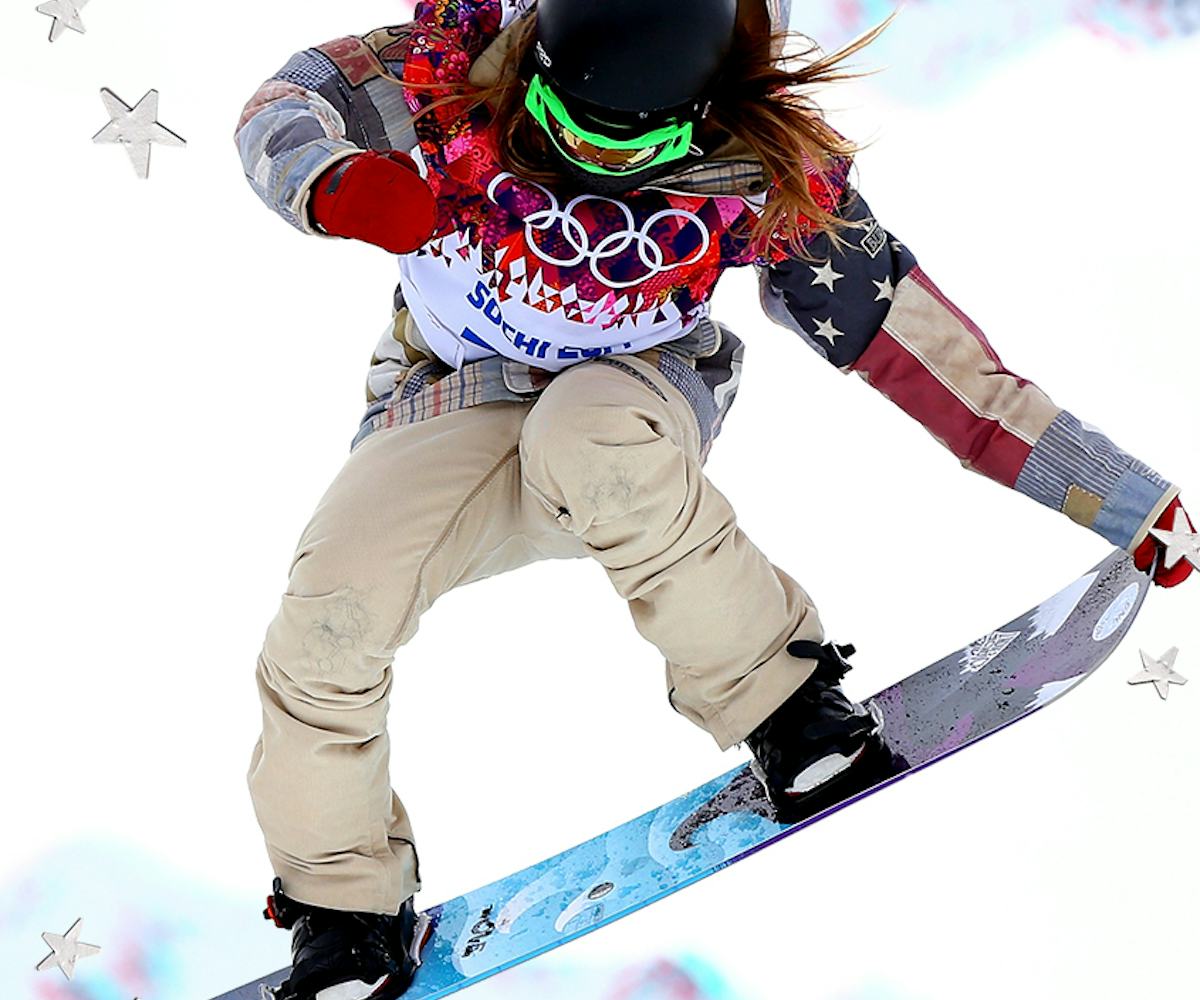 Photo by Mike Ehrmann/Getty Images.
How to Keep Your Skin Healthy In Extreme Weather (aka Winter)
from x games athletes who know best
The badass female athletes of the X Games Aspen are used to battling the elements whether they're shredding snow in blustery conditions or mastering tricks at super high elevations. This Thursday, the competition kicks off, and skiers, snowboarders and more will take to the slopes of Buttermilk Mountain in Aspen Snowmass, which rises almost 8,000 feet in elevation above sea level. That's um…high.  
The conditions, as you might guess, are less than ideal for your body. Dry, cracked skin? Yep. Chapped Lips? You bet. Plus, "higher altitudes are associated with more UV-penetration," says Joel L. Cohen, MD, director of AboutSkin Dermatology in Denver, Colo. and a spokesperson for the American Academy of Dermatology. "There is 5-6% more UV-penetration for every 1,000 feet above sea level, so people need to be aware of the dangers of unprotected sun exposure." In addition to reapplying sunscreen every two hours, Cohen recommends using gentle cleansers instead of antibacterial soaps and applying moisturizer (look for ones with dimethicone and glycerine as ingredients) after a shower to seal in moisture.
The same goes for hands and feet. "Think of your nails and hands like your face. You wouldn't wash your face and not apply a moisturizer, but so often we wash our hands over and over and don't apply hand lotion," says celebrity manicurist and founder and creative director of her namesake line, Deborah Lippmann. Lippmann's moisture-locking picks of choice: "Cuticle Oil  hydrates with jojoba and helps to push any water out, keeping the important oils in. The Cure, which contains Panthenol, forms a protective shield on your nail plate, creating a barrier and making your nails more resistant to water and harsh fluids." 
We talked to three of this year's top competitors to find out what keeps their skin healthy in extreme conditions. So, you know, winter. Check out their tips here and watch all the athletes in action from January 28 to 31 on ESPN. 
Silje Norendal
This 22-year-old Norwegian bombshell is known for showing up with fresh makeup, glowing skin, and gorgeous blonde curls (#wintergoals). She's also a three-time X Games Snowboard Slopestyle gold medalist. No biggie.
A photo posted by siljenorendal (@siljenorendal) on Nov 7, 2015 at 5:53am PST
Healthy Skin Must-Have: "A good moisturizer with SPF 15 or higher." 
Beauty Go-Tos: "Sun powder [bronzer] and mascara. Like most people, I really peel during the winter season. For me, sun powder solves that problem and makes me look a little bit tanner."
Daily Routine: "My morning routine is washing my face with warm water before putting on moisturizer and makeup. At night I use makeup wipes to take my makeup off before washing off what's left of the makeup with hot water and a towel and putting moisturizer on."
Cold Challenge: "I'm never able to cover up my whole face completely because I hate face masks. Because I haven't been fully covered, I have gotten frostbite on my nose and cheeks several times."
Jamie Anderson
Slopestyle star and Olympic gold medalist Anderson, 25, will face off against Norendal in this year's Games. She's a gorgeous, nature-loving yogi when not killing it on the slopes. 
A photo posted by ॐ Jamie Anderson ॐ (@jamieanderson) on Nov 14, 2015 at 1:25pm PST
Healthy Skin Must-Haves: "I drink purified water from Vollara LivingWater or spring water when it's available. I also love Evanhealy face lotion. To exfoliate I switch it up between Olay Fresh Effects products and my own salt/sugar/essential oil [scrub] for the whole body."
Beauty Go-Tos: "Evanhealy face lotion, some plant-based mineral powder, a little mascara and I'm golden."
Daily Routine: "I start and end my day with the Dark Angels face and body cleanser from Lush and always my Evanhealy rose face lotion."
Cold Challenge: "Not using a good moisturizer or lip chapstick can be brutal in these elements—cracked lips are the worst! I always use a good, natural kind. Lately, I love the Navitas Naturals cacao lip balm."
Maggie Voisin
The Montana native, 17, was the youngest skier to ever medal at the X Games when she earned a Slopestyle silver at just 15 years old. She rocks blonde hair and looks awesome in glasses (even though she doesn't actually wear them). 
A photo posted by Maggie Voisin (@maggie_voisin) on Dec 16, 2014 at 10:26am PST
Healthy Skin Must-Haves: "Higher elevations make my skin drier, so I'm always hydrating and moisturizing. I apply Arbonne Rejuvenating Cream after washing my face twice a day."
Beauty Go-To: "Chapstick! My lips get super chapped in these crazy conditions. I always pick one with SPF."
Hair Pick: "I have super curly hair, so I don't go anywhere without my hair straightener. I also use a hydrating oil from Moroccanoil that I love."