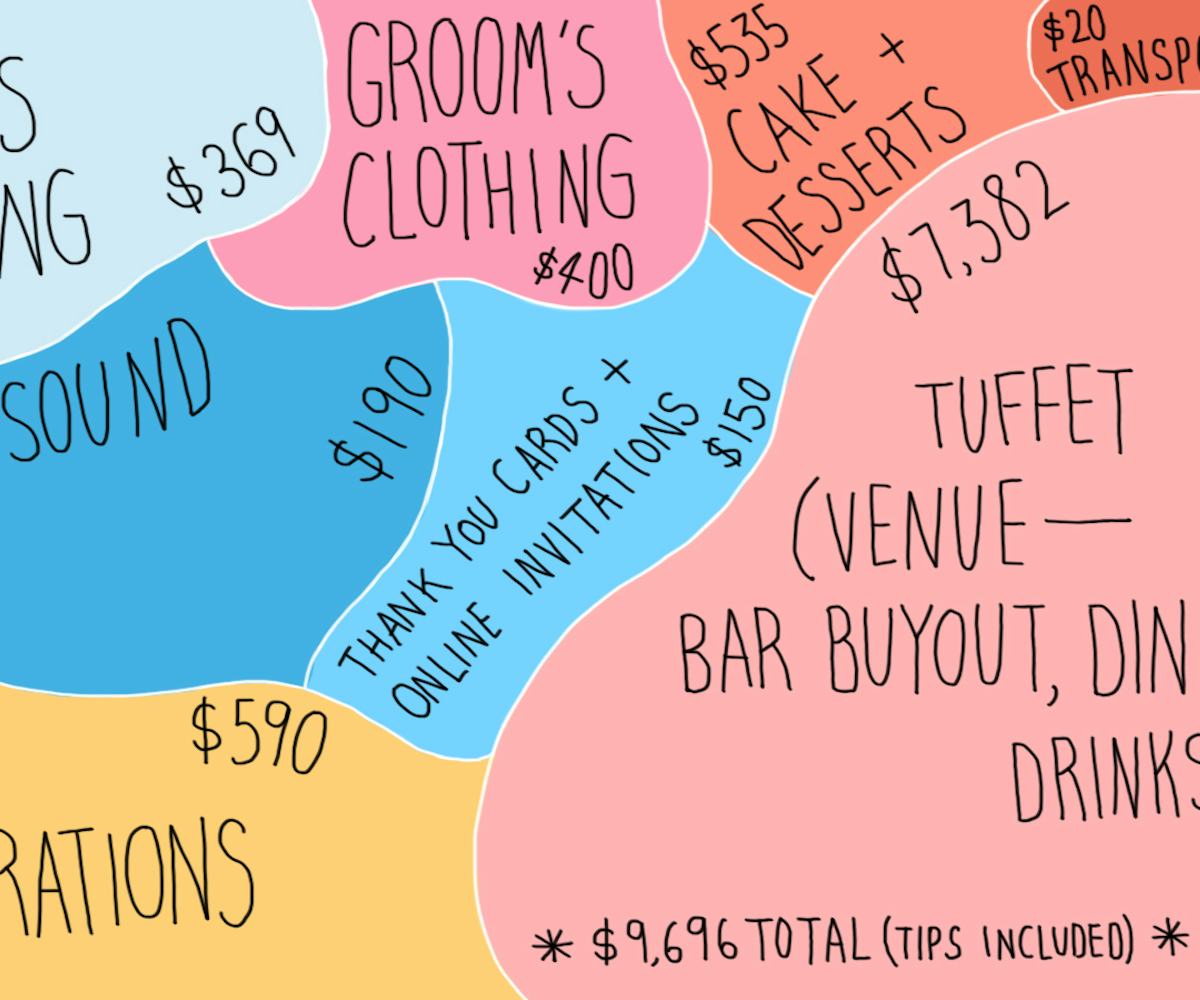 How To Plan An Affordable Wedding
Our New York wedding was under $10k—here's how we did it
When my partner and I decided to get married, we quickly agreed that we wanted to do it in a way that was in line with how we live our lives. That is to say, we wanted to do it in a practical way, centered around building a future together, even though the day itself would, of course, be celebratory and a bit more extravagant than our average Saturday.
But when I rolled my sleeves up and started to research how much this shindig might actually cost, I was shocked to find out that the national average for weddings last year was $35k, and that in New York, where we live, the average most folks are willing to shell out was around $75k. Those stats alone almost had us running straight for City Hall. The numbers just weren't feasible for us, and we didn't want to start our marriage in debt—but we took a deep breath and decided to do a little more research. We found out it was possible when planning a wedding, even in New York, to keep both stress levels and our budget down, and here are a few helpful tips I'd love to pass on. 
Choose your venue wisely. Many people opt to get hitched in large open spaces, like beaches, the woods, and even empty warehouses, because of the possibilities they offer, but the downside is that you then have to pay to fill the entire space. This includes everything from tables and chairs, to sound equipment, to catering, to all the decorations you'll want to make it look really special. If you can, have your wedding in a place that's already furnished. If it suits your style and doesn't go against your religious beliefs, have the ceremony and reception at the same place, so that you're not paying for two locations (or for travel, or extra time with the photographer, etc.)—and if the venue provides food and drinks that are to your liking, even better. It'll cut down on the number of things you have to coordinate, and your stress. We had our wedding at a cute little bar/restaurant with a backyard garden, and they provided all the food and beverages. It was kind of a one-stop shop.
Skip the wedding planner if you can. There are so many great resources out there, you don't really need a wedding planner these days for a small-ish event. The internet is your friend, and, yes, so is Pinterest. There are fantastic wedding checklists online that can help you organize a timeline, and you can also use Trello to get tasks in order (or another to-do list app or website, if you prefer). However, if you're feeling really stressed out about the planning and coordinating aspects, a wedding planner—or even a day-off coordinator, who is typically cheaper—may be one of the things you should splurge on.
Find simple ways to cut costs that you're okay with. There are a lot of traditional wedding things that are, in my opinion, outdated (albeit nice), so think about what's important for you, as a couple, to keep and what you can cut out. For example, we skipped traditional invitations (and the cost that comes with them) and opted for online invites instead. Ours were super cute, cost us $100, and even came with tracking and reminders, but you can also do free online invites through a site like Mailchimp; it makes it all the easier to link your guests to your wedding website and get them to RSVP with the click of a button. 
Get help from friends and family. This one is tricky if you're anything like me; it can be hard to ask for help, but as your wedding comes closer, people will be asking constantly what they can do to pitch in. Take them up on it! If your friend with a car wants to save you cab fare and pick up some of the extra desserts, let them. If another friend wants to get to the venue early and help coordinate as everyone sets up decorations, so you don't have to, say yes. I will say this, however: If you have a friend pitching in and doing something for you that's what they do for their normal day job (for example, I had friends who do hair and makeup for a living do mine, and my wonderful baker friend did my cake), offer to at least pay them their normal fee, and if they don't accept (or if they're doing it as their wedding gift), tip them based on what they normally charge or pay for their supplies. It's important to show your friends you value them. (This advice stands all the time, not just during your wedding.)
Do what you can on your own, as well. Wedding flowers can be extremely expensive. Basically, once you add on the word "wedding" to any sort of decoration, the price gets jacked way up. Some florists charge up to $400 for a bridal bouquet, so you can imagine the costs for the rest of the floral arrangements at a wedding. We opted to wake up early the morning prior to the wedding and go to the Floral District to pick out our own flowers, instead. Jaimee, the baker who made the cake, arranged them for us, and they came out beautifully. As far as other decorations, we did everything ourselves. For example, we ordered printed photos from an app called Social Print Studio and hung them on twine all around the bar, and we also ordered some custom signs from Etsy with sayings that meant something to us.
Go nontraditional with your bridal look. This one might not be for everyone, but, who says you have to wear something specifically bridal at your wedding? Before I found the look I ended up wearing, I had my eye on three different ensembles, and only one of them was even white. There was a pleated shimmery silver dress that I bought anyway, and I'm sure I'll end up wearing to someone else's wedding in the future. Another was a blush pink floor-length dress with beading all over it, and the third was a simple white sheath dress. I ended up going with a white jumpsuit that was actually from a bridal collection, but the price was right within my budget, and it was just the look I was going for. Don't be afraid to eschew typical bridal stores and fashion if the look or price doesn't work for you. 
This is a simple one, but just be nice. If you're nice to the people who are helping you out with the details and keep in good contact with them (communication is key!), they'll be more likely to give you a break when and where they can. The owner of the bar where we got married loved working with us (our "Fuck Trump" sign in our photo booth probably helped), and the grand total at the end of the night was less than we thought it would be. She gave us a little of a break because a few guests from California didn't end up showing up, but she didn't have to do that. We'd already agreed to the full quote.
The week before the wedding, prioritize your feelings over money. I will say this: The last week before the wedding, money became less important than not being stressed, and we just wanted to relax a bit before the big day and really be "in the moment." We were willing to let some things slide that week that we wouldn't have the months prior, just because we didn't want to worry or haggle. Try to keep in mind that this will happen, and get as much done beforehand as you can. 
Planning a wedding can be stressful, especially if you're trying to make things work within a very specific budget, but it certainly can be done. The most important thing is that you prioritize the things that matter to you and decide what you're willing to pay for (and the things you're not), and put the bulk of your budget into those things. 
As for how much we actually spent on each aspect of the event? It was under $10k. See below for the full breakdown.
OUR COSTS
My jumpsuit, $299
My jacket, $30
My shoes, $40
His suit, $300
His shoes, $100
Travel to and from wedding, $20
Flowers, $90
Candles + matches, $200
Various decorations (signs, guestbook + pens, frames, photos to hang, vases, etc.), $300
Cake, $375
Tip, $100
Additional dessert, $60
Sound, $190
Tuffet (venue, bar buyout, dinner, drinks), $7,382
Hair and makeup gift + tip, $60
Thank-you cards, $50
Online invitations, $100
Total: $9,696