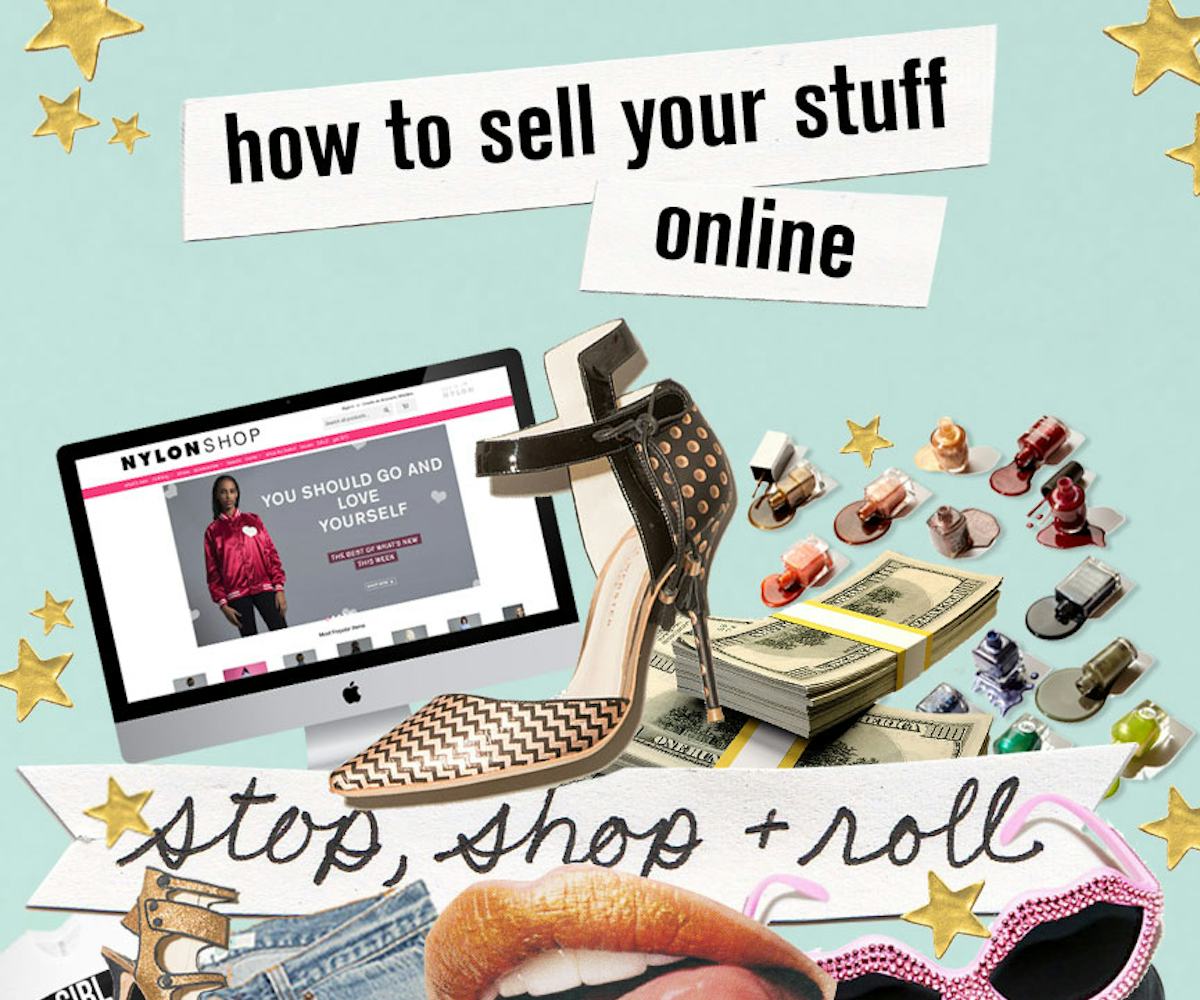 How To Sell Your Stuff Online
the smart girl's guide to starting an online shop of your very own
Do you make your own jewelry? Are you a vintage-collector extraordinaire? Maybe you've considered starting your own online shop, but have shied away from it, thinking it would be too difficult to do. Well, it actually isn't as hard or as costly to get started as you may think, but certainly requires hard work and determination for your shop to be successful.
We put together some tips and pointers to help get you started, and picked the brains of Natalie and Fox of Sick Girls Official—a super cool shop offering tees, jewelry, pins, patches, and prints featuring their original artwork—to see how they got to where they are.
Build Your Brand & Do Your Research 
The first thing you want to do before actually launching an online shop is to make sure you've fully developed your brand. Coming up with a name that fits your products or shop and really sticks is key, and once you have the name situation under control, you'll want to create a logo to go along with it. If your graphic design skills are as crap as mine, I'm sure you have a friend that is pretty good with Photoshop. Get whatever help you can so that you'll end up with a really kick-ass logo that really stands out.
It's crucial to learn your market and know what your potential competition is up to. Are there other people out there making crystal infused lip balm? How much do their products cost? If it's vintage handbags you're selling, check how other online stores price, based on the designer and wear. Once you have your pricing strategy down, it's time to… 
Actually Build Your Shop
Fear not, you will not need to be a tech genius in order to do this. There are many websites that allow you to build an e-commerce store that's easy to put together and manage at very low costs (if at any cost at all).
Not sure where to start? The ladies of Sick Girls said once they were ready to get started, they "Researched different hosts for online shops (i.e. Etsy, Bigcartel, Storenvy, etc.) and compared the different attributes of each, specifically the pros and cons for the user."
Of course, there are a number of options out there. Make a list of your main priorities, whether you're you more concerned with the amount of products you can list or looking for a host that offers extra functions to help manage shipping and inventory. We recommend fully researching as many hosts as possible, that way you can find the best one for you. 
Kill It on Social Media 
Once your shop is built, product shots uploaded, and everything is running smoothly, it's time to get the word out there! The best way to attract more customers is to create a large (and growing!) presence on social media.
"We started an Instagram account and started posting constantly. We post all of our current products, regram photos sent from customers wearing our products, and reached out to our other small business friends in the same industry who are always happy to cross-promote," said Natalie and Fox when I asked them how they developed their social media presence. "We promote through different forms of social media (Tumblr, Facebook, Instagram—which for us is the most popular), and are sure to link posts to corresponding products in our store so they are easily found if someone sees our products online and wants to know where to purchase them."
Sick Girls Official has just reached 10K Instagram followers, so I'd say they're doing something right.
Keep Pushing! 
Don't stress about having everything down pat right away. You're not going to have it all figured out upon starting, but you'll learn a lot along the way and address any obstacles as they come along. That's the fun of it, isn't it?
Natalie and Fox added, "Be proactive. Post constantly. Reach out to friends who can help you along the way and don't forget about them when you get successful; cross-promotion is key! Free advertising is the best form of advertising."