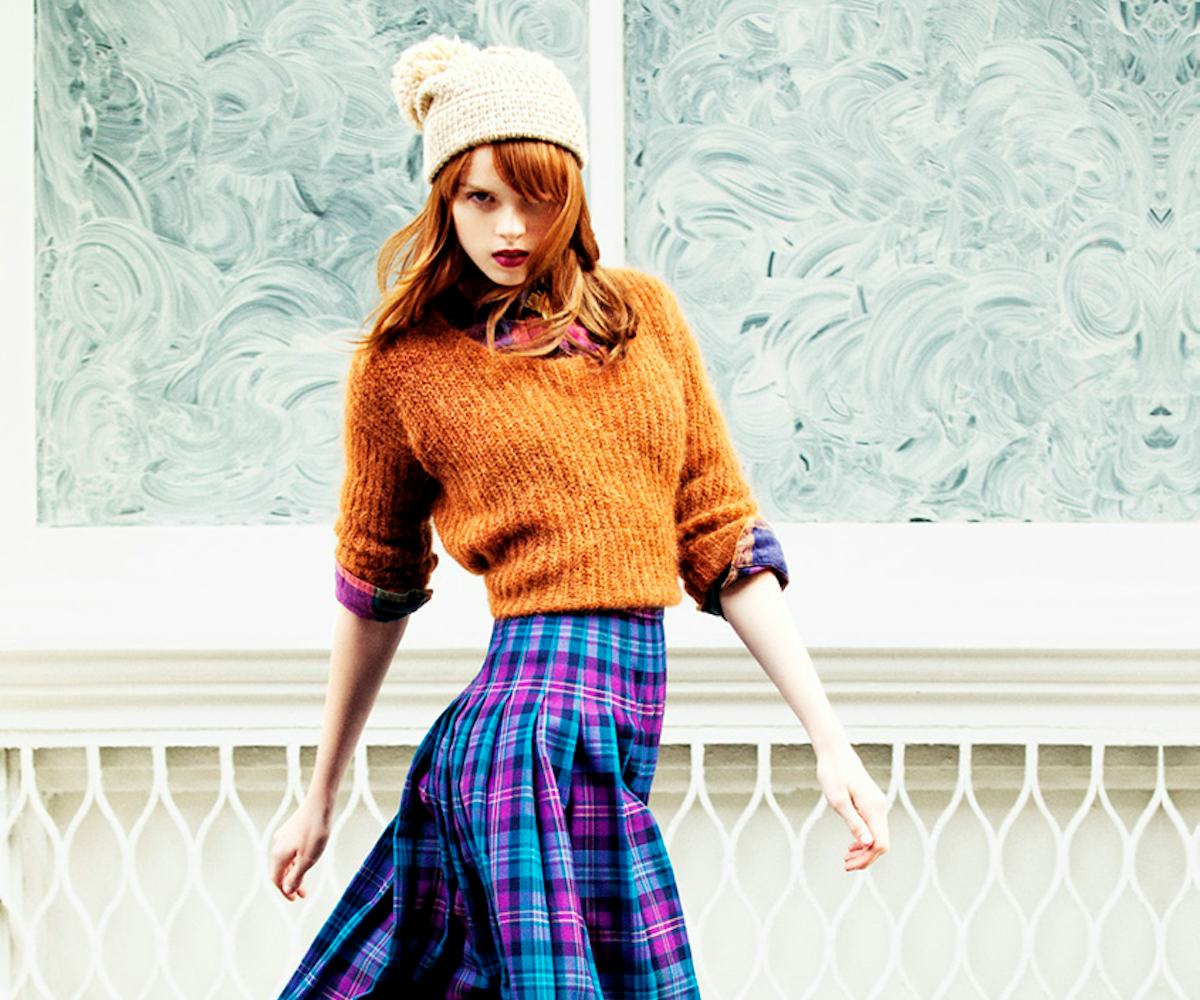 photo by dean podmore
#nylongirlproblems: keeping warm in tights and dresses
it's possible and our market director rachael wang is here to show you how.
Got fashion questions? We've got answers. Welcome to #nylongirlproblems, where every week our Market Director Rachael Wang answers your most pressing style quandaries. Need help? Tweet us your issues using the hashtag #nylongirlproblems, then check back to see what she says. Yes, it's that easy. You're so welcome.
The Question:
How do I stay warm in tights and dresses during the winter?!
The Answer:
Let's be real. It's pretty tough to look cute while trying to keep warm in the winter, but I have a few tricks up my sleeve.
1. Underpinnings:
I always wear a camisole or thin long sleeved T-shirt under my sweaters. The extra layer traps heat close to your body for warmth and doubles as a barrier between your skin and super itchy sweaters. Advanced styling tip: Try a black or white turtleneck under a sweater or button down shirt for a very on-trend winter look. 
2. Legwear:
If you're into wearing dresses in the winter, tights are
very
important. It's best to invest in wool blend tights which are thicker and cozier. Now stay with me here; sometimes I layer wooly socks
over
my tights to keep my feet extra toasty. Pop on boots and no one will ever know or let them peek out over the top of your boots for a quirky weekend-in-the-mountains look. I love the look of ragg wool hiking-style socks. 
3. Headwear:
Covering your head is a hugely important factor in the keeping warm equation. The awesome thing about beanies is that they can make just about any outfit look cool in a matter of seconds. 
4. Scarves and Gloves:
They make them for a reason. Use them and try not to lose them. 
See all Rachael's favorite turtlenecks, tights, beanies, scarves, and gloves in the gallery! And if you're got a fashion problem that needs solving, tweet us with the hashtag #nylongirlproblems and we'll solve it! 
Wolford Merino Wool Tights -- $160
Fogal Wool, Silk, and Cashmere Tights -- $190
Cabelas Merino Wool Ragg Socks -- $10.99
L.L. Bean Merino Wool Ragg Socks -- $18.95 for a Two Pack
3.1 Phillip Lim Driving Gloves -- $325
J.C. Penney Flip Gloves -- $11.99
Free People Striped Mittens -- $38
Lulu's Infinity Plaid Scarf -- $12