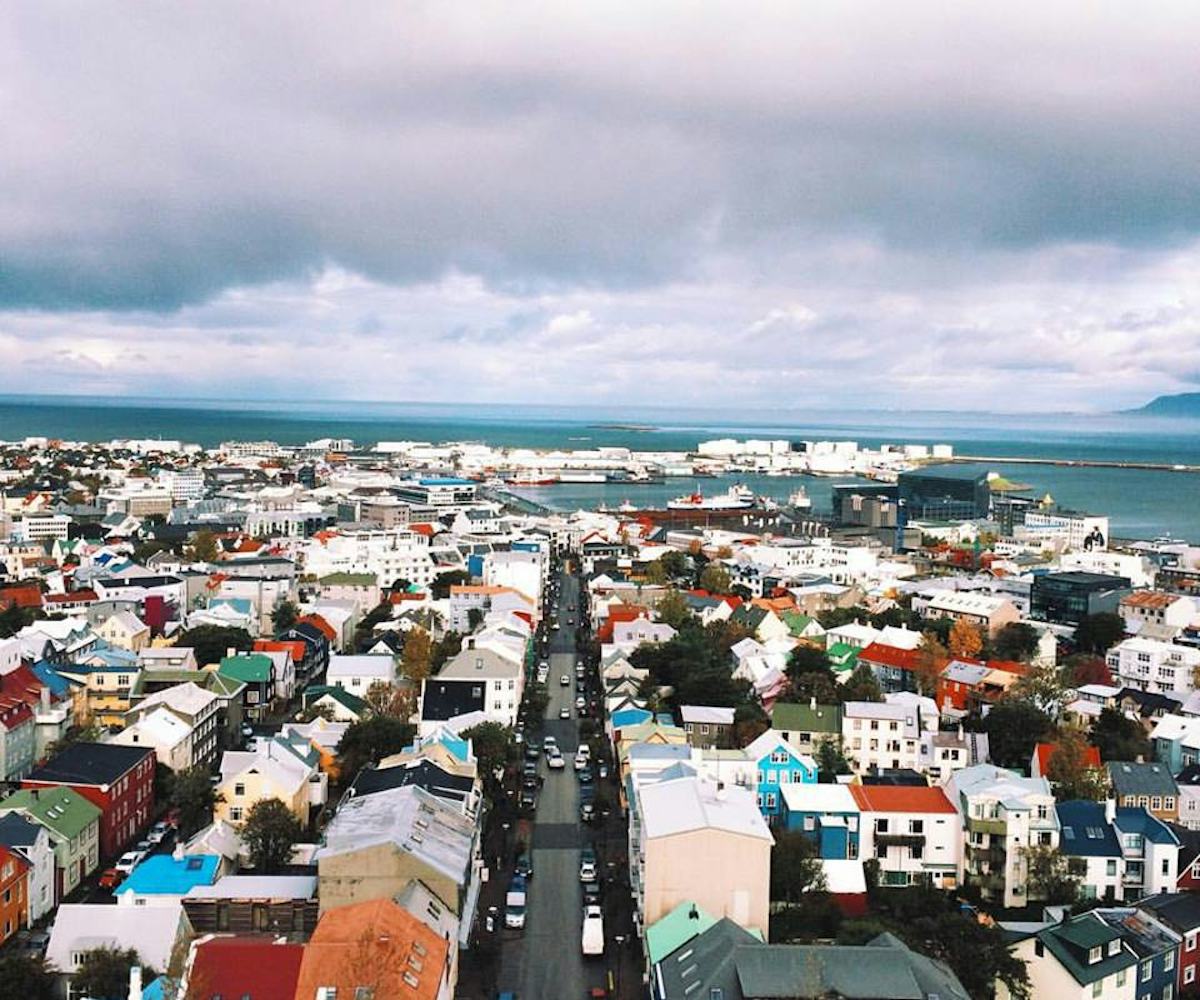 Photo via @staygoldrebecca on Instagram
The NYLON Guide to Iceland
what to do in in town and country
Laden with volcanoes, hot springs, snow-topped mountains, and more, Iceland is a bucket-list destination for sure. The literal land of ice and fire may boast a population of less than 330,000, and its largest city may be one of the easiest European capitals to walk by foot—but that's what makes this Nordic island so great.
From tomato farms to thrift stores, the country is full of exciting finds, but with enough planning, it's possible to make even just a short trip to Iceland a fulfilling one. In just three days, we scoped out the city for its coolest shops and restaurants, and also set out to see just how majestic the countryside was with its towering peaks and twisting rivers. There is so much to see and so much to do in this magical, chilly country, but it's more than possible to turn a quick jaunt over the Atlantic into a trip to remember. These are the best landmarks, sights, and hidden gems we found on our brief journey that prove that it's about time for you to book that plane ticket to Reykjavik already. 
Iceland is a bit of a geological oddity. With volcanoes, geysers, waterfalls, hot springs, mountains, and more, this Nordic island is home to a whole lot of natural wonders that stretch across the country. So, a good option to see as much as you can is to go on the Golden Circle Tour. The all-day excursion takes tourists by bus through foggy hills and snowy mountains first to Friðheimar Farm, where visitors can start their day with a homemade Bloody Mary, then to the Geysir geothermal area, where nature-lovers can hike mountains, watch geysers erupt, and eat some creamy mushroom soup, and later to Gollfoss Waterfall and its surrounding hills, which look straight out of Game of Thrones. The trip is finished with a stroll through Thingvellir National Park, where tectonic plates can be seen slowly pulling apart year after year.
About 40 minutes outside of Reykjavik, the Blue Lagoon sits in an isolated landscape of volcanic rock and moss. But this isn't your average lake—the Blue Lagoon is a natural spa made up of geothermal water that is heated below the Earth's surface. Natural minerals, silica, and algae found in the water give it is unreal hue and help the skin of bathers, even easing eczema and psoriasis. Apply a complimentary silica mud mask while you're floating in the water and step into one of the spa's saunas. This natural spa may be the most-visited tourist location in Iceland—but for very good reason.
This awe-inspiring church may be a relatively new landmark in Reykjavik, having been completed after 38 years of construction in 1986, but it's one of the city's most recognizable structures. The building looms over the city on a hill and offers admission to the top of its tower for a small fee. Don't leave the country without taking the elevator ride to the top—the view (and resulting Instagrams) of the colorful surrounding city will be more than worth the trip.
Downtown Reykjavik is small enough to wander without a map (or data-enabled iPhone), and these stores make the best options for both souvenir and window-shopping.
Systur & Makar: For miscellaneous home wares and jewelry
Kokka: For kitchenware cooler than those in HomeGoods
Spuutnik: For perfectly curated secondhand clothing
Gyllti Kötturinn: For sifting through a lot of thrifted clothes while a friendly cat wanders the shop
The Nordic Store: For a classic Icelandic sweater (you know you want one)
Gjafir Jarðar: For tarot cards, crystals, and Icelandic incense
Heilsuhúsið: For natural skin care products and organic snacks
In-between hiking and shopping, you're going to want to grab a bite to eat (or a hot coffee to keep you going). These are the places we loved in Reykjavik.
Eldur and Is: For a quick, custom crepe after wandering the city
Reykjavik Chips: For the best French fries with dipping sauces like sweet mustard, chili mayo, and satay vegan sauce
Fish Market: For a fancier, reservation-needed meal that's worth every single bite
Mokka: For a strong cup of coffee in Reykjavik's oldest coffee house
Sægreifinn: For a simple Icelandic meal in a homey restaurant that looks and feels like a cabin
Laundromat Café: For a simple brunch in a quaint restaurant where you can read and, yes, do your laundry
10-11: For Icelandic junk food after all the restaurants have already closed for the day