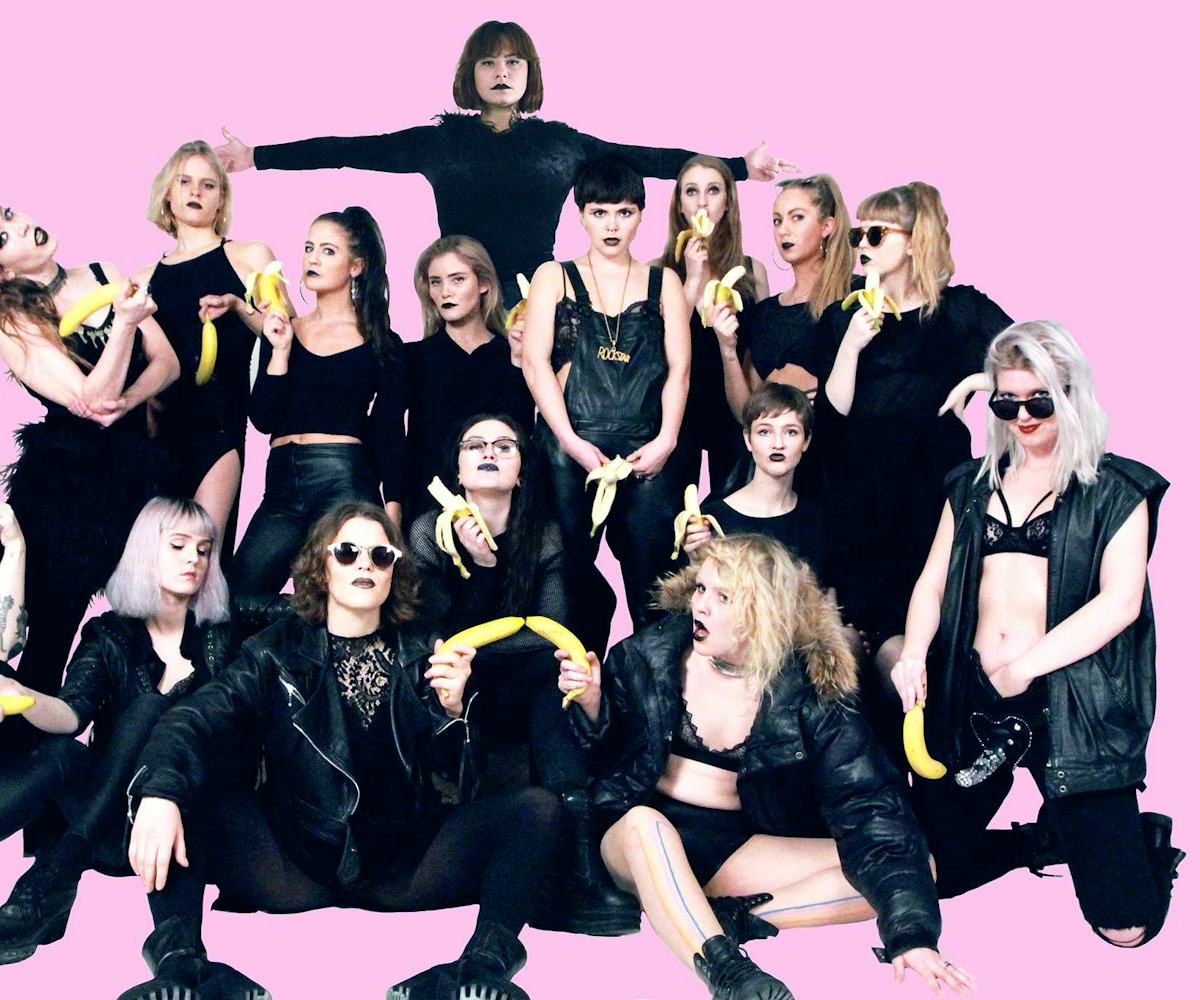 Iceland's Hottest Rap Collective Proves The Country's Music Scene Goes Way Beyond Björk
Reykjavíkurdætur doesn't need your restrictions
Steinunn Jónsdóttir is trying very hard not to blush. It's the day after Reykjavíkurdætur's much talked about Iceland Airwaves performance, where the 17-member strong rap collective vaped, drank, and danced their way through songs discussing politics, sex, and life as women in Iceland. Bending a few social norms? That was the easy part. It's what comes after that Jónsdóttir is having a hard time talking about.
"I went on Twitter today, and everybody was so happy," she admits proudly. "There were so many foreign people saying, 'Finally I got to see Reykjavíkurdætur!' I was like, 'Whoa, it's such a change for us since last Airwaves.' That's when we first got this recognition. Now people are waiting to see us. You can feel it. It's kind of surreal."
Although the band's multiple performances at Iceland Airwaves were indeed the talk of the festival, Jónsdóttir's incredulity comes from a very real place. Originally formed on the back of a female-only hip-hop night in 2013, Reykjavíkurdætur (which also features Anna Tara Andrésdóttir, Bergþóra Einarsdóttir, Jóhanna Rakel Jónasdóttir, Katrín Helga Andrésdóttir, Kolfinna Nikulásdóttir, Salka Valsdóttir, Sigurlaug Sara Gunnarsdóttir, Solveig Pálsdóttir, Steiney Skúladóttir, Sunna Ben, Valdís Steinarsdóttir, Þórdís Björk Þorfinnsdóttir, Þuríður Blær Jóhannsdóttir, and Þuríður Kristín Kristleifsdóttir) was simply an open door collective for any woman who wanted to try her hand at rapping, regardless of skill level. Until they recorded their eponymous first single, it never occurred to any of them that there might be something more to the project. Even still, it wouldn't be until the summer of 2016 when they'd close the ranks and call themselves a band.
"It was like, 'We're going to do a song,' and we did it," fellow member Ásthildur Sigurðardóttir recalls. "The media just decided that we were Reykjavíkurdætur. We were like, 'Oh, okay! Let's call it that.' It wasn't like, 'Okay, we're doing to do a rap song and we're going to be in the rap game.' It wasn't like that. We're going to be stars!"
Jónsdóttir makes it clear the group's rapid-fire flow and intense lyrical wordplay ("I am tighter than a motherfucking French braid/ Cause I am so common on your sheets I am like a period stain") came with a collective obsession with leveling up. Once they decided to approach Reykjavíkurdætur as a band, they weren't going to let anyone say they were simply "good for girls." Their lyrics are usually Icelandic (save for an anthem about anal sex and liberal amounts of on-stage swearing), but the messages are universally applicable. Down with political corruption. Up with gender equality. And oh, BTW… respect yourself and live your life as you choose.
It's an idea that's carrier through the group's live personae.Their performances are equal parts cabaret and rap, with a small collection of members carrying each song while the rest congregate in small circles to dance, mime, and laugh along to the action. It's a spectacle, and one usually enhanced by a group uniform, which in the past has included flesh-colored lingerie, tear-away medial suits, and all-black bodysuits.
"I think people are shocked to see girls come in on stage not as perfect artists or pop stars," Sigurðardóttir says of their shows. "When girls come out as musicians, they usually don't do it until they are very good at it. But boys, they just do it. Whether they can or not. I think that is the main story. When we go to this thing that we were saying, there are still issues that need to be fixed. But it's always this thing. Boys will be boys. Girls should behave. That is the root of how we behave. People are really shocked with some of the things that we do."
Both Sigurðardóttir and Jónsdóttir acknowledge that on some level Reykjavíkurdætur is still viewed as a novelty act. Despite playing a string of European festival dates, two rounds of Iceland Airwaves, and even catching the attention of composer Ólafur Arnalds (who wrote the beats that became the group's single "Tista"), they're constantly forced to justify their position in the artistic community as something other than an act of tokenism.
"We often get that people think that we're just a group of girls representing feminism," Jónsdóttir says. "They don't look at us as artists or performers. We're just girls representing."
"If you talk about Beyoncé, she isn't always singing about feminism," Sigurðardóttir adds. "But she is, in my mind, really strong. She just does what she wants to do and embraces it. She goes all the way. We are 17 girls on stage, and we do what we want to do. We're not maybe talking about women. But the message, it comes that we are strong. Even when we're not saying it."
There's still time to say it all. Earlier this year, several members of Reykjavíkurdætur attended a writing retreat to begin writing the group's second album. Thanks to a slot at the Icelandic National Theater in early 2017—where the group is being given a restrictions-free chance to create an original performance, they're also in the process of revamping their live show. ("We'll probably end up flying around!" Sigurðardóttir jokes.)
"It's incredible that none of us expected this to go this way when we started," she notes animatedly.
At this, both members smile. Some might view Reykjavíkurdætur as too outspoken, too feminist, too much. They're still trying to convince the powers that be in their home country that it's okay to play them on the radio—or even like them for reasons other than the fear of being branded anti-feminist. But right now, Sigurðardóttir and Jónsdóttir can't be bothered with that. They're rappers, doing exactly what they want on their own terms, and having fun in the process. And that's a reason to be proud.