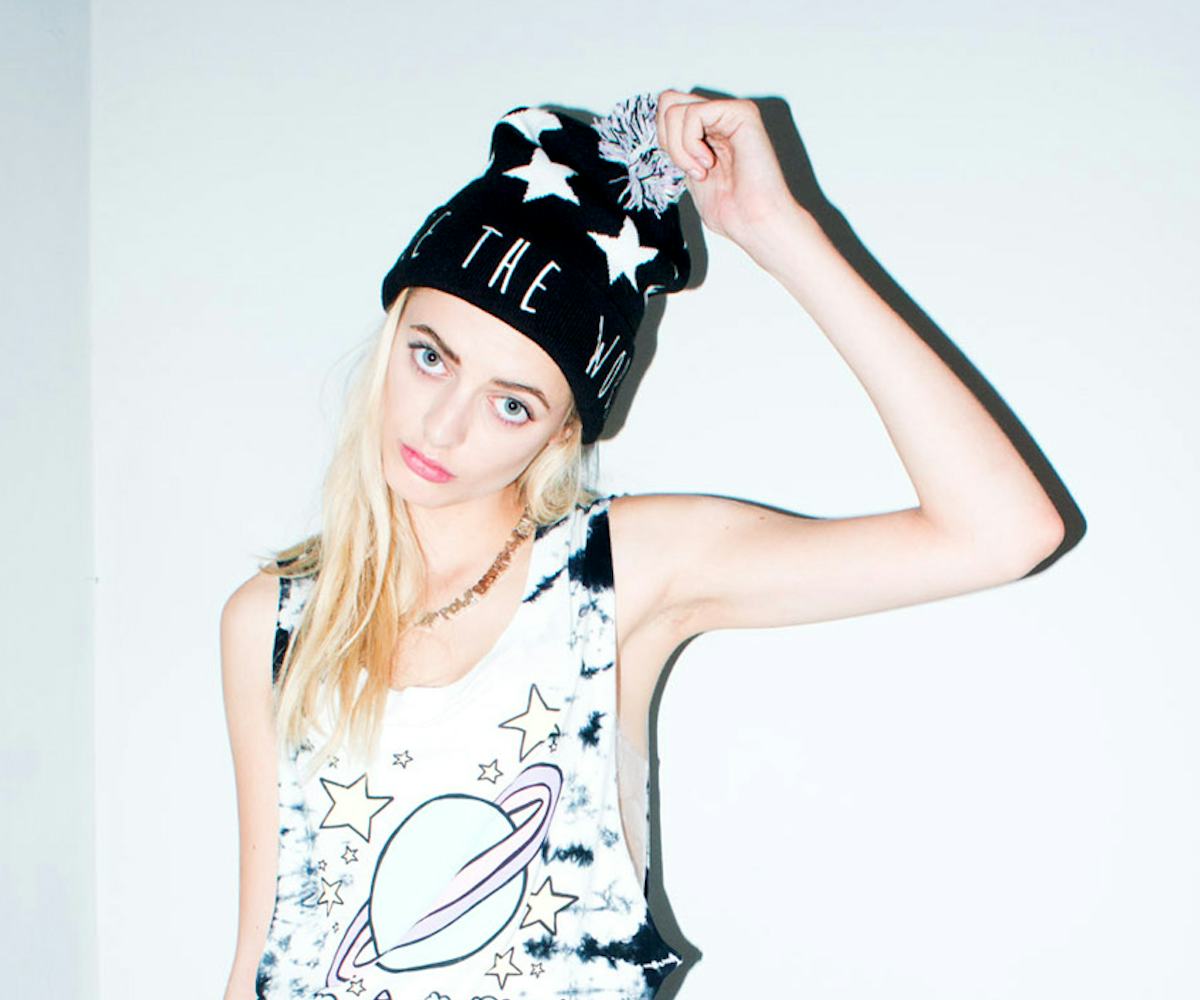 photo by isa wipfli
model citizen: idina moncreiffe
the scottish model artist is our november model of the month!
When it came to picking the model to pose with our jeans and T-shirt of the month in our November issue of NYLON, Idina Moncreiffe at Wilhelmina was an obvious choice. The Scottish model is an accomplished artist and graduate of Central Saint Martins, has killer personal style, oh and happens to be Scottish aristocracy. She grew up on her family's estate in magical Scotland and is about the coolest, funniest girl you'll meet. 
You can check her out on page 46 of our November issue and read all about her right here!
I was reading the article about you in this month's NYLON and it says you still live in the same estate that your family has lived in for centuries. Is that really strange for you?  
Hmm, not really. I like it. 
What was it like growing up in Scotland?
It was really nice and magical. I grew up way up in the mountain and I used to like to picnic outside with friends. My uncle was into water sports, so we would go out on his boat in the daytime and then go up the hill and have picnics. It was nice and quiet, and I went to a really small school. 
Was it a big culture shock for you to start model internationally and go to all these big cities?
Not really because I traveled a lot with my family. We were lucky to go on family holidays and stuff. My favorite places we've visited are Italy and Croatia.
What made you want to get started to do modeling? 
Well I just kept getting scouted so I thought I'd give it a try! 
Is there a make up trick that you picked up on set? 
I was already into makeup already, but I used to always just do eye shadow on my eye lid. I learned that if you use a dark shade around the bone above your eyelid it makes your eyes look bigger.
What's one beauty product that you have with you?
Aveeno moisturizer, always. It's just really good moisturizer. 
Did you pick up any fashion tips on set?
I just learned to be a bit more creative with what I wear. A lot of the time the clothes I wear on shoots are random and crazy--stuff I would never wear in real life like skirts on top of trousers!--but it does inspire me to be a bit more experimental. 
What's the best part of being a model?
Probably how theres no routine; you're always doing a new thing. 
What's the hardest part?
The way they do your hair!
What's one thing that every model should know?
It's about personality. You need to be happy and have a sense of humor. Don't take it too seriously.
Before you started modeling you went to Central Saint Martins. What type of art do you like to create?
I like conceptual art and working with like philosophical ideas. i like things that aren't just aesthetically beautiful but have meaning. 
Who are some of your favorite artists?
Probably Picasso, and maybe Dali. I like a lot of the renaissance artists as well, too.
What are some of your favorite bands right now? 
The Yeah Yeah Yeahs, MGMT, Crystal Castles, and the Pixies.