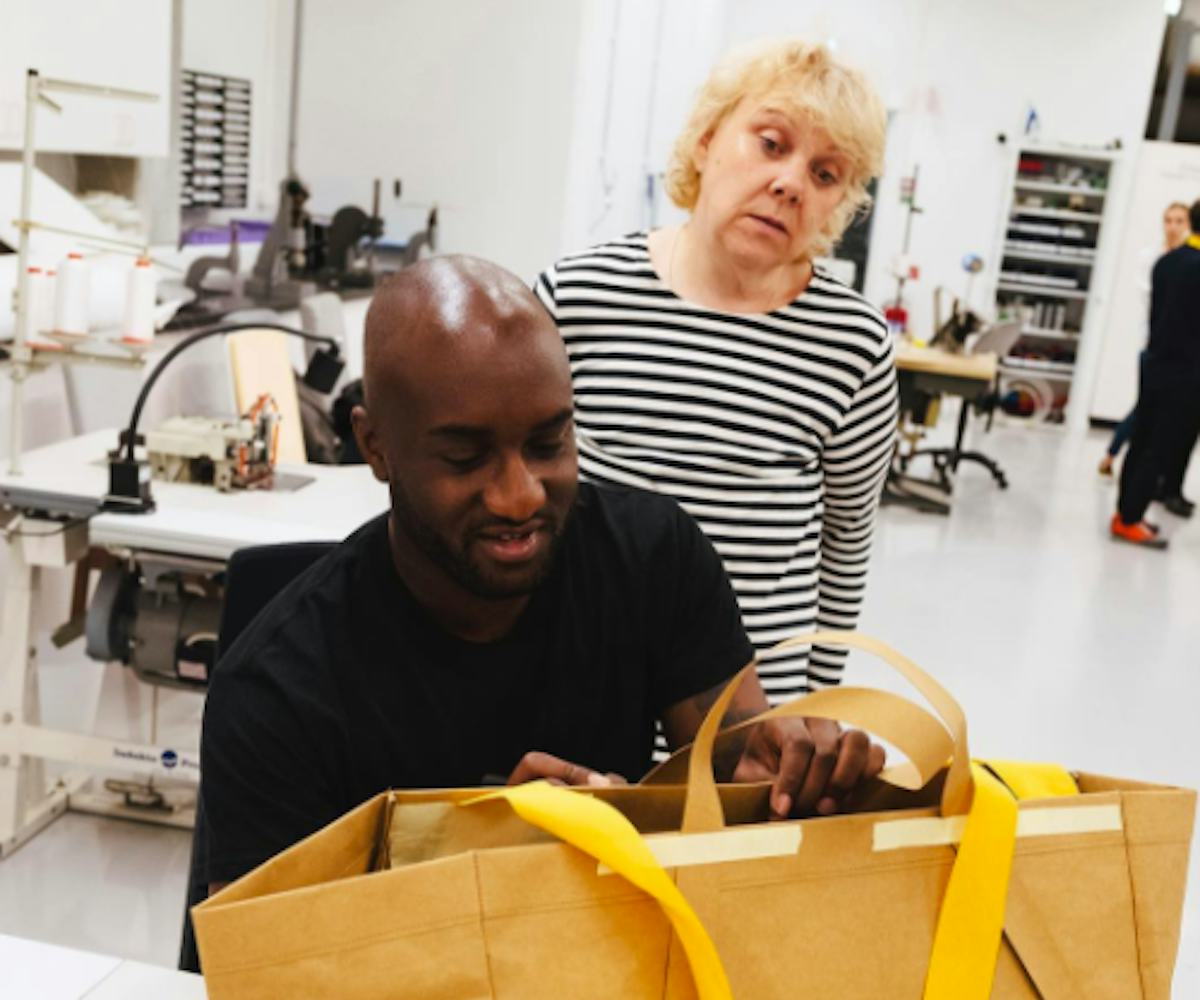 The Ikea Tote Bag Is Getting An Authorized Designer Makeover
Courtesy of Off-White's Virgil Abloh
About a month ago, the internet erupted into a frenzy over Balenciaga's almost $2,145 "Arena" bag. It wasn't just the price tag that turned people off; there was also the fact that the bag was the same color, had the same structure, and drew an uncanny resemblance to Ikea's iconic blue bag. Is it a joke, many pondered. Surely it had to be. There's no way people would go out of their way to spend $2,144 more on a bag when they didn't have to… right?
In the midst of the confusion, Ikea weighed in with a very tongue-in-cheek ad, outlining how to identify an Ikea "Frakta" from Balenciaga's creation. It was a quippy response, and a representative told TODAY in a statement, "We are deeply flattered that the Balenciaga tote bag resembles the Ikea iconic sustainable blue bag for 99 cents. Nothing beats the versatility of a great big blue bag!" So, there appeared to be no harm, no foul.
Now that the dust has settled, and we're all on to the next design house copycat scandal, it looks like Ikea is looking to bank in on the virality with a collaboration with Off-White designer Virgil Abloh. "Some of you guessed it! @virgilabloh @off____white prototyping a fresh take on the FRAKTA bag in IKEA's very own prototype shop in Älmhult," the Instagram caption from the company reads, which shows Abloh working on the now-brown bag with yellow straps and "Sculptural" printed across it. Abloh weighed in: "We're in a moment where IKEA is transcending, and people are bringing this 'do it yourself culture' to the blue bag. What I'm most interested in is doing that process in partnership with the brand. It's allowing me to put my opinion on a classic. It's unique, and distinctly as much of off-white as it's IKEA."
More than redoing the bag, though, Abloh will also be working with the company to help millennials who are looking to decorate their home (or dorm room) on a budget. Abloh talked more about the collaboration and what he hopes to create at Ikea's Democratic Design Days conference, which you can watch below at the 19-minute mark.
Oh, the things the internet manages to make happen! We just wonder what Kanye (who's worked with Abloh on numerous occasions) thinks of all of this…