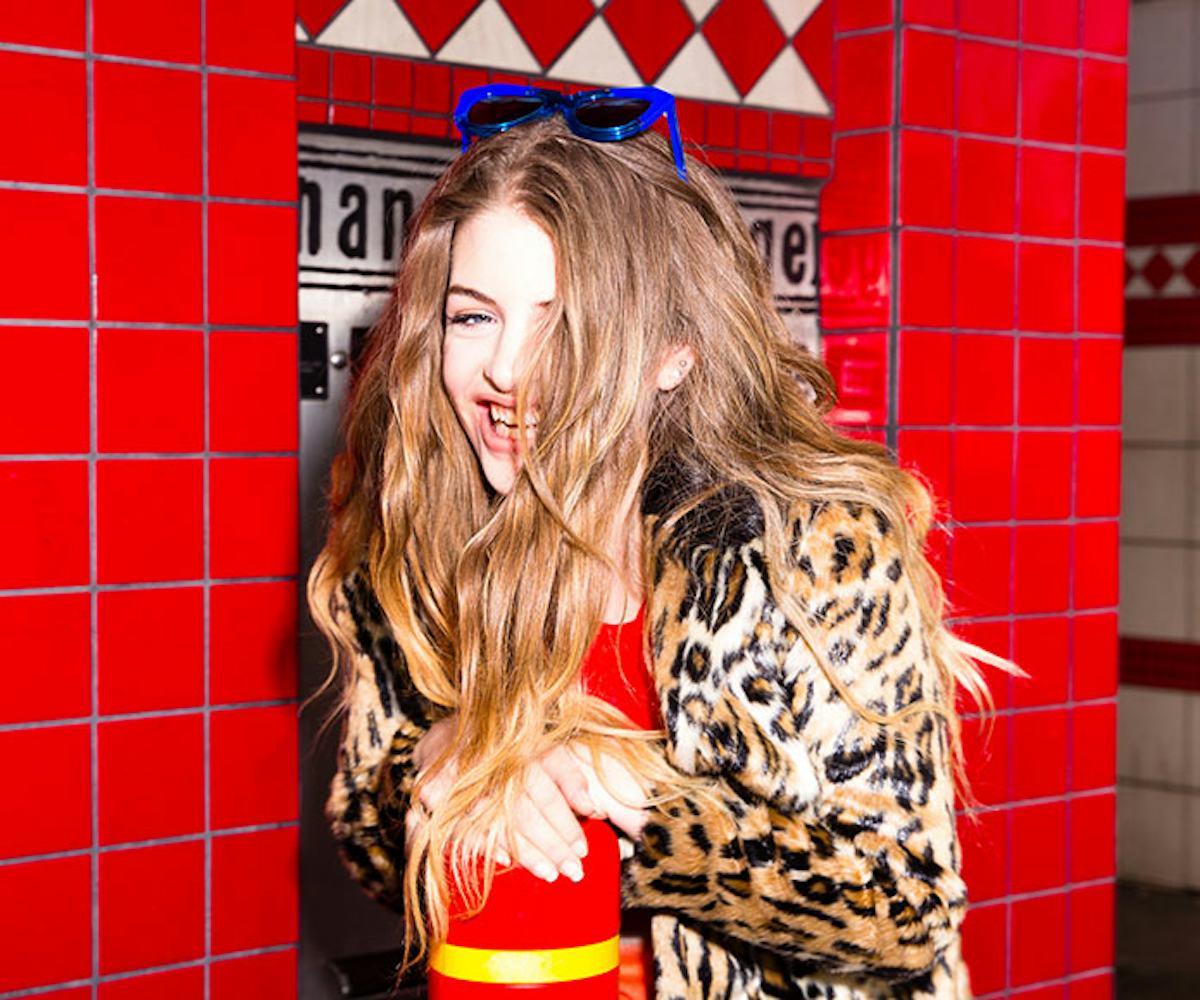 Photographed by Myles Pettengill, Styling by Chris Horan, Makeup by Jenna Kristina at TMG-LA, Hair by Michael Dueñas at TMG-LA // leopard coat: Topshop, cashmere t-shirt:The Elder Statesmen, jeans: A.P.C., sunglasses: Karen Walker
India Yelich-O'Connor Is Making A Name For Herself
because she's so much more than lorde's little sister
A few years ago, America fell hard for Lorde. Now, India Yelich-O'Connor, the baby sis of New Zealand's greatest export, is coming into her own—and in a very big way. At 17, she's already dabbled in singing, acting, and modeling. In addition, the teenage beauty is blessed with a natural sense of fashion that her budding fan base is desperately trying to emulate. And what makes her even more adorable is that her personal style icons are every '90s teen girl's heroes, Carrie Bradshaw, Rachel Green, and Cher Horowitz.
During a recent trip to Los Angeles, the aspiring actress posed for magazine photo shoots, tooled around the city in a flashy sports car, and mingled with several casting directors. She returned home with a script in hand, which she's currently considering, and stars in her eyes. "I guess you could say I have always been an actor! I'm the most dramatic one in my family," she says enthusiastically. And aside from her dreams of landing a "solid role in a film or TV series," India recently revealed that she can also hold her own in the musical world. After uploading a "just for fun" cover of "Say Something" on to Spotify, she was shocked to find that the track garnered over 887,000 streams.
With so many options ahead of her, India could not be more excited. "It feels like everything is about to happen for me," the cheerful Kiwi says of her future. But first, her parents made her promise that she'll set her sights on graduating high school. "I am lucky that I can fit all my work into my school schedule, but I end up having to work twice as hard because I don't want my grades to slip," says the rising star. And in addition to tiptoeing into the career world, India has been busy balancing her long-term boyfriend, daily walks with her pups, and beach-house getaways with her large and boisterous family.
We caught up with India to discuss her career ambitions, raiding her famous sister's closet, and her response to the rumors of her lips being fake.