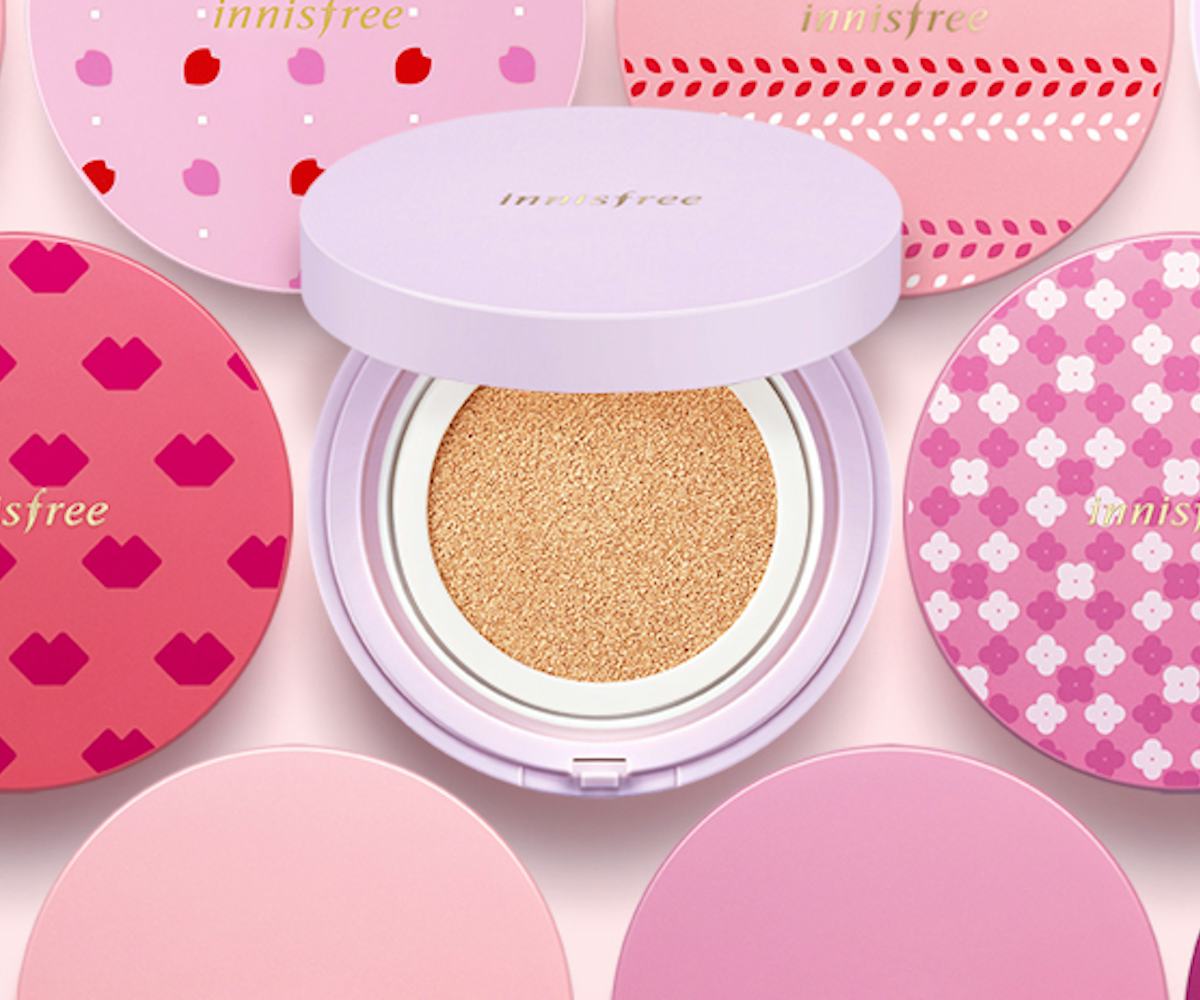 Photo courtesy of Innisfree
Innisfree Is The First K-Beauty Brand To Make Dark Foundation
For years now, K-beauty brands have been emerging as major players in the U.S. beauty scene, but have you ever wondered why its skin care is so much more popular than cosmetics? Likely because the available shade ranges have seldom been inclusive. Sure, the face masks and moisturizers are amazing, but we can't ignore that many K-beauty brands have overlooked an entire population of dark-skinned users for years and years. Eastern Asian cultures have historically emphasized beauty in paleness, implying that the most "beautiful" skin is also the whitest.
That's where Innisfree comes in; the brand is currently shaking up the K-beauty industry with its new Matte and Aqua BB cushions. Not only are there 14 shades in the latest offering, but the company finally made cushion compacts for darker skin tones, too. This is revolutionary. The fact that one of Korea's biggest names in beauty has created an inclusive shade range means not only that those with darker skin now have access to a whole new line of products, but also that century-old beauty ideals might slowly be beginning to shatter.
We chatted with Innisfree USA's VP general manager Julien Bouzitat about the new foundations. "When it came to our iconic 'My Cushion' foundation, integrating the diversity of skin tones was obviously a non-negotiable. We settled on launching with 14 shades, from cool to neutral to warm, as a first step." It's no Fenty Beauty range, but considering BB cushions used to be available only in three, maybe four, shades, it's a huge step forward. It also was no easy feat. In preparation for the U.S. launch, Innisfree spent two years testing products and studying the market before making its big debut. 
After the announcement of their new cushions on Instagram, the Innisfree team was overwhelmed with positive feedback on social media. "Seeing the reaction on social media made us all proud that Innisfree contributed to reaching an important milestone toward more diversity and inclusion in K-beauty," says Bouzitat. It goes without saying, we're excited, too.
We can only hope that this is the beginning of a whole new wave of awareness within the K-beauty community and that inclusivity becomes a non-negotiable both in the makeup industry and elsewhere. 
In case you haven't gotten a chance to check them out yet, here's a quick rundown of the cushions: There are two formulas, the Matte Full Cover Cushion and the Aqua Fit Cushion, both available in the Cool Ivory-to-Chocolate range. The Matte Cover Cushion (a U.S. exclusive) will give you an "all-day lightweight, velvety formula" that melts into the skin while also preserving a matte finish, keeping shine at bay. The Aqua Fit Cushion, on the other hand, is targeted toward those who have drier skin, with a dewy formula and glowy finish. Both cushions are loaded with nutrients, such as green tea extract and hyaluronic acid, so no matter which one you opt for, your complexion will be taken care of.  
If you want to check out the cushions in person, you can visit Innisfree's brand-new NYC flagship store in Union Square. If you're not in the Big Apple though, don't worry—they have plans to explore the West Coast soon. Of course, you can also shop these cushion compacts (and the adorable matching cases) online at Innisfree.com.